University of Coimbra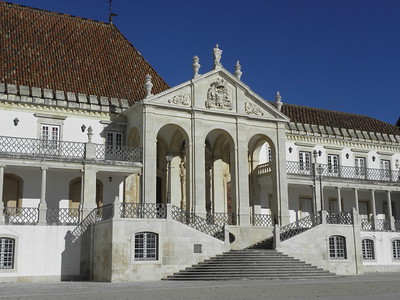 The University of Coimbra – Alta and Sofia has been an influential university from the medieval period til the modern times in the Portuguese world. The University was moved from Lisbon to Coimbra in 1308.
The site comprises two groups of buildings: one around Sofia Street in the lower part of the city, and one in the upper (Alta) part. Both hold a number of colleges, though the main University buildings are in Alta.
Notable buildings include:
- Royal Palace of Alcáçova (main University building)
- St Michael's Chapel
- Joanine Library
- Botanical Garden
- University Press
- 'University City'created during the 1940s.
- 12th century Cathedral of Santa Maria
- 12th century Monastery of Santa Cruz
Map of University of Coimbra
Legend
Visit December 2012
Coimbra University has succeeded in becoming a WHS in 2013. On a cold Sunday morning in December 2012 I visited the historic center of Coimbra, aiming to pro-actively tick off this one. The university buildings are located in a small core zone uphill, its old buildings being surrounded by several remarkable structures dating from the 20th century. The latter almost look communist.
I had to wander around in the area for a while, as tickets (available at the new library) are sold only from 10 a.m. in winter, and the first entrance to the university buildings starts only at 10.40. The inner courtyard of what used to be a palace is certainly striking. Doors from here lead to the Joanine Library, the São Miguel Chapel and the Grand Examination Room. These are the major sights here, with their exuberantly baroque decoration. After all the anticipation and waiting I was a bit disappointed though: the rooms are not that big, 5-10 minutes in each and you have seen it all. I also do not like the fact that photography is forbidden inside - maybe it is done to keep the business of the local students going, who are selling photobooks in the courtyard.
Despite my doubts last year, now we know that it has made it into the WH List. There still seems to be room for sites connected to science.
Click
here
to see more of my photos of University of Coimbra
Community Reviews
---
Chris W., Netherlands 04-Sep-16
Coimbra has been long on my list to visit especially because of the library. Oh was it worth it. I was actually really surprised and I'm not quickly surprised anymore. The St. Michaels Chapel is also a piece of art and I was lucky to see some kind of celebration there. Not sure what it was actually. The Santa Cruz Monastery was also very nice but at first i didn't realize there was a door to the cloister behind it. A bit hidden.
Of course: everywhere tiles! They are beautiful. I visited when I drove from Porto to Lisbon. It's easily visited, a long day but it's easy to do. From Porto it makes a nice day trip too, from Lisbon it's a bit far away maybe.
Many photos on the link below!
Read more from Chris W. here.
---
Clyde Malta 18-Aug-14
I visited this WHS in August 2014. I spent 2 nights here and I really had a good time. Visiting the university costs 9 euros + 1 euro to climb the clock tower. The Joanine Library and the nearby chapel of St Michael alone are well worth the money. While in Coimbra I had the opportunity of experiencing the Coimbra Fado which is considered to be an intangible heritage by UNESCO.
---
Ian Cade England 20-Jan-14
I have fond memories of the day I spent in Coimbra 10 years ago. The atmosphere, weather and pleasant surroundings made me seriously consider moving there to study for my master's degree. Alas I didn't go there but the spirit of this quintessential European University City did stay with me. Friends and acquaintances that I have met who were lucky enough to learn here have certainly reinforced my initial desire to stay for longer.
I remember really enjoying the walk across the river and the winding spirals of streets that led me up to the main university compound. I only had a quick glance into the library as I think there was some kind of event going on inside.
I really enjoyed sitting in the shade in Parque de Santa Cruz watching some wonderful azulejos adorned fountains and admiring the graffiti laden bars of various university organisations.
Coimbra was a lovely little escape and I remember my journey there being a bit of a turning point for me personally. So it was with great fondness that I look back, and give it a strong recommendation, I may not have ended up studying there but it certainly seems to be a very enjoyable place to learn.
If you are heading between Porto and Lisbon it really is a great place to peel away at the half way point and experience a true university town.
[Site 6: Experience 7]
---
Community Rating
Community Rating 3.39. Based on 19 votes.
Your Rating
Site Info
Full name: University of Coimbra - Alta and Sofia
Unesco ID: 1387
Inscribed: 2013
Type: Cultural
Criteria: 2 3 4 6
Site History
2013 - Advisory Body overruled

Referral was advised

2013 - Inscribed

2012 - Incomplete - not examined
Site Links
Unesco Website
Official Website
Locations
The site has 2 locations.
Connections
The site has 17 connections. Show all
Visitors
168 community members have visited University of Coimbra. Show all