Tarraco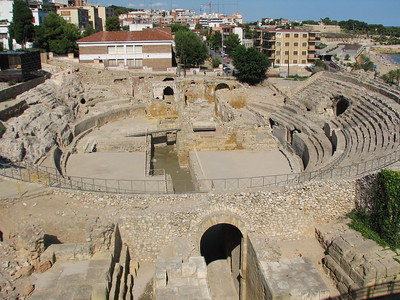 The Archaeological Ensemble of Tárraco (modern Tarragona) reflect the first and oldest Roman settlement on the Iberian Peninsula. It first served as a base for the conquest of the interior and then became a provincial capital.
The city has been built on three terraces, adapting to its environments, and included a Forum, Circus, Amphitheatre, villas and other public buildings.
Within Spain, comparisons can be made with Mérida. However, Tárraco is believed to have had greater importance in the Roman Empire, as its first provincial capital. Its remains also illustrate the entire Roman period of the town, from the 3rd century BC to the end of the Roman rule.
Visit August 2006
About 95 km's south of Barcelona, also on the coast, lies the pleasant city of Tarragona. After leaving our car in a parking garage, we tried to find our way to the Roman remains without a map. This wasn't easy, as the city is spread out along the coastline. Fortunately the woman at the train station who had sold out all of her maps pointed us in the right direction: most of the sights are in the north, in the upper town. We walked up there, in the midday heat.
The Tourist Information in this part of town holds very Spanish opening hours (closed between 1 and 5 p.m. or so), so we just had to follow our own instincts. The enormous city walls can't be overlooked though. From there we roamed the narrow streets of the charming old town. Most of the Roman remains are only fragments. The amphitheatre is quite complete, but I've seen better ones. It was closed too, for unclear reasons. Not part of the WHS but worth a mention: the cathedral of Tarragona, also in the upper town, is just great.
On our way back to Barcelona (via the A7 toll road) we had a glimpse of the Roman aquaduct. If you're in the mood, there's a small parking lot on both sides of the road from where you can have a good look and take pictures. We'd had enough however after another satisfying day. Advise for future travellers to Tarragona: bring your own map and take your time!
Community Reviews
---
---
---
---
---
---
Community Rating
Community Rating 2.82. Based on 19 votes.
Site Info
Full name: The Archaeological Ensemble of Tárraco
Unesco ID: 875
Inscribed: 2000
Type: Cultural
Criteria: 2 3
Site History
2000 - Inscribed

1998 - Requested by State Party to not be examined

Withdrawn by Spain after ICOMOS recommended Rejection
Site Links
Unesco Website
Official Website
Related
In the News
Locations
The site has 14 locations. Show all
Connections
The site has 17 connections. Show all
Visitors
144 community members have visited Tarraco. Show all