Medina of Essaouira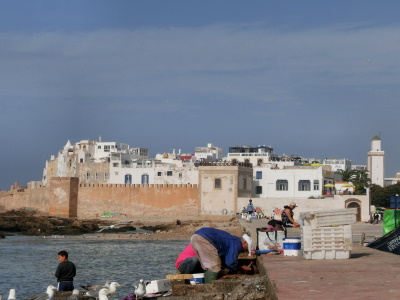 The Medina of Essaouira (formerly "Mogador") is an example of a late 18th century fortified town, as transferred to North Africa.
Sultan Sidi Mohamed ben Abdellah decided to build a port that would open Morocco up to the outside world and assist in developing commercial relations with Europe. He hired a French architect (Nicholas Théodore Cornut) who had been profoundly influenced by the work of Vauban at Saint-Malo.
The designated area includes:
Bastion and forts
Kasbah
Mellah, Jewish quarter
Several mosques and synagogues
18th century Portuguese church
Private houses
Community Reviews
---
2.50 The Netherlands - 20-Jan-23 -
Essaouira is yet another fortified town along Morocco's Atlantic Coast. And another Medina as well! For me, it didn't stand out enough and I have given it the lowest rating of all Moroccan WHS. Essaouira also was the most touristy city of my trip: its coastline has a special appeal for surfers. It also attracts those young US Americans travelling abroad for the first time, moving around in small groups with the guys chaperoning the girls, ánd I met an Intrepid tour group following their 'leader' like ducklings even while having to complete the simplest of tasks.
The Morocco-for-beginners theme continues at the medina, as the one here is easier to navigate than usual: it has wide main streets and is laid out in a checkerboard plan. There are a lot of shops, cafes, and restaurants. At the far end, you'll find the ramparts. The area around the still very active fishing port probably is the prettiest.
Essaouira in its late 18th and 19th century commercial heydays had a large Jewish population, once even up to 60% of all inhabitants were Jews. Their history and their coexistence with the Muslim population are remembered in the Bayt Dakira museum. The museum's location isn't actually advertised, but the same applies to the nearby Sidi Mohammed ben Abdallah Museum - it is not because Morocco is uncomfortable with its Jewish past. At Bayt Dakira, they will open the door when they see you peering inside. I found it especially interesting to see the old black-and-white photos and videos of the period that Essaouira blossomed due to the salt trade. It was nicknamed 'the Port of Timbuktu' (that would have been a good Epic Subtitle!). The interior of the Simon Attias Synagogue is also preserved at the museum.
The old Jewish quarter has fallen in total disrepair since almost all Jews left (mostly in the 1960s after the creation of the State of Israel). There are still numerous small synagogue buildings and Stars of David above the doors of residences. The people now living there look like squatters, even using the city walls as support for their tents.
Read more from Els Slots here.
---
Essaouira is a lovely little place and an easy side trip from busy Marrakech. Although it's the medina that is the main focus of the WHS, there are more things to when you're there. In the warmer months, the beach is a great place. My favourite area was the port, full of blue boats and blue nets - it's really picturesque.
There are some nice riads for accommodation in the medina and some interesting little side streets once you get away from the main boulevard. Well worth the trip, even if it wasn't a WHS.
Read more from Michael Turtle here.
---
Travelling by bus from Marrakesh to Essaioura past endless olive groves was my introduction to the Moroccan countryside. It was the harvest season, so they were a hive of activity.
The Medina of Essaioura was compact and enclosed by stout walls. Within, the souqs were more laid back than in Marrakesh, and especially colourful in the collonaded parts. The fortified port also held a lot of interest, especially the seafood grill restaurants.
---
I visited this WHS in June 2011. The highlight of this Medina for me were the walls surrounding it and the Mogador islets in the Atlantic Ocean. Great picturesque views from the Fort.
---
Charles Borg
A very colourful, artistic and historical town.Here one can enjoy culture and climate at the same time.I was there in Nov 2011 and the weather was fine. Enjoyed the market. A negative comment is that a bit of hygienne would be appreciated at the fish market a good clean public convenience is an assest.
---
I had heard lots of great stories about Essaouira, so thought it would be worth the trip down from Marrakesh, and as it turned out it was well worth the effort to get there.
The central souqs are laid out in a grid, making them easier to navigate than many other medinas. This is due to the site being planned as a European style city on the African Coast. It was based on St Malo in northern France (worth a visit if you are near Mt St Michel), which is a much grander and perhaps better-preserved city, and many aspects of the two cities are the same, especially the sea facing ramparts (picture). This was my favourite part of Essaouira, it was very windy but was a great place to relax and have some lunch.
I must admit to being a little under whelmed when I first arrived, with the city centre not really being anything too interesting. However the ramparts did add something more. In regards to its merits for inscription, I know ICOMOS dragged their feet in regards, and I can understand why, it is not as impressive or as well preserved as St Malo. However it being a European planned city in Africa makes it important and it was a destination for much of the goods from the Saharan hinterland en-route to the European Market. I had good fun battering for Berber and Dogon goods in the souqs so I can attest to the fact that the goods still get through.
Even if I am a little suspicious of its place on the list, it is a really great place to visit, especially if you want to relax after hectic moments in Marrakesh's souqs.
---
Site Info
Full Name

Medina of Essaouira (formerly Mogador)

Unesco ID

Country

Inscribed

Type

Cultural

Criteria

2

4

Categories

Link
Site History
1997

Deferred

Bureau - Needs better Management plan etc. Morocco pleased to receive expert assistance
1996

Deferred

Bureau - More info required
Site Links
Unesco Website
Official Website
Visitors
257 Community Members have visited.