Le Havre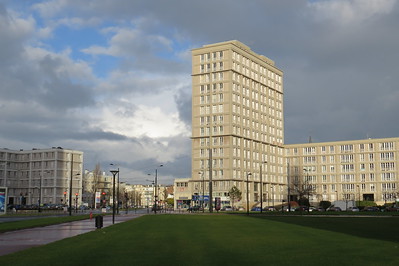 Le Havre, the city rebuilt by Auguste Perret, is an outstanding post-war example of urban planning and architecture.
As a result of numerous air-raids during World War Two, the port of Le Havre lost its administrative and cultural center as well as much of its housing in the center of the city. 5000 people died and more than 80,000 people were left homeless.
Reconstruction planning began in 1945 with Auguste Perret as chief architect and city planner. It lasted until 1964. Historical patterns like streets and squares were preserved, as well as the 16th-century cathedral and 19th-century law courts that survived the bombings. Modernist buildings based on reinforced concrete were added.
Visit December 2013
I visited Le Havre as a break on my 6.5 hour drive from Bayeux back home. My expectations for the city weren't high so I allowed only an hour or two, but it wasn't bad at all. I could drive up all the way to the Hotel de Ville, and parked in the street 50m from there. These streets were the first pleasant surprise: very wide, aligned with trees, with a tramway in the middle, and lots of parking spaces on either side. The pavement has separate tracks for pedestrians and cyclists. They were used by locals out for some Sunday morning excercise.
To see the city center I walked the main boulevards which are aligned as a triangle: Rue de Paris, Boulevard Francois 1er and Avenue Foch. The Rue de Paris starts in front of the Hotel de Ville, which is one of the main sights of the city. The street itself is a shopping street, but has the charachteristic beige low rise buildings that I would see throughout. On the right you will pass the white cultural center that Niemeyer gave the city, on the left side lies the city's cathedral, one of the few surviving old buildings. The street ends at the seafront, where two tall towers designed by Lambert symbolize a gateway into the city. The area was / is used as a social housing project. I liked the architecture of it.
From there, the Boulevard Francois 1er starts and you walk towards the city's beacon: the church of St. Joseph. Its high tower can be seen from anywhere in the city center, and reputedly was built as a "spiritual lighthouse". Its interior is not what you would expect of a regular church, it's more like a meeting room with pink/purple stained glass windows (a bit similar to the Sanctuario Dom Bosco in Brasilia).
When walking around Le Havre, that other modernist city Brasilia frequently springs to mind. I visited Brazil's capital in 2004, and must say that was a totally different experience. Its city plan and buildings are much more extreme, their design made for effect. It did not seem a liveable city at all. Although some of the reviewers below comment on the dreariness of Le Havre, I found Le Havre much softer in its approach and more gentle to its inhabitants.
Click
here
to see more of my photos of Le Havre
Community Reviews
---
---
---
---
---
---
---
Community Rating
Community Rating 2.39. Based on 22 votes.
Site Info
Full name: Le Havre, the city rebuilt by Auguste Perret
Unesco ID: 1181
Inscribed: 2005
Type: Cultural
Criteria: 2 4
Site Links
Unesco Website
Official Website
Related
Connections
The site has 18 connections. Show all
Visitors
200 community members have visited Le Havre. Show all