Rouen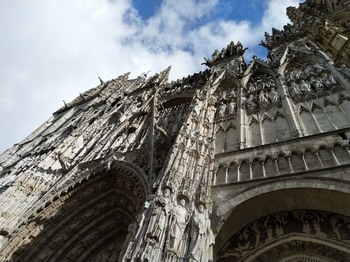 Rouen : ensemble urbain à pans de bois, cathédrale, église Saint-Ouen, église Saint Maclou is part of the Tentative list of France in order to qualify for inclusion in the World Heritage List.
Rouen is a city on the Seine between Paris and Le Havre. In the Middle Ages, Rouen became the capital of Normandy and was one of the largest European cities of the time. The historic quarters of the old town are an ensemble of narrow medieval streets with half-timbered houses. Three religious buildings stand out: the Gothic Rouen Cathedral, Saint-Ouen Abbey and Saint-Maclou Church in the Gothic Flamboyant style.
Map of Rouen
Load map
The coordinates shown for all tentative sites were produced as a community effort. They are not official and may change on inscription.
Community Reviews
---
I visited this tentative WHS several times as a pleasant stopover city on my way to other WHS or tWHS such as Mont-St-Michel, Le Havre, Amiens, Carnac or Cordouan. However, back in June 2011, I had allowed a full weekend specifically for Rouen.
Rouen is the capital of Normandy, even though it is relatively close to Paris. In the past it was one of the largest and most prosperous cities of medieval Europe and it was the seat of the Exchequer of Normandy during the Middle Ages. It was also one of the capitals of the Anglo-Norman dynasties, which ruled both England and large parts of modern France from the 11th to the 15th centuries. Rouen saw the tragic end of Saint Joan of Arc's life, a legacy that continues to leave its mark in the city.
The highlights of this urban ensemble are its stunning churches, mostly constructed in Gothic style. The Notre-Dame Cathedral is by far the most elaborate and captivating and holds the title of the tallest cathedral in all of France thanks to the spire of the Tour Lanterne which is a must-visit if only for the panoramic view over the city. Inside the cathedral is where the embalmed heart of Richard the Lionheart rests in his tomb. The city's others churches shouldn't go unnoticed either: namely the Church of Saint-Maclou which is renowned for its five gabled arches on its facade, and the Abbey of Saint-Ouen which is a prime example flamboyant Gothic architecture.
The heart of Rouen lies undoubtedly around the Old Market Square and the Gros-Horloge, a stunning Renaissance clock and a symbol of the Norman town. If you have more time to spare and are travelling by car, I'd also recommend a quick visit to the nearby town of Jumièges which is known for its ruins of a former Roman Catholic abbey, and to Lyons-la-Forêt, named one of the most beautiful villages in France.
All in all, Rouen is one of France's pleasant cities but overall I feel it wouldn't add anything new to the WH list.
---
Known as the town where the English burned Jeanne d'Arc, Rouen has kept a medieval feel to this day. On my stop over when travelling from Le Havre to Paris, I saw plenty of timber framed houses lining the city center. Interestingly, the historic center reminded me more of medieval cities in the UK than in France.
The highlight of the visit is the Cathedral. It's just a stunning structure, even taking into account the inflationary amount of great medieval cathedrals in Northern France. St Maclou is a bit smaller, but also a very nice church. Taking together, I spend a nice, but rushed afternoon in Rouen.
OUV
Initially, I was rather reluctant. The cathedrals of Northern France are already well represented on the list. But the medieval charm of the city together with the two stellar churches (A & B) won me over. And even if it's never inscribed, you should consider a short stop when travelling between Le Havre and Paris.
Getting There
Rouen is on the train line between Paris and Le Havre. From the train station it's a 15min walk to the city center. Train schedules are infrequent and not really helpful. You will arrive at Gare St Lazarein Paris.
When heading back to Paris by train, you pass within a few hundred meters max of Le Corbusier Villa Savoye. However, the train from Rouen has no stop in Poissy, so a visit is more complicated than it could be.
---
July 2018 - on our Roadtrip we finally entered the Province Normandy. The first city we visited was Rouen. It consists of norrow streets and squares with romantic timber framed houses. We parked the car on the outside and took our bikes around. The cathedral is also marvelous. It is a very charming cit ynad we had dinner in a small french bistrom drinking cidre and eating some legumes. We also found giant macarons, that are the size of your hands. A wonderful experience, we will come back soon.
---
Rouen is a beautiful town with rows of medieval half-timbered houses. It has a large impressive historic city centre and quite a few imposing Gothic churches headed by the famous Cathedral. The municipal court is also extensively decorated and resembles a Gothic church.
Rouen was damaged during WWII, so unfortunately, although impressive, it does not feature a unified urban ensemble. Therefore, it seems it cannot compete well with other French historic towns such as Colmar, Dijon, Sarlat and many more, let alone many such European towns. Nonetheless, large segments of the old town are well preserved and the quantity of the preserved portion still makes it one of the largest old towns in France.
France in particular and Europe in general already feature so many historic towns on the list that it seems highly implausible Rouen should ever make it. Notwithstanding, it is a pleasant town worth visiting if you're around in Normandy.
---
Site Info
Full Name

Rouen : ensemble urbain à pans de bois, cathédrale, église Saint-Ouen, église Saint Maclou

Country

Added

1996

Type

Cultural

Categories

Link
Site History
1996

Added to Tentative List
1995

Deferred

Bureau - needs better Man plan, definition of zones etc
Site Links
Visitors
88 Community Members have visited.