Lavaux, Vineyard Terraces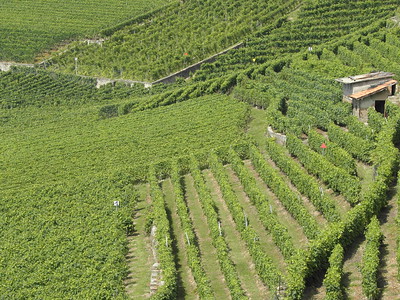 The Lavaux Vineyard Terraces comprise a 30km stretch of land along Lake Geneva where viticulture has been practised since at least the 11th century.
There are even findings that suggest that already the Romans grew vines here.
Local Benedictine and Cistercian Monasteries, who owned the land, started large scale winemaking here. They employed farmers to do the work, against a percentage of the earnings. The landscape is dotted with small villages and castles.
The vines are grown on terraces: the location benefits of a temperate climate due to the reflection of the sun in the lake and the stone walls. Wines that are produced here are not well-known around the world. They include The Villette, Saint-Saphorin/Lavaux, Epesses, Dézaley and Chardonne.
Map of Lavaux, Vineyard Terraces
Legend
Visit July 2011
We have now 24 WHS connected to vineyards. In some cases it's just a small part of the site, in at least 5 others like Lavaux the OUV is all about vineyards. That there are so many of them seems to be the result of the recent 'love' for the cultural landscape concept, the ways in which man interacts with and transforms the natural landscape. And somehow promoting viticulture is more attractive than the produce of grains for example. Though wines are produced all over the world, all 24 vineyard WHS are located in Europe!
No wonder ICOMOS had a hard time looking for the uniqueness of Lavaux. Its main characteristics are its terraces, and the density of them. But it is by no means the only or the first site where vines are grown this way. It does not produce famous wines either. They might just have been blown away by the excellent nomination file made by Switzerland - like the one for La Chaux-de-Fonds/Le Locle it is very well-presented and extremely detailed.
I visited the area on a Sunday morning. The easiest way to see it is from the local train between Lausanne and Vevey. Do not take the intercity train, as this one just speeds by. From the local train that runs once an hour you can descend at the little towns along the route. I stopped at Saint Saphorin, and walked to Rivaz from there on a very fine hiking path about midway through the terraces. There are great views from here on the green vines, the glittering lake, a castle and some shapes of the Alps. Signboards along the way display background information about how the vineyards are kept up.
I really enjoyed this walk, especially while it was sunny and much warmer than at home. I finished with an excellent lunch at the Auberge de Rivaz.
Click
here
to see more of my photos of Lavaux, Vineyard Terraces
Community Reviews
---
---
---
---
---
---
Community Rating
Community Rating 2.94. Based on 24 votes.
Site Info
Full name: Lavaux, Vineyard Terraces
Unesco ID: 1243
Inscribed: 2007
Type: Cultural
Criteria: 3 4 5
Site Links
Unesco Website
Official Website
In the News
Connections
The site has 18 connections. Show all
Visitors
157 community members have visited Lavaux, Vineyard Terraces. Show all