Hill Forts of Rajasthan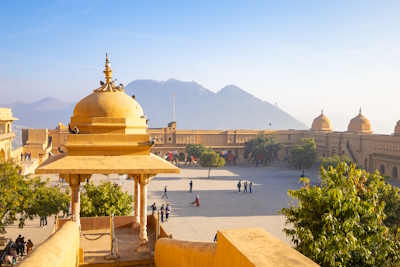 The Hill Forts of Rajasthan are six massive fortifications built in the eclectic Rajput cultural tradition.
They reflect the elaborate, fortified seats of power of Rajput princely states that flourished between the 8th and 18th centuries and their relative political independence. The fortresses protected their palaces, temples and often also had urban settlements within their walls.
Community Perspective: the included forts are Chittorgarh Fort (Clyde), Kumbhalgarh Fort, Ranthambore Fort (Clyde), Gagron Fort, Amber Fort (the easiest to visit as it is just outside Jaipur - Els, Clyde, Nan, Joel), and Jaisalmer Fort (Clyde). Jaisalmer Fort may be the "best" because it is still inhabited and it lies in the Thar desert close to the Pakistan border.

Community Reviews
---
Although this site covers six different forts, we were a bit short on time and opted for the easiest one to visit the Amber Fort just outside of Jaipur. It's pretty easy to access, though I'd recommend using a ride-hailing service like Uber or Ola instead of organising a car through your hotel.
The Amber Fort is really more of a palace than a fort, though it certainly serves that purpose as well. There are multiple terraces and courtyards inside, each leading to an earlier and more exclusive part of the fort. There's fantastic details here at every turn, with impressive sizes matched against exquisite Mughal detailing.
Sadly, elephant rides are still available here as an option instead of climbing up several ramps and staircases to enter the fort. It's not a long or arduous climb, though the heat and hawkers can make for a less-than-pleasant experience.
As with every other site run by the Archaeological Survey of India (which covers most World Heritage sites), you can buy tickets directly online from the dubiously-named but actually legitimate https://asi.payumoney.com. You can then show tickets on your phone to the gate inspectors.
All up, we really enjoyed our visit to the Amer Fort. It's a large enough site that aside from a couple of areas it never really feels all that crowded, and there's a whole lot of fascinating stuff to see. Well worth a half-day of exploring at the very least.
Read more from Joel on the Road here.
---
The bus from Jaipur dropped me off near the entry to Amer Fort at the bottom of the hill. The entry lies next to a lake and the view of the Fort with the lake is very scenic. Amer Fort dates to around 1600 and belongs to the Mughal period with major Rajput influences. On the inside it's more of a palace than a fort.
After finishing my visit of Amer Fort, I continued on to the top of the hill. There a second fort is located, Jaigarh Fort. At the time of my visit they were shooting a movie, so I only got to see parts of it. I still got to pay in full. And maybe I am now staring in a Bollywood movie.
Getting There
I only visited the Amer Fort, probably the easiest option of the serial nomination. I flew into Jaipur from Bangalore. India has plenty of budget airlines, so you should consider this option.
After two nights I traveled on by train to Agra. The train running between Jaipur and Agra is newer than the average Indian train and a lot faster.
From Jaipur you can take a local bus to Amer. Amer used to be an independent city, but is now a suburb of Jaipur. My way back to Jaipur was a bit complicated, though, as there were no busses running for an hour or so. And when a bus finally showed up it was fully packed. I managed to squeeze myself in somehow.
While You Are There
A visit to the Jantar Mantar in Jaipur is a must. To me a truly astonishing and iconic site. Jaipur also boasts a nice old town with more remarkable structures, e.g. the Hawa Mahal (Palace of Winds). At lunch or dinner you should go for a plate of Biryani.
The area around Jaipur also holds more forts.
Trivia
Modern spelling seems to be Amer, not Amber. Amer and Amber Fort refer to the same place, though. So no need to worry if you are visiting the right site. As I did for a while.
---
I visited 4 sites of this WHS in December 2011-January 2012. There are several forts in Rajasthan but the ones inscribed in this WHS are really unique. My personal favourite is Jaisalmer Fort in the Thar Desert close to the Pakistan border. It is special because it is still inhabited and the people there are really special. Hopefully sanitation problems and refuse collection will improve thanks to UNESCO but I really hope that the rumours of Jaisalmer becoming a "tourist attraction" meaning that the locals would be "accommodated" in apartments "outside" the city walls does not materialise (similar to what has happened in Bagan, Burma or Angkor Wat, Siem Reap). Jaisalmer Fort is special and unique to me because it is still inhabited after hundreds or thousands of years. I also visited Amber Fort outside Jaipur (entering the fort gate on a painted elephant like a maharajah), Ranthambore Fort, and Chittorgarh Fort with the claustrophobic Victory Tower.
---
It would be fair to include such a WHS. I think it would deserve the WHS status at least as much as the Belfries of France and Belgium. Jaisalmer Fort and Jodhpur's Fort definitely would be 2 highlights in such a WHS.
---
3.50 The Netherlands - 12-Jul-93 -
In 1993 I visited one of these forts: Amber Fort. It was my first trip to India, and I was completely overwhelmed by its street life and visible poverty. Jaipur, the nearest city to Amber Fort, also was the first place we visited on our tour.
The Fort is located on the top of a hill, and we walked there in the late afternoon. I remember that it was getting dark when we returned and that there were lots of local kids yelling at us, walking with us, or wanting to hold hands.
The fort was built from 1592 and "shows the evolution from the purely defensive fort settlements of the early medieval period to the palace fortress type of architecture typified in the 16th century." It is quite an extensive complex, with several courtyards, gardens, a temple, audience halls and living quarters.
My visit was so long ago that I cannot really argue if this is a viable WHS or not. But certainly "palaces" in general are still a very prominent feature of Indian history and culture.
---
Site Info
Site History
2013

Revision

Includes former TWHS Chittorgarh Fort (1981)
2012

Advisory Body overruled

Referral instead of "Not inscribed" proposed by ICOMOS
Visitors
264 Community Members have visited.