Jantar Mantar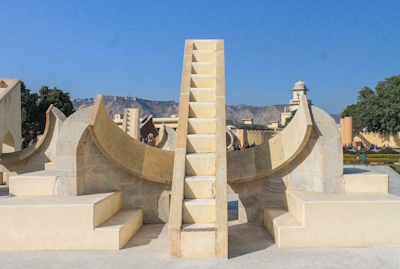 The Jantar Mantar, Jaipur is a collection of large architectural astronomical instruments.
They were built in the new state capital of Jaipur in the early 18th century on the orders of Prince Jai Singh II. He had constructed a total of five such facilities at different locations, including one in Delhi. The Jaipur observatory is the largest and best-preserved of these. It followed the tradition of Ptolemaic positional astronomy and was designed to observe the sky with the naked eye.
Community Perspective: a haven of quiet from the bustling city outside, but it is quite hard to work out how the various instruments worked except for the huge sundial. The separation of this location from the also inscribed Jaipur City seems rather artificial.

Community Reviews
---
Jantar Mantar, what a weird name? When I traveled to Jaipur, I didn't really know what to expect. The name sounds more like a joke than something real.
What I found is one of those niche jewels of the world heritage list: an Indian observatory based on architectural astronomical instruments. The architectural part is key here as there were little mechanics or optics involved. Instead, you have the world's largest sundial being able to measure time by 2s due to its size. In comparison the Royal Observatory in Greenwich is tiny.
Interestingly, the site is limited to the observatory. India has in the meantime submitted Jaipur (T) itself as a separate site. The community feedback is rather positive, but to me combining Jaipur and the Jantar Mantar would yield a truly great site and the separation seems rather artificial.
Getting There
I flew in from Bangalore in the morning. I left the next morning on the train to Agra.
A popular tourist option is to do the golden triangle (Delhi, Agra, Jaipur) from Delhi with a driver. You will find plenty of offers for this online.
While You Are There
As mentioned, Jaipur City is a tentative site itself and nominated for 2019. Not to be missed Amer Fort is part of the Hill Forts of Rajasthan world heritage site.
---
Manisha joshi
Truly miraculous janta mantar in jaipur I visited in November 2014. It still shows the correct time the sun dial and yes my little knowledge of astrology also helped me to understand the planetary positions depicted in jantar mantar.
---
I visited this WHS in January 2012. This astronomical observation site in Jaipur includes several astronomical instruments of the Mughal period. Quite interesting to visit in the middle of the Pink City.
---
My last visit to the Jantar Mantar at Jaipur was as long ago as 1992 so the accompanying photo has had to be scanned in from a 35mm slide!! But I remember the visit, and indeed the entire stay in Jaipur with pleasure. This is a worthy addition to the list and a visit to Jaipur will bring in many other fine sights too!
India's Tentative list entry for this site originally listed the existing 4 Jantar Mantars for potential inscription (Jaipur, Delhi, Varanasi and Ujjain – a fifth at Mathura no longer exists) but must have concluded that it was better to concentrate on that at Jaipur. They were all built by Jai Singh, "a regional king under the Mogul Empire", between 1724-7. Jaipur's is the largest and, as I remember the one in Delhi many years ago, the better preserved/restored – though the small one in Varanasi situated atop a building is also rather fine and I have never been to Ujjain. They all provide a haven of quiet from the bustling city outside within a walled "park" containing a series (Jaipur has 14) of large (the biggest at Jaipur is 27m tall) and complicated-looking astronomic instruments, known as "Yantras" , each designed to measure some aspect of the passage of heavenly bodies – determining time, predicting eclipses, placing planets etc. My photo is of the "Jai Prakash" – a hemispherical sundial said to be Jai Singh's "most elaborate and complex instrument". I would not claim, either at the time of the visit or now, to understand how the various instruments worked - if you want a run down have a look at http://www.jantarmantar.org/Architecture_Science_web.pdf . We didn't take guide in those "far off" days but I could imagine that doing so or having a good written description of how each instrument worked could add to the visit experience.
---
Site Info
Site History
2010

Advisory Body overruled

ICOMOS advised Referral (Management Plan issues)
Site Links
Unesco Website
Related
In the News
Visitors
265 Community Members have visited.