Fatehpur Sikri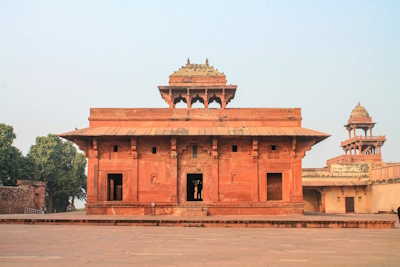 Fatehpur Sikri comprises the remains of a city that has influenced the evolution of Mughal town planning.
This short-lived capital was planned as a dream city for the Mughals in the late 16th century. The city held administrative, residential, and religious buildings, showing a variety of Indo-Islamic styles. The buildings are made of red sandstone. Among its architectural highlights are the Jama Masjid and the Victory Gate Buland Darwaza.
Community Perspective: It's an easy day trip from Agra. Bernard and Frederik have well-described what you may expect from a visit.
Community Reviews
---
3.00 The Philippines - 03-Dec-20 -
I arrived at Fetehpur Sikri at 7am, way too early that I had to wait for the ticket seller to come before I could go in. I rode on a bus from Agra, and asked the driver to drop me off at Fatehpur Sikri. From where I alighted, this WHS could already be sighted -- it only took me a leisurely 15-minute walk to get to the entrance. I passed through the defensive city wall and Agra Gate, and I also explored the ruins of a marketplace on the way. I had the palace grounds all to myself for at least 30 minutes before I was joined by a group of five local tourists; hence, I enjoyed walking around and getting into areas I might not even had been supposed to be entering. Indeed, Fatehpur Sikri is not short of the "chattris" it is quite known for and almost everything is made of red sandstone! I spent some time sitting at a nice spot by the western edge, looking out towards the Elephant Tower. There were peacocks and locals going about their morning routines on that side, too.
When I entered the Jama Masjid, I was surprised at the sudden change of scene: while the palace grounds were almost empty, the mosque was already busy with tourists and devotees alike. Aside from being an active place of worship, the mosque does not require any entrance fee to get in (back in 2015, it was 250 rupees to get in FS palace grounds, in 2019 it is already 600 rupees). I remember being greeted by lot of butterflies in between the palace grounds and the mosque, of which I was truly fascinated by. I checked out the tomb of Salim Chisti, an exemplary architectural work in white marble, and went around the complex. The Buland Darwaza is immensely monumental, so much so that it dwarfs not only the mosque complex but also the town below it. It is said to be the tallest gateway in the world. I hurriedly explored the town a bit before hiring a tuk-tuk to take me to the bus stand where I could get a ride to proceed to Keoladeo National Park, an hour trip away.
Fatehpur Sikri is said to be the realization of a city that is purely Mughal terms. While it was not a disappointing site --it is architecturally very playful!-- and while I enjoyed my experience there, having seen Agra fort the day before, I could not help but to compare the two: Agra fort was more remarkable sans the crowd.
---
I visited this WHS in December 2011. In the 16th century, Fatehpur Sikri (the city of victory) was the capital of the Mughal Empire. Nowadays it is simply a ghost city with a huge archaeological site and an large mosque next to it. The central pillar of the Diwan-i-khas was the highlight of my visit.
---
Heather Gramp
Many people can get "forted out" in northern India despite the magnificence of places like Meherengarh and Udaipur. However, there is something appealingly other worldly about the deserted Fatehpur Sikri. I led trips in India in 2005-2006 and found that despite the formidable heat and the touts, people were moved by something at Sikri.
Go there knowing a bit about the intellectual curiosity of Akbar, his carefully considered quest for religious truth, the story of his involvement with Pir Salim Chisti - these bring Fatehpur Sikri to life and you can imagine great debates occurring in the Diwan-i-Khas. Don't miss Chisti's tomb. Also, I recommend you read Bamber Gasgoine's "Great Moghuls" or the recent Salman Rushdie book "The Enchantress of Florence." Look for Akbar's jewelled sword at Meherengarh in Jodphur too!
---
Gita Nayar
Much as I was spellbound by Fatehpur Sikri; I was equally disappointed with the sad- neglected state of the monument.
It was dirty, litter strewn across the courtyard. Half-eaten food/fruits/banana peels were left around with flies on them. Why cant ASI or the caretakers of Fatehpur Sikri stop people from eating inside the premises...?
The hawkers in the premises spoil the beauty of the majestic monument - Especially near the Bulund Darwaza.
Worse of all, as soon as we arrived in Fatepur Sikri, our car was surrounded by tourist guides who showed us their pass claiming to be official tourist guide. We finally settled for one at a haggled price of Rs. 350/- (which I thought was still over priced for a 20 mins guide). He assured us that the parking and rickshaw charges from the car park to the monument were included in the price. Hence we agreed to Rs. 350/-.
We were conned by this tourist guide into buying a Chadder at the site for Rs 600/- which is not necessary or required.
When we were done with the tour, the guide took the money and guided us to the waiting rickshaw. On reaching the parking lot, the rickshaw driver demanded for Rs. 100 and we even had pay another Rs. 100 for the parking charges. Quite obviously the guide had done the infamous disappearing trick. All in all it left a very unpleasant feeling about the whole visit. And surprising there are no officials to control the sorry state of affairs.
Why are these heritage sites a haven for cheaters and con-men..?
PLEASE BEWARE.
---
I visited this site way back in about 1990, with a rather roguish Indian tour guide - We arrived a full two hours before it officailly opened and he bribed our way in.The result was that we had the entire site to ourselves, which is a huge privellage in a 'deserted' city which is also a tourist Mecca.
We were leaving just as the crowds arrived to replace the birdsong which had accompanied our tour with the din of modern tourism.
That said even when crowded this is a large fascinating, atractive, site, with plenty to see. It is also close enough to the Taj Mahal that you could do both in one day.
It does however stand on its own two feet and I would highly recomend it. And if you can bribe your way in before it officially opens, do!
---
4.00 Netherlands - 27-Sep-06 -
Fatehpur Sikri was built by Emperor Akbar on the site where the holy man, who Akbar believed to have a power for giving an heir to him, had lived. The holy man's home was in a very dry area where normal people will not expected to build a home, but not for this great emperor. Akbar built the whole city of Fatehpur Sikri with grand palace complex and enormous mosque in the centre of semi-desert area. He moved his court to this place for just to face a water shortage problem. After Akbar passed away, this city was abandoned like a ghost town.
My friend and I visited Fatehpur Sikri in early morning to avoid the summer heat of India, we reached Fatehpur Sikri and found out that our hired guide was still in Agra and maybe late for one hour. Our driver decided to hire a new guide for us; after we got a new guide it was the time to discover Fatehpur Sikri. The red sandstone palace complex of Akbar is really beautiful with many buildings. The Hall of Private Audience has a unique interior symbolizing Akbar's religion policy, the Faith of god or Din-i-Ilahi, which brought all religious doctrines in India and made it as a new belief. It was really nice to see many religion symbols in one place. The Treasury was designed for emperor to play hide and seek with his concubine! The harem section was really amazing with many halls for each queens and favorite concubines who came from different religions. Akbar must have a very big harem as he built five storey building for his women to see the view.
After the palace complex, we visited the grand mosque of this town. The gate is really big, but inside is just a normal mosque. The center of this mosque is the Tomb of Akbar's holy man which beautifully constructed in white marble. The tomb was full with worshippers mostly a women maybe they also want a baby like Akbar. After we finished the tour and back to the entrance gate, we met our real guide who was late. Our guide offered us to tour Fatehpur Sikri again! You may think this is ridiculous, but we accepted his free offer as we love this place and seeing it again would be nice, so in that day we had seen Fatehpur Sikri twice!
Fatehpur Sikri is a very beautiful place and very near Agra where Taj Mahal located, so you can make this place as a one day excursion like us. You will enjoy the wonder of Akbar's architectural style which is better than the one in Agra Fort (the Akbar section not Shah Jahan one). But don't go to any hidden corners as someone's urine will ruin your feelings and most important, your nose.
---
3.50 The Netherlands - 12-Jul-93 -
As you could expect from a ghost town, the atmosphere is somewhat dead. It clearly is a monument and not a place where people live (or even have been living). Only the big Mosque with the tombs of saints is regularly visited by pilgrims.
Fatehpur Sikri is located only 40 kilometers distance from Agra, the city of the Taj Mahal and the Red Fort. When you are in the area, Fatehpur deserves a visit of a few hours. But beware: it can get terribly hot there.
---
An outstanding memorial to Akbar's arrogance!
I would highly recommend a visit to Fatepur Sikri, but please be aware that it is a tourist trap of the highest order. There are touts and marble salesmen everywhere.
Still, this cannot detract from the majesty of Akbar's Grand Mosque. The gateway is simple jaw-dropping.
Unfortunately the site is need of some loving care and attention from Archeological Survey of India - many parts are in a tragic state of repair.
---
Site Info
Full Name

Fatehpur Sikri

Unesco ID

Country

Inscribed

Type

Cultural

Criteria

2

3

4

Categories

Link
Site History
1984

Deferred

Better protection from quarrying etc
Site Links
Unesco Website
Official Website
In the News
Visitors
283 Community Members have visited.