Gyeongju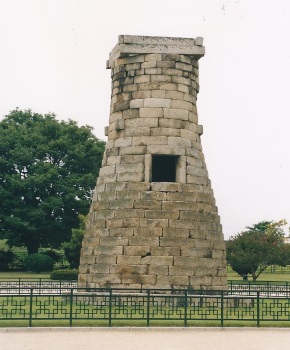 Gyeongju Historic Areas, comprising the former capital of the Silla Kingdom, is a repository of ancient Buddhist and secular treasures.
Numerous statues, reliefs, pagodas, the remains of temples and palaces, royal tombs and even an ancient astronomical observatory have been preserved in and around Gyeongju. They date from the Kingdom's flowering period of the 7th - 10th centuries.
Community Perspective: Most find the sights overrated, except for the cute Cheomsongdae Observatory. Clyde has visited all (sub)locations and GabLabCebu highlights Mt. Namsan.

Community Reviews
---
4.00 Philippines - 06-Aug-23 -
The Korean nation has been unified by just three powers in its history, the Silla in Gyeongju, the Koryeo in Kaesong, and the Joseon in Seoul. For that, these are probably the three most historically rich and significant cities on the peninsula. The Joseon cultural heritage is the basis for four different WHSs in Seoul (with a fifth one in nearby Suwon), but Gyeongju's Silla heritage has been somewhat strangely divided into two sites. Sure, I guess Bulguksa and Seokguram, being located a fair way away from the main city, in Tohamsan, do make a good single site together, but I personally feel like Gyeongju would be better off with either a single all-encompassing site to truly capture the greatness of the Silla capital or three or more to actually highlight the different aspects of its heritage; for example, I feel that the OUV of Namsan and Tohamsan are much more similar than between Namsan and the Tumuli fields. Actually, I see Namsan not as inferior to Tohamsan in granite carvings, but as a single world wonder of Silla stonework, with Seokguram as its crown jewel, but being just as worthy of its prestige regardless of it. Thus, a combined site of Gyeongju's Silla heritage would probably get a 4.5 from me. Nevertheless, I've found the main Gyeongju site to be well worth the journey, and despite the crowds and the underwhelming response you may have if you don't know what to expect and/or only stick to the central touristic circuit, I still found it to be the most interesting and important cultural WHS in Korea after visiting all of them in June 2023.
"If you haven't visited Namsan, you haven't visited Gyeongju." This apparently famous Korean quote echoed in my head as I planned my Gyeongju itinerary. Namsan was the toughest nut to crack because there may just be a million ways to explore it. In the end, I settled with the Samreung Valley trek. This 1.5-kilometer trek would take you to tumuli, a small temple, and many different Buddhist petroglyphs and carvings into the hard granite of the mountain, before coming to a peak where you can gaze out over the city. It's fairly well demarcated, and the terrain isn't too difficult or hazardous, with many hemp ramps and staircases and not much loose soil; just take it easy and enjoy the sights and cool mountain air. Buses 502 and 504 will get you to the start of the trail from the central bus station in about twenty minutes. Look out for little side trails with signs pointing towards carvings - you're gonna wanna take those little detours to make the most of this open air museum, though take note that the several meters on those signs are never that quick and easy due to the inclines. The greatest detour to take was to the seated Buddha statue, carved from the mountain's granite and immaculately preserved here for over a millennium, and this was a couple hundred meters up a side trail (actually unmarked, but the main trail split into two, and I chanced upon this by going to the wrong side). At the end, the view from the peak was spectacular, and it was a great feeling knowing I'd conquered a mountain and explored such an amazing monument at the same time. No single monument is to the level of Seokguram, but all together, I'd say it's one of the most extraordinary Buddhist landscapes in the world. To me, Namsan is easily the most impressive part of this WHS... you just have to work for it.
As for the rest of Gyeongju, I'd say it's easily covered by the other reviews. Like everyone else, I agree that the observatory is the most important monument in the central axis, but the mounds are actually really impressive too, dare I say the best ones to see in East Asia, and there's even one tomb (Geumgwanchong) that's been excavated and can be explored, though it closes earlier than the tumuli park. The central touristic axis is completely walkable and includes both the Tumuli Park Belt and the Wolseong Belt, which actually also contains the site of the palace, though no notable remains can be seen. Bunhwangsa, the only standing structure in the Hwangnyongsa Belt, can be seen on the way back from Bulguksa, on the same bus route. I must also note that basing yourself next to the central bus station is paramount; not only do all intercity buses arrive and depart from here, but so do all the city buses that you can take to Namsan, Tohamsan, Yangdong, and even Oksan. There is also a good range of accommodation and food in the area. And even just as you arrive, you may begin to see some of the historic relics on display on the sidewalk, hinting to the visitor that this is not just any ordinary city. While not a lot remains, what does still stand in Gyeongju is already remarkable for its age and advancement in its time. This was one of the greatest cities in world history, and while it may not seem as grand as many of its more famous contemporaries and counterparts, it shows this distinction in many, often subtle, ways. There's a lot more to Gyeongju than meets the eye of a day-tripper or a surface-level tourist. It's definitely a must-visit on any trip to Korea.
---
I have been to all but one of the UNESCO sites in South Korea. This is my favorite UNESCO site. And not just in Korea, but in the world.
Rome would be tied but Gyeongju represents (to me) what the World Heritage Site status should be doing - bringing incredible sites people otherwise wouldn't hear about into the foreground. Most people who do not live in Korea have never heard of it, and those who visit Korea typically stick to Seoul or Busan. Korea, perhaps surprisingly in an age with Korean music, food, cinema, and fashion sweeping the globe, doesn't advertise most of its amazing sites. The Jeju Lava Tubes are unlike anything I've seen before, and the dolmen sites at Gochang seem to go on forever.
Gyeongju is ripe for the kind of mystique and reverence we place on pyramids - not because they're as old or as complicated to build, but because there's something enchanting about it. Six kings and queens beneath massive mounds of slumbering earth, each with a towering crown of golden antlers. A treasure trove of beautiful artwork and wealth, items from around the world finding themselves here.
And yet the people of Gyeongju can sometimes live stunningly close to these ancient mounds. Enjoying daily life, having picnics. But the UNESCO site doesn't stop at the mounds. It includes the oldest observatory in the world, palaces, temples, monuments - all scattered throughout the countryside. There is still a ton of excavation going on and new finds are being unearthed almost everyday. Recently, there has been evidence that the Shilla practiced human sacrifice just like the Gaya (who lived further south in a smaller territory).
Gyeongju itself is well set up as an open museum. There's a sort of loop you can take that I detail in one of my posts on Gyeongju. For context, the Gyeongju National Museum is possibly one of my top five museums in the world as it has great displays and information. My one gripe is that many of the further away sites are very difficult to reach without a car. I am consistently shocked that Korea doesn't have tour buses or shuttles around to the sites. Even a clearer way to get to them would be much appreciated, since Google Maps doesn't work in Korea. Additionally, Wolseong Palace is best seen at night when they illuminate it (otherwise it's fairly disappointing compared to the palaces elsewhere in Korea).
I highly recommend this UNESCO site. I'm not sure I would recommend the nearby Bulguksa or Seokguram as I found the stunningly disappointing (you can barely see Seokguram through the plexiglass). But if you're in the area, it's fine extension. I hope more people get to see and hear about Gyeongju!
Read more from Fleur here.
---
I visited here in the autumn of 2007.
I would describe Gyeongju as the Korean Equivalent of Kyoto or Nara, only not as well preserved. There are fewer historic structures and monuments standing compared to what you will find in Kyoto.
I stayed in Gyeongju for several days where I was able to spend time exploring this site as well as the nearby Seokguram Grotto and Bulguksa Temple.
I thought that Gyeongju was the best site I visited in South Korea.
Read more about Gyeongju Historic Area on my website.
---
I visited this WHS in April 2017. I visited all the different locations spread out around Gyeongju over 2 half days which yielded no tangible appreciation from the sites themselves (apart from the oldest astronomical observatory). Each location of this WHS has a UNESCO stone marker. I'd recommend leaving some time for the impressive Silla collection at the National Museum of Gyeongju (free entrance).
However, I really wasn't that impressed by the ruins/sites in Gyeongju even though the gold Silla relics displayed in the Museum are exquisite. My perception changed after a full day of hiking from one hill to the next in Mt Namsan, hiring a taxi for the day to be able to cover more ground.
The Mt Namsan area is 8km long and 4km wide. It comprises Mt Geumo (468m high - peak reachable through a 4km trail), located to the south of the ancient Silla capital of Seorabeol, and Mt Gowi (494m high), including 40 mountain valleys. It really is somewhat of an open air museum with 112 temple sites, 80 Buddhist statues, 61 stupas, 22 standing stone lanterns, historic relics along with prehistoric relics and countless Buddhist remains and carvings born out of a marraige between Buddhist faith and the natural environment, epitomising Bulgukto, the ideal Buddhist land of the Silla people.
When arranging a taxi ride for the day, I was very lucky as the taxi driver happened to be collecting photos of several Buddhist carvings on his mobile phone so most of the time I only had to point at one of his photos for him to take me where I wanted. Moreover, he took me to other places I didn't even know about and most importantly he hiked with us to all the sites which proved to be a godsend as we would have never found our way as there were no hiking trails but only information boards exactly next to the engravings or statues.
We saw an infinite amount of stone pagodas but what were truly impressive for us were the rock-carved Buddhas. The first one worth mentioning is the Seated Yeorae Image carved on a rock boulder. Take good hiking shoes and be careful on your way down (skip this if it's raining!). Next we saw the 4.36m high stone seated Buddha of Mireukgok on the east slope of Namsan with a pear-shaped halo (photo). We proceeded to Borisa to see the Buddha carved on the rock surface, overlooking the Mangdeoksa Temple Site and with a panoramic view of the Namsan valleys. In the Bulgok valley, we took an unpaved road to the start of a signposted 1km trail to another 2 rock-carved seated Buddhas.
The highlight for us was definitely the 10 metre high boulder with a circumference of 30 metres in the Tapgok Valley. Here there we counted as much as 34 Buddha images on this single boulder and 2 ten metre high engravings of the lost wooden pagodas of the Silla period. In Namsan, we were practically on our own all the time, away from the tourist buses. The details of most of the rock carvings are comparable to the ones in the Ajanta Caves of India and are worthy of inscription on their own. The experience of going from one boulder to the next though was more similar to our recent visit to Bhimbetka in India but on a much larger scale.
Last but not least we visited the stone pagoda of Bunghwangsa which was built in 634 AD, the third year of Queen Seondeok. It is made of andesite cut like bricks and was initially a seven or nine tier pagoda. Now only 3 tiers remain. It has 4 entrances flanked by a pair of granite pillars bearing carved reliefs of Vajrapani or Ferocious Guardians of Buddhism (quite similar to the ones in Seokgoram) with 4 lions posted at the 4 corners of the pagoda's base.
---
I found Gyongju to be a pleasant place to be based during my first few days in Korea. Some guidebooks seem to go over the top with their praise of the place which can leave people disappointed with the reality, however for me it was a great place to relax and see some of the most important sites in Korean history.
On the bus to the city I got a great introduction by listening to this episode, from the British Museum/ BBC A History of the World in 100 objects. On top of this I visited the free Gyonju museum which was very interesting although a touch over run with friendly school children practicing their English on me. These gave me a better understanding of what may otherwise just be a series of grassy hills. I have actually visited a fair few grass mounds in my pursuit of World Heritage Sites but these were the most enjoyable I have so far encountered. The central cluster are actually a very enjoyable piece of landscape design and are very well presented, also there is one tomb open for you to explore the interior, which is well worth a look.
There are two other WHS nearby and whilst the modern town is decidedly unremarkable, it has all the amenities you will need making this a great place to be based in the south of the country.
[Site 6: Experience 10*]
* A note to explain the top marks for the experience at this site, it isn't necessarily for the wondrous things you can do in Gyongju. It is actually for the astonishingly friendly welcome I was afforded everywhere I went in Korea, but especially in this city. If you have read reviews of the Korean world heritage sites on this site and thought that perhaps Korea isn't really the most interesting destination then I would implore you to not be put off a visit. Whilst its WHS are nice they are not perhaps in the highest order; however the people, food and atmosphere are magnificent. I have posted an example of the incredible hospitality I received here.
---
Thomas Sunam Johansen
I have been doing an exchange program for one semester here as an archaeologist, and truly I can say: "Gyeongju is a treasure paradise to any archaeologist!"
As a student in Dongguk University's Archaeology Department, I have been able to get a good look at the current excavations being done, as well as seeing all the sites that are to be seen in and around Gyeongju. What history! There are so many stories yet to be told from this city as the excavations will be going on until 2025. We think we know it all, but no, no, there's so much yet to be learned about the lives lived in the historical era of Silla.
In my personal opinion, people who expect too much miss out the little things which truly makes Gyeongju the exciting historical site it is being advertised as. I can take a walk along the riverside, in the mountains or by the farm roads and find small pieces of artefacts all over. In walking at the edge of the wall of Banweolseong fortress I even stumbled across a near complete earthenware from around AD. 500!! (It has been, as required by law, given to the National Museum of Gyeongju.) When walking in Gyeongju, you are literally walking on historical grounds filled with artefacts from its days. It is such an amasing experience! ...well, at least for anyone with historical/archaeological interest who fare with an open mind.
It is absolutely a place worth while taking your time to look around and enjoy, feel the spirit of its great history and become a part of it :)
---
3.50 California - United States of America - 29-Aug-10 -
The astounding number of Silla relics in Gyeongju is what makes this ancient city outstanding. Some of the sights are rather brief visits, such as the oldest Astronomy Tower in Asia and the largely re-constructed Anapji Pond. Yet the more time you spend in Gyeongju, you begin to recognize these incredibly diverse sites are all that remain of a powerful and advanced ancient civilization. If you have the great opportunity to visit Gyeongju make sure to visit the tombs and spend some time in and around Namsan mountain. Gyeongju being the ancient capital of Silla is a wonderful glimpse into a fascinating period of Korean history and is quite different from other regions of the country.
Read more from Kyle Magnuson here.
---
3.00 Netherlands - 12-May-08 -
The legendary capital city of the sophisticated kingdom of Silla, the first great capital of unified ancient Korea, the forth largest cultural, economical, and political center of known ancient world, one of the oldest human living cities in the world, an open air museum are all the superlative definitions of Gyeongju stipulating all tourists to visit making this city one of the MUST destination in Korea.
For sure all clarification above make you expected something great from Gyeongju with many ruins like ancient Greek or Roman cities. But Gyeongju turn out to be quite disappointing with nothing much to see, most of historical sites are burial mounds in the park, with few outstanding buildings. Cheonseomdae, the tiny ancient planetarium, and beautiful Anapji pond are two major sights but are not so outstanding in my opinion. To flavor many bored tourists the city of Gyeongju tries their best to turn historical park into flower fields to make the park more attractive especially in the evening with the really nice set of light decoration. Another area that worth mentioned is Mount Namsan with lots of Buddhist artifacts scattered around the mountain but considering the quality of art, Seokguram Grotto is much superior.
Many tourists and reviewer praised Gyeongju by admiring Bulguksa Temple and Seokguram Grotto, but we should separate these two places from Gyeongju as they are different site in term of World Heritage. So if we cut Bulguksa out from Gyeongju, I rarely heard people mentioned the beauty of historic sites in city center or mount Namsan.
All in all, Gyeongju is a victim of overrate tourist advertisement by using too much historical fact. Gyeongju is easily compared with Nara in Japan, however the feeling after visit of these two cities are totally different, for Nara you don't expected much from this short lived capital resulting lovely surprise and enjoy the trip, but with load of expectations for Gyeongju the outcome is upside down. I agreed that to enjoy Gyeongju may need time to appreciate its secret, but with the Korean governmental fact that the amount of tourist visit Gyeongju is decreasing compared to other regions of Korea may provide some answer to all of us.
---
Joseph Yim
Some twenty years ago I lived in the city known as Taegu, better known today as "Daegu",city only about fourty minutes away from Gyeongju,city of ancient Shilla Kingdom. The Gyeongju city has more than thousand years of history,which by the way makes one of the oldest human living city in the world, and certainly makes older than any other western european cities except Athens and Rome as exception,and certaintly makes order than London city. Though today city is modern and only hold only some 350,000 thousand people,please do understand at one time in it's prime days,Gyeongju city was world's forth largest cultural,economical,and political center of known ancient world followed by Constantinople,Baghdad and Changan of China with population close to a million people,so you do a math. To those who did not enjoyed city of Gyeongju I feel sorry to heard that,but like anywhere else not every can have pleasent experince where ever you go,but word of advice,when you do travel to different cities of any nationalists,do little bit of research before you travel,and travel with open mind without any prejudices, than you will truly able to understand and appreciate more where ever you visits! Enjoy your travel!
---
3.00 The Netherlands - 14-Sep-01 -
To be honest, I was a little bit disappointed by Kyongju (now spelled "Gyeongju" by the way). The historical relics are scattered around town, but most of them are not major sights. The cute Cheomsongdae Observatory is the one thing that you really must see here. So old, so delicate, and in such a good condition.
---
Michelle Arathimos
I am dissappointed with the negative responses seen here! As an English teacher travelling and living in Korea, I consider myself lucky to have had the opportunity to see the amazing historical treasure that is Gyeongju. Gyeongju has the amazing atmosphere of a lost Asian empire, and all the history you need to make the pieces fit can be found in the great museum. The burial mounds are fantastic and the town itself is a melting pot of different times.
---
Marsha Lee
I had the pleasure of visiting Korea in 2003. I was not impressed with Seoul but when we went to Gyeongju, it was overwhelming. The temples are beautiful. The monks are very friendly and hospitable. You could feel the sacredness of Bulguska temple and the Seokguram Grotto.It seemed like time was at a stand still. It was a very healing experience for me and my family. We are planning on returning in 2005.
---
John Thomson
Kyongju is very very overrated, I moved to the city almost 6-months ago, choosing a job there over one in Seoul because I had read about how beautiful it was meant to be. Quite frankly I am very disappointed.
The city of Kyongju is a hotchpotch of modern 1980's building which have been erected with absolutely no regulation or proper planning. In amongst this high rise hell are to be found a scattering of very unimpressive historical artifacts many of which would not be given a second glance were they to be found in Europe. OK the burial mounds are impressive, but they are not captivating in the way an old medieval town is.
Out with the city of Kyongju itself (it should be remembered that despite Kyongju being marketed as an open air museum some attractions are 20km away) things are much better. For example the temple at Bulguksa is absolutely fabulous as is Seokguram Grotto a short walk away.
---
Jocelyne bouilliot
My father lived in Corea in 1985, for he was bilding a nuclear power plant in Uljin, and i spent 2,5 monthes there. We were living in the contry-side, in Buku, and i had time to integrate a bit of corean culture before going to Kyongju. I think it's necessary to understand what might be invisible to occidental eyes.
Being archeologist, i found great interrest in the site. The people who worked there did a real good job (excavation, and conservation)
---
Site Info
Full Name

Gyeongju Historic Areas

Unesco ID

Country

Inscribed

Type

Cultural

Criteria

2

3

Categories

Link
Site Links
Unesco Website
Official Website
Related
In the News
Visitors
184 Community Members have visited.