Genoa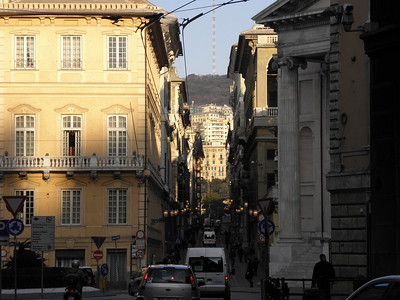 Genoa: Le Strade Nuove and the system of the Palazzi dei Rolli represent an innovative form of urban planning. They are also considered landmarks in Baroque and Mannerist architecture.
Le Strade Nuove consists of the Via Garibaldi, Via Balbi and Via Cairoli. They are known for their aristocrat houses and the Palazzi dei Rolli (palaces). The palaces were built between the 16th and 18th centuries by local noble families. They were also used for official representative purposes by the Republic of Genoa (those that were on the list, the Rollo).
Community Reviews
---
Unplanned and mostly for logistical reasons, I revisited Genoa in the spring of 2022. The route I took was the same as on my previous visit: coming from Cinque Terre and leaving for Milan.
On a revisit, I don't feel obliged to do anything. We spent our Sunday roaming around the old town and visiting churches. The palaces were closed; their opening times in March (Wed to Sat afternoon) felt a bit off.
The core area mostly comprises the area around the three main roads: Via Balbi, Via Cairoli and Via Garibaldi. However, it's worthwhile to look at the Unesco borders. The core zone extends east to Via Roma and there is a Southern bulge along Via San Luca. And the surrounding area included in the buffer zone is quite nice, too. So nice indeed, that I don't fully understand why they didn't simply inscribe all of Genoa old town.
In medieval times Genoa and Venice were fierce competitors. Interestingly, Genoa feels less medieval than Venice does. Several of the Palazzos are post 1500 CE. Overall, Genoa has a more modern vibe than Venice.
Revisits always offer a chance to correct first impressions. My original score for the site was 1.5 based on a misunderstanding of the inscribed area. I didn't enjoy the Palazzos much. I upgraded it to 3.0* after my visit due to the splendid old town.
Getting There
Genoa has train connections to Milan, Torino, Piacenza and La Spezia. If you are heading to La Spezia, you pass through Cinque Terre and near Carrara.
In town, you are best served walking. The core zone and the buffer zone stretch 2km in total width.
While You Are There
Cinque Terre is a must if you haven't been. Pisa and Tuscany aren't far off either.
---
Although its dark and narrow alleyways can be rather oppressive at night, Genoa is a charming city by day with a rich seam of 'palazzi' running through its centre. I visited in July 2014 before heading to the Cinque Terre down the Ligurian coast.
Genoa airport is very close to the city centre, although we paid a handsome €30 for a taxi to our hotel. Better value, though, is entry to three of the Palazzi museums, which was reasonably priced at €9. This includes the Palazzo Bianco, the Palazzo Rosso and the Palazzo Tursi. The first two are full of Renaissance art, including Caravaggio's Ecce Homo and Dürer's Portrait of a Young Man. The Rosso in particular also tries to give you a taste of how the palazzi would have been decorated back when they used to be inhabited.
The best view we found of the city was from the top of the Palazzo Rosso, where you can go up to the roof terrace and get a panoramic view over the city. The palazzo's curators were extremely insistent that we follow the pre-specified routes around their almost empty museums, so we found ourselves being forced to go up to the roof terrace a second time after taking a shortcut on our way back down from our first visit to the roof!
Read more from Tom Livesey here.
---
In the Middle Ages, Genoa was one of Europe's major cities and rivalled Venice in importance and wealth. Much of that glory has faded, and today, even though it is still one of the most important ports in Italy and the whole Mediterranean, Genoa is not on most people's itinerary of Italy - unless they take a ferry to Corsica or Sardinia. That is a pity, since the Old Town and the Port are full of interesting sights and offer a lively Mediterranean ambience. I really liked the Cathedral, the Doge's Palace, and especially the fantastic Aquarium. Genoa is also an easy pick for WH collectors, since the ensemble of palaces on the Strada Nuova is really very central (and clearly signposted), even though, admittedly, they are not terribly interesting. Most cannot be visited, and those that can (there is a combined ticket) mainly feature modestly interesting art collections. By far the most beautiful of them is the Royal Palace (Palazzo Reale), a bit further down the street, which really lives up to its name with its lavish interior and pretty courtyard. For me, Genoa was definitely worth a visit - just don't go there for the WHS alone.
---
3.00 The Netherlands - 04-Feb-13 -
Genoa was a welcome surprise after gloomy Turin. Although both its main train stations promised nothing good, I quickly fell for Genoa's bustling Mediterranean atmosphere. The medieval quarter is an interesting maze to walk in, especially in the dark of the evening. There is plenty of cafés and restaurants to sample the local specialties, such as the focaccia bread.
I stayed for 2 nights at the Hotel Metropoli. My room came with a view of (part of) the WHS, the 3 former palazzi on Piazza Fontane Marose. One is now occupied by a bank – and that proved to be the case with several other of the 42 former Rolli-palaces. The buildings are too large for residences nowadays, having 3 or 4 floors and covering a decent portion of a street block. One only wonders if all these banks are still able to pay for it….
Early Tuesday morning I walked the streets that are covered by this WHS. I visited the interior of 4 palaces: Spinola, Rosso, Bianchi and Tursi. More I could not handle, and to be honest I already was bored at Palazzo Rosso. This is being refurbished at the moment, and all that remains is an art collection. Art (mostly paintings) also features heavily in the other palaces, they serve as museums. It might be offensive to say, but it is mostly second-rate art (students of Caravaggio etc.). Or just not to my taste.
Italy has presented this WHS cleverly and has found an interesting angle with the focus on the "Rolli-system". The "palaces" (actually town villas) themselves aren't spectacular in their own right.
---
I visited this WHS in September 2006. The Strade Nuove of Genoa are an example of early urban development projects. The Palazzi dei Rolli are truly unique. There are several historical and cultural sights to see in Genoa as well as modern structures such as the Matitone, the Bigo and the port.
---
Only a few metres down via Balbi from the Piazza Principe station is the huge Palazzo Reale. Passing through the entrance I came to a spacious courtyard with an arched gateway leading to the garden overlooking the port of Genova.
Suitably impressed I continued past several other palazzi lining via Balbi, Cairoli and Garibaldi before reaching the stately Piazza Fontaine Morose.
Returning to the station I visited the interior of Palazzi Spinola, Rosso and Bianca and diverted to visit the narrow streets of La Madelena, via San Luca and via Lomellini.
---
3.50 Netherlands - 18-May-10 -
Located on the shore of Mediterranean sea, Genoa or Genova is famously known for its maritime heritages under its former glory, the Most Serene Republic of Genoa, and today the capital of Liguria and the biggest port of Italy as well as part of industrial hub together with Turin and Milan, and incredibly one of biggest well preserved medieval city in Europe. I entered Genoa with no expectation, after I took the new metro line from the train station to the city center of Piazza De Ferrari, the first image of Genoa was really surprised me with the wide square of grand buildings and many cute red and green fountains, a mini Trafalgar square I would described, also the nearby Palazzo Ducale and the cathedral were also the same league of magnificent.
I continued my tour to the Via Garibaldi which is a part of Strada Nuova, a grand road that built to make a new city area in 1550 and now a UNESCO World Heritage Site. At first I saw the road, I really disappointed to see that the road was not a wide nice boulevard of stately mansions but a narrow lane and quite dark since the whole road had buildings blocking the sun, not a good place to stay in my opinion, but if compared with the medieval part of Genoa with full of complicated alleys, the road was really wide. Both sides of the road were cramped with palaces of Genoa's noble families rivaling each other by building more magnificent palaces
The palaces were beautiful, and built in the different styles, my favorite one was the Palazzo Lomellini Nicolosio with its lovely blue and white stucco and dreamy ceilings. The Palazzo Spinola was also great with great fresco while Palazzo Baldassare was simply elegant with its green tone. The biggest palace on Via Garibaldi is the Municipio or Palazzo Bianco which has nice gardens, and don't forget to admire the Palazzo Rosso which now turned to be an art museum. All in all, these palaces were just amazing and show us how wealthy of the owners and the economic power of the bygone Republic of Genoa.
In my opinion, all the palaces were deserved to be protected as a UNESCO World Heritage Sites as the representative of Genoa in world history, but why not included the entire great medieval city of Genoa? Why Italian Government decided to nominate just a small part of this city and use the whole medieval zone as buffer area. I did not know or this was just another technique of nomination, to nominate just a small part of the city instead of large area which required more works and more money and maybe more fights with ICOMOS and UNESCO? Anyway Genoa turned to be my surprised, and Via Garibaldi was a fine place to visit, not a must but just an extra place to fill your trip while looking for a nice pasta with Pesto alla Genovese in this La Superba.
---
Site Info
Site Links
Unesco Website
Official Website
Related
Visitors
395 Community Members have visited.