Genoa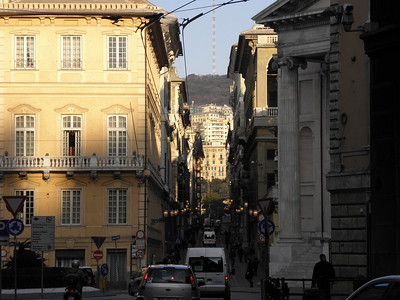 Genoa: Le Strade Nuove and the system of the Palazzi dei Rolli represent an innovative form of urban planning. They are also considered landmarks in Baroque and Mannerist architecture.
Le Strade Nuove consists of the Via Garibaldi, Via Balbi and Via Cairoli. They are known for their aristocrat houses and the Palazzi dei Rolli (palaces). The palaces were built between the 16th and 18th centuries by local noble families. They were also used for official representative purposes by the Republic of Genoa (those that were on the list, the Rollo).
Visit February 2013
Genoa was a welcome surprise after gloomy Turin. Although both its main train stations promised nothing good, I quickly fell for Genoa's bustling mediterranean atmosphere. The medieval quarter is an interesting maze to walk in, especially in the dark of the evening. There are plenty of café's and restaurants to sample the local specialities, such as the focaccia bread.
I stayed for 2 nights at the Hotel Metropoli. My room came with a view on (part of) the WHS, the 3 former palazzi on Piazza Fontane Marose. One is now occupied by a bank – and that proved to be the case with several other of the 42 former Rolli-palaces. The buildings are too large for residences nowadays, having 3 or 4 floors and covering a decent portion of a street block. One only wonders if all these banks are still able to pay for it….
Early Tuesday morning I walked the streets that are covered by this WHS. I visited the interior of 4 palaces: Spinola, Rosso, Bianchi and Tursi. More I could not handle, and to be honest I already was bored at Palazzo Rosso. This is being refurbished at the moment, and all that remains is an art collection. Art (mostly paintings) also features heavily in the other palaces, they serve as museums. It might be offensive to say, but it is mostly second rate art (students of Caravaggio etc.). Or just not to my taste.
Italy has presented this WHS cleverly, has found an interesting angle with the focus on the "Rolli-system". The "palaces" (actually town villas) themselves aren't spectacular in their own right.
Community Reviews
---
---
---
---
---
---
---
Community Rating
Community Rating 2.56. Based on 16 votes.
Your Rating
Site Info
Full name: Genoa: Le Strade Nuove and the system of the Palazzi dei Rolli
Unesco ID: 1211
Inscribed: 2006
Type: Cultural
Criteria: 2 4
Site Links
Unesco Website
Official Website
Related
Connections
The site has 19 connections. Show all
Visitors
191 community members have visited Genoa. Show all