Canadian Rocky Mountain Parks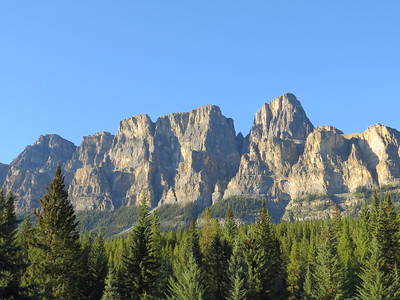 The Canadian Rocky Mountain Parks form a striking mountain landscape, that includes a full range of glaciation features and harbours the renowned Burgess Shale fossil site.
The parks are aligned along the Continental Divide, separating the drainage basins of the Arctic, Pacific, and Atlantic oceans. Wildlife includes 56 species of mammals, 280 species of birds and 8 species of amphibians and reptiles.
The designated area consists of four national parks: Banff, Jasper, Kootenay and Yoho. And three provincial parks are included: Mount Robson, Mount Assiniboine and Hamber. The parks are all contiguous. Banff National Park was already established in 1885, then only covering a small area around the hot springs (now known as "Cave & Basin National Historic Site"). Its highest peak is Mount Robson at 3,954 m.
Map of Canadian Rocky Mountain Parks
Legend
Visit September 2014
Out of the 7 included parks, I visited 3 during my week long stay in this area: Banff, Kootenay and Jasper. Banff NP is the gateway to the Canadese Rockies and within reach of a day trip from Calgary. It sees an enormous amount of visitors, and this clearly affected my pleasure of being there. The mountain scenery is wonderful to look at, but I had not much luck in finding wildlife or a non-crowded medium level hike. Almost everywhere you are you hear the noise of the main highway from Calgary into Lake Louise, it was just like walking in the Netherlands again.
What I did enjoy here was the Whyte Museum in Banff Town. This is the first proper museum that I visited in West-Canada. The exhibitions alternate between Rocky Mountain explorers from the late 19th century and Native American artifacts collected by the Whyte family. I also joined a short guided tour that lead us into the wooden cabins where the local Moore and the Whyte families lived. They both were great collectors, maybe we would even consider them hoarders nowadays.
Kootenay is one of the smaller parks. It lies in a valley just west of Castle Junction in Banff, in the province of British Columbia. I visited it just to do a hike. I had opted for the 'Stanley Glacier'-trail, a fine 4 hour hike through a burnt forest that is recovering. It ends near the glacier, where I sat down for a while and enjoyed myself with the hoary marmots and pika's that ran around between the rocks.
On my way to Jasper the warm and sunny weather that I had enjoyed in Canada for 10 days suddenly started to change. It was snowing near the Athabasca Glacier on the Icefields Parkway, and it also did in the higher laying areas in Jasper NP. I couldn't even see the mountains anymore!
Although it kept on snowing overnight, I was able to visit the valleys without a problem. I drove up and down the Maligne Valley, resulting in the sighting of some Elk and Bighorn Sheep. In all I think it's easier to see wildlife in Jasper then in Banff. I also saw a coyote near the road into Jasper town. And I hiked the 'Valley of the Five Lakes' trail, a shortish but very scenic hike around (indeed) 5 small lakes.
The whole of the Canadian Rocky Mountain Parks is a huge area to be covered for one WHS. We have a connection for "Smallest natural WHS", but this must be one of the largest. (Oops - we already have a connection for largest too, and the Rockies aren't in it by far!) Besides Banff and Jasper, it would have been nice to have 3 nights in the area of Lake Louise or Field. But no matter how long you stay here as a tourist, you will never do it enough justice.
Community Reviews
---
---
---
---
---
---
---
---
Community Rating
Community Rating 4.65. Based on 17 votes.
Site Info
Full name: Canadian Rocky Mountain Parks
Unesco ID: 304
Inscribed: 1984
Type: Natural
Criteria: 7 8
Site History
1990 - Extended

New boundaries, to include Mount Robson, Hamber and Assiniboine Provincial Parks

1984 - Inscribed

1980 - Revision

Originally inscribed in 1980 as "Burgess Shale site". This was later (in 1984) merged into the current WHS: Canadian Rocky Mountain Parks
Site Links
Unesco Website
Official Website
Related
In the News
Locations
The site has 1 locations.
The parks are all contiguous, and the easiest entrance from abroad is via Calgary Airport. There's a bus from the airport directly into Banff. To get further afield, you have to rely on a rental car or organized tours.
Connections
The site has 31 connections. Show all
Visitors
193 community members have visited Canadian Rocky Mountain Parks. Show all