Canadian Rocky Mountain Parks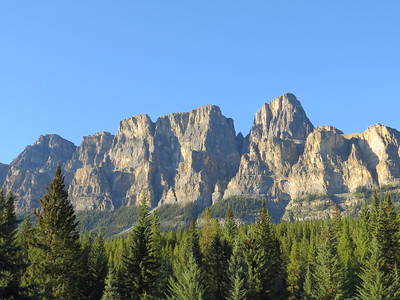 The Canadian Rocky Mountain Parks form a striking mountain landscape, that includes a full range of glaciation features and harbours the renowned Burgess Shale fossil site.
The seven contiguous parks are aligned along the Continental Divide, separating the drainage basins of the Arctic, Pacific, and Atlantic oceans. They hold glaciers, canyons, waterfalls, karst systems and thermal springs. The Burgess Shale preserves the fossils of soft-bodied marine organisms, and it is one of the earliest areas of those so far found.
Community Perspective: You need multiple days or even weeks here as the combined parks cover a large area. The majestic mountains and cold glaciers in the national parks of Banff, Jasper, Kootenay and Yoho have been well-covered in the reviews, and especially Banff and Jasper can feel crowded. Jay has described a visit to the lesser-known Mount Robson Provincial Park.

Map of Canadian Rocky Mountain Parks
Load map
Community Reviews
---
What makes a great World Heritage Site? Is it a sense of wonder, of awe, of joy? Is it basking in the presence of history, or reveling in the grandeur of nature (and I do love nature!)? Is it the quiet spaces inviting reflection? The revelation of a new culture? The memories that linger through the years?
I ask these questions since this week I'm writing about my favorite World Heritage Site, the majestic Canadian Rocky Mountain Parks, which has expanded from a single site inscribed for fossils to a total of seven national and provincial parks protecting some of the best nature the Americas have to offer. I visited the Canadian Rockies on a two week camping and backpacking trip in the summer of 2007, and it remains one of my favorite vacations. Here are some of the highlights I found from the three components of this World Heritage Site that I had time to see:
Banff National Park: The accessibility of this park means that it can get crowded, but the stunning blue waters of Peyto Lake and Moraine Lake contrasted with the abundant evergreens on the lower slopes of the Rockies make it easy to see why this park is popular. My favorite adventure was a strenuous but rewarding day hike off the beaten path from Paradise Valley, over the rocks and scree of Sentinel Pass, to the Valley of the Ten Peaks and down to Moraine Lake -- a hike free of crowds, if not entirely free of grizzlies (which we had to wait for as they crossed the trail below us). An easier hike that is just as beautiful is the trail along Moraine Lake. Lake Louise is worth a visit, though it was shrouded in mist and cloud when I visited; the adjacent Fairmont Chateau Lake Louise features some of the grand architecture that can be found in Canada's great railway hotels.
Jasper National Park: The highlight for me in Jasper was the Columbia Icefield, on the roof of North America, dividing the continent into three watersheds -- one flowing west to the Pacific, one flowing north to the Arctic, and one flowing east to the Hudson Bay and out to the North Atlantic. On the first afternoon we strapped on crampons to take part in a guided tour of the glaciers, hiking up the ice-covered hills and crossing melting rivers of clear frigid waters spilling into turquoise crevasses. We also climbed snow-covered Mount Andromeda, which offered beautiful morning views of the Rockies as the clouds lifted; the experience was incredible, even if I am not a fan of waking up to hike at 2am. North of the Columbia Icefield is Athabasca Falls, where the Athabasca River powerfully crashes into a canyon on its route north to the Arctic. As a whole, Jasper was less crowded than Banff, which was appealing.
Mount Robson Provincial Park: This was easily my favorite park on the trip. Mount Robson is the highest peak in the Canadian Rockies, and its summit is often hidden in clouds. We were fortunate to have great weather when we visited, and the peak was clear during most of our four day backpacking adventure (two days up, one day for exploring, and one day back down). Although we ran into several hikers and groups on the lower slopes, including both a bachelor and a bachelorette party, the trails grew quieter as we ascended. The roars of the Robson River could be heard on the second day as it fell over three spectacular waterfalls visible from the trail: White Falls, Falls of the Pool, and Emperor Falls. Shortly afterwards we reached our campsite on Berg Lake (complete with miniature icebergs), at the foot of a glacier below the peak of Mount Robson. The woods and meadows around the lake were quiet enough to see elk, bears, and porcupines as we explored the trails from the campsite. The water of Berg Lake was briskly refreshing, and it was awesome to watch the late evening sunset on the mountains reflected on the lake. I can't recommend Mount Robson highly enough.
So what makes a World Heritage Site truly special? I'd say the memories of experiencing something truly awe-inspiring, and for me, that is the Canadian Rocky Mountain Parks.
Logistics: The Canadian Rocky Mountain Parks are accessible by car, bus, and rail, but to truly experience the parks, one has to get out into nature and hike -- there are plenty of trails, from easy to rigorous, and an abundance of unforgettable scenery.
Read more from Jay T here.
---
4.00 The Netherlands - 07-Sep-14 -
Out of the 7 included parks, I visited 3 during my week-long stay in this area: Banff, Kootenay and Jasper. Banff NP is the gateway to the Canadian Rockies and is within reach of a day trip from Calgary. It attracts an enormous amount of visitors, and this clearly affected my pleasure of being there. The mountain scenery is wonderful to look at, but I had not much luck in finding wildlife or a non-crowded medium-level hike. Almost everywhere you are you hear the noise of the main highway from Calgary to Lake Louise, it was just like walking in the Netherlands again.
What I did enjoy here was the Whyte Museum in Banff Town. This is the first proper museum that I visited in West Canada. The exhibitions alternate between Rocky Mountain explorers from the late 19th century and Native American artifacts collected by the Whyte family. I also joined a short guided tour that lead us into the wooden cabins where the local Moore and the Whyte families lived. They both were great collectors, maybe we would even consider them hoarders nowadays.
Kootenay (pictured) is one of the smaller parks. It lies in a valley just west of Castle Junction in Banff, in the province of British Columbia. I visited it just to do a hike. I had opted for the 'Stanley Glacier'-trail, a fine 4-hour hike through a burnt forest that is recovering. It ends near the glacier, where I sat down for a while and enjoyed myself with the hoary marmots and pikas that ran around between the rocks.
On my way to Jasper the warm and sunny weather that I had enjoyed in Canada for 10 days suddenly started to change. It was snowing near the Athabasca Glacier on the Icefields Parkway, and it also did in the higher laying areas in Jasper NP. I couldn't even see the mountains anymore!
Although it kept on snowing overnight, I was able to visit the valleys without a problem. I drove up and down the Maligne Valley, resulting in the sighting of some Elk and Bighorn Sheep. In all, I think it's easier to see wildlife in Jasper than in Banff. I also saw a coyote near the road into Jasper town. And I hiked the 'Valley of the Five Lakes' trail, a shortish but very scenic hike around (indeed) 5 small lakes.
The whole of the Canadian Rocky Mountain Parks is a huge area to be covered for one WHS. We have a connection for "Smallest natural WHS", but this must be one of the largest. (Oops - we already have a connection for the largest too, and the Rockies aren't in it by far!) Besides Banff and Jasper, it would have been nice to have 3 nights in the area of Lake Louise or Field. But no matter how long you stay here as a tourist, you will never do it enough justice.
---
4.50 Netherlands - 02-Aug-13 -
One of my personal goals during my two years term in US is to visit the Canadian Rocky, so I successfully persuaded my friends to make Calgary to be our final destination of our US road trip in Canada! After potato adventure in Idaho, our group reached Spokane in Washington, at first we planned to visit Glacier National Park, but after got a telephone confirmation from a park ranger that the famous Going to the Sun was still closing, my friends voted unanimously against my original plan and decided to change for shorter route directly to Banff, what a miserable day.
By a super fantastic GPS in our car, we drove for 9 hours and reached our hotel in Banff almost midnight! No surprising that next day the only thing I wanted to do was leisurely walking in the city for nothing. I really enjoyed Banff; the city's surroundings were just amazing with dreamy mountains especially on sunrise and sunset. On the way to Jasper by the scenic Icefields Parkway, we saw the famous Lake Louis and Lake Peyto, these two lakes were stunningly beautiful, the mountains were again magnificent at its best and the lakes were equally impressive with unbelievable turquoise color. We decided to have lunch at Fairmont Chateau Hotel; the food was equally excellent with the view. It was my dream to take photo at Spirit Island at Lake Moraine. The island was again such a beauty place on earth, no wonder of its reputation. Visit the area in late spring was quite a problem, some small roads were still inaccessible, and our GPS always took us to those roads making the trip more complicated.
We spent only three days in the Banff-Jasper area, even though during the road trip we saw many stunning mountains and lakes like Grand Teton and Sawtooth, the mountains and lakes in Banff and Jasper National Parks were much more impressive and make us wow in every turns of the road. Coming from the very flat country like me, Canadian Rocky was one of the best places on earth to provide a definition of what mountains should be. We ended the exciting two weeks road trip at Calgary Airport; the only regret for me was that I saw only 2 World Heritage Sites from 5 in my original plan, but that's the charm of the road trip, and really made me want more road trip to discover the natural wonders of this continent.
---
Laura Barber
Banff, Jasper,Kootenay and Yoho are all amazing parks. We began our trip at Lake Louise and traveled north on the icefields parkway to Banff and later Jasper. Stopping all along the way. On the way back, we hit Kootenay and yoho before heading to Waterton Glacier and Glacier. It was an incredible trip. the icefields in these parks were still evident. Elk and deer were everywhere. Hiking was incredible and offered opportunities for even those looking for an easy path. The water, due to the mountain sediments is an amazing color! Each area has something special to offer and there are a lot of wonderful waterfalls. I think Mt Edith Cavell was one of my favorites!
---
Van B
In 1974 I visited all 4 of the national parks listed here (plus Waterton Lakes National Park, which has its' own Heritage listing, and both Glacier National Parks, in Montana and in BC). I'd spent summers in Colorado and thought I knew about mountains, but that '74 trip thru Alberta and BC opened my eyes as to what real mountains are like. From Banff all the way to Vancouver, one incredible view after another, non-stop natural beauty. That trip ranks as my favorite out of many. If I had the time, I'd strongly recommend visiting these parks!
I'm really glad that UNESCO has seen fit to declare this collection of parks as a World heritage Site.
---
these parks contain some of the most beutifull mountains in the world. there many hiking trails to walk on, each one is different to the others. i have visited these parks twice, and both times they have been great. lake Louise is crowded around the viewpoint, but if you go on the trails, there are very few people; and lake Louise is stunningly beautiful. my favorite park is Yoho, it is less crowded then a lot of the others, and has the incredible Takakkaw Falls, one of the highest waterfalls in Canada. these are some of the oldest national parks on earth (created in the late 1800s). enjoy your trip!
---
Emilia Bautista King
Banff: We camped for two nights (first campground was at Johnston Canyon, the second at Lake Louise). Both had excellent facilities, especially hot showers, which we appreciated. The hikes to both Lower and Upper Falls at Johnston Canyon was 2.7 km long and worth it. Each turn of our hike had a really lovely view of the canyon and gushing water. Lake Louise did not disappoint and it's as turquoise as it has been in my dreams. I have been waiting 15 years to visit this gorgeous setting. A World Heritage plaque is located in front of the lake, as well as in Banff town, only two buildings from the visitor's centre. Also worthy visits are to Moraine Lake and Peyto Lake.
Kootenay: We took pictures at the continental divide sign and walked through the short Fireweed Trail that was devoted to the burnt forests of Kootenay. The park still has forests and forests of burnt trees for you to see as you drive through. Some fun destinations within Kootenay are Radium Hot Springs (worth the fee to have a relaxing soak - don't forget to show your park permit for a discounted fee) and the Painted Pots, which are small clay pools of different colours that were used by indigenous people for face painting and decoration of tipis.
Yoho: Less than a half-hour drive from Lake Louise, it would be silly not to visit if you're already in the vicinity. We drove to Emerald Lake, which was a short drive from the visitor's centre in Field. If you are pressed for time as we were, it does not require hiking a trail for you to enjoy the beauty. The town of Field itself is also a fun and quick drive. We located the elementary school, 2 restaurants, and the post office within seconds. Very quaint!
Jasper: From Peyto Lake in Banff National Park, it is about 80 km to drive to the Icefield Centre, the visitors' entrance to Jasper National Park. You can see one of the park's highlights, the Athabasca Glacier, across the street from Icefield Centre. We camped 1 km south of here, and the campgrounds were rustic but adequate and scenic. A waterfall was heard gushing closely to where we set up our tent! Other sights to visit within the park are Mt. Edith Cavell, the Angel Glacier, and Maligne Canyon. I wish we'd had more time to go to Maligne Lake but it was over 40 km out of our way so we settled for the canyon. The town of Jasper was much more charming to me than Banff town, which is swarming with many tourists.
Overall, the Canadian Rockies are glorious. I know I will always remember this trip!
---
Having lived in the town of Jasper in the Canadian Rockies, I have been hiking through the Rocky Mountains a lot. It is a great place and there's so much to see. Of course, Jasper and Banff are touristy towns with crowded hiking trails, but if you look a bit further or visit the place off season, you can wander around all alone. And even when you do visit the most touristy sites, you are still impressed with the magestic mountains, the thundering waterfalls, the cold glaciers and the wandering wildlife.
---
Site Info
Full Name

Canadian Rocky Mountain Parks

Unesco ID

Country

Inscribed

Type

Natural

Criteria

7

8

Categories

Link
Site History
1990

Extended

New boundaries, to include Mount Robson, Hamber and Assiniboine Provincial Parks
1980

Revision

Originally inscribed in 1980 as "Burgess Shale site". This was later (in 1984) merged into the current WHS: Canadian Rocky Mountain Parks
Locations
The site has 1 locations
The parks are all contiguous, and the easiest entrance from abroad is via Calgary Airport. There's a bus from the airport directly into Banff. To get further afield, you have to rely on a rental car or organized tours.
Visitors
319 Community Members have visited.