Schokland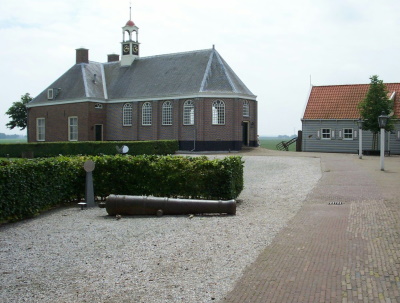 Schokland and Surroundings have symbolic value for the unrivalled struggle the people of the Netherlands have waged against water.
Its history starts in prehistoric times, as part of the mainland. From around 1000 AD fishermen and farmers started to occupy this area to make a living.
In the following centuries the water rose and rose, until Schokland finally ended up as an island. This was at the end of the Middle Ages. Fishing and shipping became the main source of income for the Schoklanders.
Living on the island wasn't to last forever: in 1859 the inhabitants were ordered to leave. Life had become too dangerous due to the ever rising sealevel.
In 1941 the surrounding area (called Noordoostpolder) was drained to create more agricultural land to feed the Dutch (and German) people. Schokland became part of the mainland again.
Visit June 2002, March 2007
Amidst the endless potato fields of Flevoland, the former island of Schokland stands out. The village of Middelbuurt is a "terp": a mound in the flat landscape.
On Middelbuurt, what used to be the main village of Schokland, a few houses and a charming church are left. Nobody lives here anymore though.
I visited the Schokland Museum on Middelbuurt. A good place to dive into the history of this place. There are also short walks in the area, that let you come up close with the somewhat desolate landscape.
During my second visit I was blessed to be in the company of a knowledgeable guide, which really helps to get a feeling for the place. This time we also visited the remains of the former village of Emmeloord, which was located on the other side of the island from where the museum is. Both sites are now divided by a road and some contemporary agricultural landscape.
Community Reviews
---
---
---
---
---
---
---
---
---
---
Community Rating
Community Rating 1.71. Based on 21 votes.
Site Info
Full name: Schokland and Surroundings
Unesco ID: 739
Inscribed: 1995
Type: Cultural
Criteria: 3 5
Site Links
Unesco Website
Official Website
Related
In the News
Connections
The site has 14 connections. Show all
Visitors
149 community members have visited Schokland. Show all