Saltaire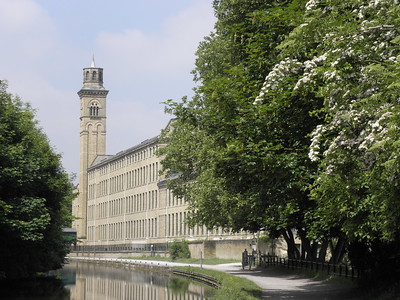 Saltaire is a Victorian era model village that illustrates the philanthropic approach to industrial management typical of this period.
Saltaire was founded by Sir Titus Salt in 1853. The name of the village is a combination of the founder's surname with the name of the river Aire. Salt moved his entire business from Bradford to this site partly to provide better arrangements for his workers than could be had in Bradford and partly to site his large textile mill by a canal and a railway.
Salt's philanthropic project is usually seen as an example of paternalism. Salt built neat stone houses for his workers, wash-houses with running water, bath-houses, a hospital, as well as an Institute for recreation and education, with a library, a reading room, a concert hall, billiard room, science laboratory and gymnasium. The village also provided a school for the children of the workers, almshouses, allotments, a park and a boathouse.
Visit June 2013
Unfortunately this was another disappointing visit to an industrial town in the UK. I arrived in Saltaire on a sunny Sunday morning by train from Leeds, just 14 minutes away. The train station (though rebuilt) is right in the middle of the historic town, and across from the Salt Mill. So no time lost. But it provided me with the first difficulty: what would I go and see?
I started with a short walk along the Leeds and Liverpool Canal. It has the best photo opportunities for both mills, and their impressive towers. As always the towpath is a fine route to walk, although the many passing cyclists made it look like I was walking in Holland again. I guess those English have all taken up cycling as a hobby since their fellow countryman won the Tour de France last year.
The huge Salt Mill itself is the obvious next choice. It nowadays houses an exhibition of the work of the artist David Hockney and several shops. Somewhere at the back, behind the coffee shop, there is a "Saltaire History Exhibition". Here I hoped to find at least some respect for what working in a textile factory meant during the 19th century, but what I found was 8 other visitors in front of a TV. Come on! In my opinion, having visited several industrial sites in the UK and abroad (Germany for example), the UK has some serious issues in how to present these sites. I can understand that the cost might be too high to maintain all of it, but renting them all out into the hands of commercial enterprises is a bad choice. There's (inter)national heritage at stake here and that involves more than "just" keeping up the buildings, I don't need another bookshop or one that sells kitchen utensils.
The most interesting aspects of this WHS are its town plan and the housing conditions provided for the workers. At the lacklustre tourist information I asked for a walking route through this area, and was handed a sheet with a circular walk that I could have drawn myself too. No additional information is given about what you see during your walk, the differences between the housing types et cetera (which is explained in the WHS nomination document by the way). The core zone indeed is very much intact as it was built in the 19th century. Salt never could have imagined though that his workers each would own a car – so the streets are now littered with parked cars.
Community Reviews
---
---
---
---
---
---
---
---
---
---
---
---
Community Rating
Community Rating 1.89. Based on 14 votes.
Your Rating
Site Info
Full name: Saltaire
Unesco ID: 1028
Inscribed: 2001
Type: Cultural
Criteria: 2 4
Site Links
Unesco Website
Official Website
Related
In the News
Connections
The site has 22 connections. Show all
Visitors
115 community members have visited Saltaire. Show all