Saltaire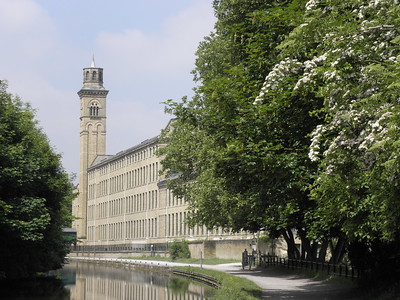 Saltaire is a Victorian-era model village that illustrates the philanthropic approach to industrial management typical of this period.
Saltaire was founded by Sir Titus Salt in 1853. He moved his entire business from Bradford to this site partly to provide better arrangements for his workers than could be had in Bradford and partly to site his large textile mill by a canal and a railway. His project is usually seen as an example of paternalism and it was of influence on the international Garden City movement.
Community Perspective: The place still looks like a very nice place to live, though for a visitor its industrial history isn't well-explained and signage is poor. Frederik recommends to visit it at night.

Community Reviews
---
4.00 United Kingdom - 15-Jul-22 -
Visited Saltaire July 2022.
The town is a lovely place to spend a day or two. The visitor information centre closed a few years ago (something not yet updated on Google Maps), so I highly recommend visiting the History exhibition on the second floor of Salt's Mill as a first point of call. There is a very good hour long documentary about the town playing on loop that will give you some ideas where to visit in the town.
There are also walking tours done on an ad hoc basis. These are apparently really good, but apparently you must email to register your interest before visiting.
---
1.50 United Kingdom - 29-Jun-22 -
Prior to 2001, somebody had clearly identified there was a gap on the list of World Heritage Sites for model villages for workers of the Industrial Revolution. I say this because, in 2001, the UK managed to get three sites inscribed on this theme in the same session: the Derwent Valley Mills, New Lanark, and Saltaire. Of these three, I think Saltaire is by far the weakest. The mills of the Derwent Valley and the model village of New Lanark both have the distinction of being first in their class, which seems a fairly inarguable case for OUV even if the visiting experience can be fairly mediocre. Sir Titus Salt had Saltaire built in 1851, over half a century after New Lanark was founded in 1796, and there were many other settlements inspired by New Lanark built in between those dates. Saltaire is probably the best preserved of all of these early attempts and presents a fairly complete model village with houses, hospital, schools, church, park and, of course, the imposing mill. That being said, the later developments in Port Sunlight near Liverpool (1888), Bournville in Birmingham (1893), and Creswell in Derbyshire (1895) are all equally good examples of this phenomenon, built for workers in the soap, chocolate, and coal industries respectively. If the purpose of Saltaire is to demonstrate how the model town evolved as the Industrial Revolution progressed then why not inscribe these three too as they show even more development and represent something other than textiles? Not to mention the many other examples outside the UK, which does not have the monopoly on industrial heritage that it sometimes seems to think it does. Crespi d'Adda in Italy is already inscribed but, if ICOMOS treated model industrial towns with the same reverence as Gothic cathedrals, we would have many, many more on the list. To me, Saltaire being one of the earliest and one of the best examples of the model worker's town seems a flimsy justification for inscription.
If my negativity hasn't put you off, Saltaire can be visited very easily by public transport thanks to the railway station that lies in the centre of the core zone. There are half-hourly trains from Leeds and Bradford Forster Square, which means there are about four trains an hour coming the other way from Keighley and Skipton. Still being a residential area, there is no charge to wander around the streets and the mill is likewise free to enter including myriad shops and a David Hockney art gallery, who was born in Bradford. It is possible to see everything in Saltaire in under an hour – a little longer is probably advisable but not that much more. Nearby Leeds and Bradford have no shortage of grand industrial buildings built from the profits of the mill industry, as well as the refurbished mill buildings themselves, and the Leeds Royal Armouries Museum is a must-visit for any military history buffs. Other local attractions accessible by train include Ilkley Moor, which has some glorious views and inspired the unofficial anthem of Yorkshire On Ilkla Moor Baht 'at (On Ilkley Moor Without A Hat), the large ruins of the Cistercian Kirkstall Abbey, and a heritage railway from Keighley to Haworth, the home of the Brontë sisters with its atmospheric moorlands and period buildings that were a candidate for the UK's tentative list in 2010 but not added. Beyond Skipton, the railway continues on to form the Settle & Carlisle line, regarded as one of the most scenic in Britain and the end of this line would be a good jumping off point for the WHS of the Lake District and Hadrian's Wall. It's not a good sign that so much of my review has been about things to do to supplement a trip to Saltaire but there really isn't a great deal there and, as other reviewers have noted, what is there is not particularly well explained or presented.
---
The sustain of the organ juddered to a halt as the hymn ended. The bare handful of worshippers in the Saltaire United Reformed Church lowered themselves back into their pews as the minister began to speak. Not wishing to intrude on the service I retreated back into the porch and looked once more at the bust of Sir Titus Salt displayed there. His alabaster eyes stared out, farsightedly, towards the doors to the town he created. But it was the heraldic animals bracketing the bust's pillar that really caught the eye. "Is that…?" my wife began. "Is that… a llama?"
I'm a child of the north of England. The hulking silhouettes of textile mills populate my psychogeography. They are everywhere I look – converted into plush flats in the city centre, abandoned and derelict on the outskirts of town, on rare occasions sometimes still thrumming with business. And the Pennine Hills, 'the backbone of England' provide a nice delineation of their former purposes. To the west, Manchester and Lancashire looked through the port of Liverpool to the ocean and cotton was king. But to the east, the cities of Yorkshire remained true to their historic trade in wool. And yet here, in Saltaire, just outside Bradford, I was confronted with an anomaly: the age old traditions of wool weaving harnessed to a decidedly trans-Atlantic speciality. For Sir Titus Salt grew rich milling the wool from angora goats and – as the dedicatory statue of the man in Roberts Park has it – 'alpaca goats'.
Salt owned five mills in Bradford. As a keen businessman there was certainly an economic impetus to aggregating them into one new purpose-built factory situated on the transport links of the Leeds-Liverpool Canal and the Leeds and Bradford Railway. But what is remarkable is that he took the opportunity to create a carefully planned town for his workers, one far more salubrious than the Bradford slums. He built neat terraced houses with outside toilets, he built baths and wash-houses, he built schools for the children, a hospital for the sick and almshouses for the destitute. He built a park for recreation. He built that most Victorian of edifices, an 'Institute', complete with library, lecture theatre and rooms for clubs, to enable his workers to 'better themselves'. He built a chapel. He most certainly did not build any pubs, nor allow any to be built, for drunkenness is a vice. And all this took shape a mere six years after Friedrich Engels published The Condition of the Working Class in England.
And it is the town which provides the OUV for Saltaire. The bulk of Salt's Mill draws the eye but, other than its size, it is pretty ho-hum. As others have commented, it is now an art gallery and selection of upmarket shops (though the book shop is rather lovely). Inside it is hard to understand how the mill operated. You simply have huge rooms with shallow brick arches stacked one atop the other. But if you can turn your eyes away from t'mill what you see is a Victorian model town with its neat rows of houses. The very Victorian virtues of cleanliness, godliness, education, betterment and exercise can be seen in the facilities provided for the workers and their families. That is the story of Saltaire.
There is a paradox common to World Heritage Sites dating from the last couple of centuries that what you see is not… well… remarkable. They have become commonplace. There are hundreds of mill towns across northern England alone which are almost carbon copies of what can be seen in Saltaire. Terraced houses? Tick. Grand civic buildings? Tick. Chimney stacks piercing the clouds? Tick. Saltaire is maybe just one of the better examples of such communities and was chosen to represent them all through its Unesco listing.
As ever, I tried to find an interesting way to see the World Heritage Site, and so I took to the water. For £4 each the narrowboat Titus offers a 30-something minute there-and-back-again cruise along the Leeds-Liverpool Canal and through the man-made valley formed by the two sections of Salt's Mill. The wide double-doors leading out from the mill directly over the waterway highlights the importance of canal-borne transport in Saltaire's heyday. Plus, it was a fun diversion for my son to sit atop the boat watching the goslings as we thrummed along. The open spaces of Roberts Park, which are also included within the boundaries of the World Heritage Site, provided him with room to run, a bandstand and statuary alpacas to climb over and a cricket match to watch (the pavilion backing on to the River Aire in the park's south-west corner dates from Salt's era). There is a good children's play area just east of the park lodge (and hence within the buffer zone). And if you exit the park to the north and cross the road you find the Shipley Glen Tramway, a funicular dating from 1895 which rattles a pair of trams carriages up and down through a patch of bluebell-speckled fairy-tale woodland (likewise in the buffer zone). A ride each way takes a couple of minutes at most but it is a surprisingly joyous experience and one that my son wanted to go on again and again (single tickets are £1.50 for adults but a day pass is only £2.50).
World Heritage-iness: 2
My Experience: 2.5
(Visited May 2019)
---
March 2018 - After being in Yorck we came to the Leeds area. We passed Leeds and went straight to Saltaire.
Small charming town with authentic workers accomadations and a nice factory to watch.
We went through all floors of it and were pleased we did not have to pay anything. The shops in the factory are suiting the architecture well. We enjoyed the few hours here. But WHS, I do not really believe that this place was of that big importance to human history.
Afterwardswe drove to Bradford. It has the biggest Indian community and probably the best Tikka in England
---
My wife and I visited Saltaire in June 2017, and given the frankly mixed experiences people seem to have at Industrial Revolution sites (and the disappointment we'd had at some sites particularly in the UK), Saltaire was surprisingly good.
The mill itself is underwhelming (mostly inaccessible, and the available parts are given over to shops, cafes, galleries etc). There is a small display in one area of the mill talking about Saltaire and why it was important.
But what I found fascinating was doing background research before our visit, so that I was already familiar with the ideas and concepts that were realised here in this small town, and how those ideas resonated around the world.
The buildings are generally in good condition, and it's great to wander around the church, Victoria Hall, the school building, the hospital and of course the neat rows of streets, even on a wet and cold summer's day like us!
See below for my full video review!
Read more from Joel on the Road here.
---
One of a whole bunch of industrial sites in the UK, Saltaire has the advantage of being just a 15-minute train ride from Leeds, and the station is right in the middle of the village. It is a pleasant place for a walk and some shopping, with a pretty church, a nice park along a small river, and a handful of historic buildings. I did not have a bad visit, it was just not very exciting - nice to do if you are in the area, but nothing really special. Probably worth the inscription because of its historic value, but today, the visitor experience is not so great (unless you happen to be a fan of local boy David Hockney, many of whose paintings are exhibited in the main building called Salt's Mill, which used to be the main textile mill and is now a combination of shopping mall, art gallery, and restaurant).
---
I visited this WHS in June 2016. I had spent 2 weeks in Leeds around 6 years ago but I chose to miss out on the WHS nearby to visit York and Whitby instead. This time round I arrived in Manchester with an early flight and I decided to visit Yorkshire's WHS. Since I arrived before 10am, when all the shops in the mill open, I parked my car for free in one of the Victorian town's parking spaces just opposite the mill. You're allowed 3 hours no return which is more than enough for this WHS. I started my rounds by walking around the quaint town of Saltaire to see the workers' houses, Shipley College Salt Building, Victoria Hall and the United Reformed Church before heading towards Roberts Park for a stroll. Roberts Park is accessible via a small footbridge next to the new mill and a pleasant walk leads to Shipley Glen Tramway and Baldon Moor. You could also visit by barge but it's not that far away. After killing time, at 10am I headed towards the old mill which now houses a department store named Salt's. I don't think it's such a horrible idea as it keeps such industrial heritage sites alive and provides jobs for the nearby communities. The original complex itself was intended to have different subsidiary workshops producing things which weren't strictly related to the textile industry. What I found disappointing was the poor signage which should clearly indicate the 'visitor centre' or 'information point' at least as much as the shops and diner and more information boards, machinery, displays, etc. should be provided, not only a 10 minute video and a number of chairs. A clear information board on the former textile mill and its WH status should be present at the entrance not only a list of the shops on each floor. After my quick visit, I walked around the building towards the old mill and the most striking element was the 180ft chimney (picture) which complements what was once the largest industrial building in the world by total floor area.
---
2.00 The Netherlands - 30-Jun-13 -
Unfortunately, this was another disappointing visit to an industrial town in the UK. I arrived in Saltaire on a sunny Sunday morning by train from Leeds, just 14 minutes away. The train station (though rebuilt) is right in the middle of the historic town, and across from the Salt Mill. So no time was lost. But it provided me with the first difficulty: what would I go and see?
I started with a short walk along the Leeds and Liverpool Canal. It has the best photo opportunities for both mills and their impressive towers. As always the towpath is a fine route to walk, although the many passing cyclists made it look like I was walking in Holland again. I guess those English have all taken up cycling as a hobby since their fellow countryman won the Tour de France last year.
The huge Salt Mill itself is the obvious next choice. It nowadays houses an exhibition of the work of the artist David Hockney and several shops. Somewhere at the back, behind the coffee shop, there is a "Saltaire History Exhibition". Here I hoped to find at least some respect for what working in a textile factory meant during the 19th century, but what I found was 8 other visitors in front of a TV. Come on! In my opinion, having visited several industrial sites in the UK and abroad (Germany for example), the UK has some serious issues in how to present these sites. I can understand that the cost might be too high to maintain all of it, but renting them all out into the hands of commercial enterprises is a bad choice. There's (inter)national heritage at stake here and that involves more than "just" keeping up the buildings, I don't need another bookshop or one that sells kitchen utensils.
The most interesting aspects of this WHS are its town plan and the housing conditions provided for the workers. At the lackluster tourist information, I asked for a walking route through this area and was handed a sheet with a circular walk that I could have drawn myself too. No additional information is given about what you see during your walk, the differences between the housing types et cetera (which is explained in the WHS nomination document by the way). The core zone indeed is very much intact as it was built in the 19th century. Salt never could have imagined though that his workers each would own a car – so the streets are now littered with parked cars.
---
2.00 Netherlands - 11-Apr-13 -
I decided to visit the World Heritage Site of Saltaire not because the famous Sir Titus Salt's textile mill or David Hockney's art, but to see its Victorian industrial village atmosphere by night as recommended from my friend. By the easy and frequent train connection from Leeds Station, I reached Saltaire at twilight. The first place I went to see was the Saltaire United Reformed Church, the church was quite lovely with its semi-circular portico and round tower. The twilight sky and lights from post lamps along the road to the church really set a nice spot for photographing.
I continued my night walk to Sir Titus Salt's textile mill which was already closed for visitor, the mills was really looked grand and Italian which quite different with other mills I saw in Derwent Valley. Then I walked along the Leed-Liverpoolcanal that separating the mill complex, the view of the mill from the canal was really looked great, and I really enjoyed this night view of the complex especially with the lights from inside the building. After that I walked back to Saltaire Village, I loved the thing that the village was well preserved and the lights from lamp posts were really enchanting when shining on those light yellow-grey brick buildings of once belong to mill workers. Although visiting the place by night does not provide a chance to understand overall value of Saltaire by entering into the mill or other buildings; however, Saltaire by night was better than my expectation and a nice alternative to visit this place.
---
I went up to Saltaire on a day-trip from Manchester by train with nice wievs.
I consider it worth the efforts but as James already har written, it is the total kept concept, with a large restored factory and the nearby village that makes it a heritage. The Hockney exhibition is nice but it could be anywhere, not necessesary in a WHS site.
---
Mrs. Ruth White
On a recent trip to Ilkley, I was fortunate to be taken to Saltaire. Not having heard of this place I did not know what to expect there. On arrival at Saltaire I was pleasantly surprised as we wandered around past Salt's Mill and surrounding houses, churches etc.
I was intrigued by the magnitude of the buildings and the far sightedness of Sir Titus Salt. His employees must have been grateful for his innovations. The Mill itself was just what I imagined a mill of that era would be. The setting of Salts mill and housing was essential to his business operations. I wonder what Sir Titus Salt would think of the pubs and inns today in the vicinity of his industrial area.
Writing these comments brings back happy memories of a great day spent there with my Australian daugher and family now domiciled in London. Even the weather was pleasant for October. I would urge anyone staing in the region to pay a visit to this site. It is well worth it.
---
I must admit that sometimes I have to really motivate myself to visit the Industrial sites on the list, after a few dull visits I wasn't imagining this one to be much different. The website didn't give me much hope, displaying adverts for the shops that now inhabit Salt's Mill selling lots of expensive things that you don't really need. However I really quite enjoyed my visit.
The main site is Salt's Mill, which is an impressive building, when it was built it was the largest factory in the world, and its on a strip of land between the railway, one of the worlds first and the hugely important Leeds-Liverpool canal give a great idea of how the industrial infrastructure at the height of the industrial revolution worked. The Mill now houses an extensive collection of David Hockney's art, including his own paintings of Saltaire, which were nice I really liked his photomontages and opera sets. Although the rest of the mill was given over to some fancy shops it was actually interesting to walk around and you got to see the architectural details, such as the Iron frame of the building. The shops themselves were actually pretty decent and the restaurant is supposedly one of the best in the area.
Next to the mill is the village of Saltaire, this was one of the earliest examples of housing designed for employees of large industrial factories. The average life expectancy in Bradford at the time of building was very low; 36 years old (I may be wrong). In an attempt to improve the situation the village provided very adequate housing with the latest developments such as outside toilets, to help improve sanitation. There were also a hospital, almshouses, theatre/community hall, church and parkland. This was a revolution and has an effect throughout the world on the planning of living conditions, it reminded me very much of the city I grew up in and the houses behind where I currently live are almost identical to the ones pioneered at Saltaire. They still look like very nice places to live; a little small but very nice, walking around the village reminded me a lot of the Begijnhofs in Flanders.
Saltaire is a very easy place to visit as it has its own train station on the Leeds/ Bradford metro line about 20 minutes from either city. Bradford is a great place to get a curry, whilst Leeds is, I feel, one of England's more underrated cities, and very good place to go out for some nightlife. It is also possible to visit from the magnificent cathedral city of York, 1 hour by train changing in Leeds.
It is certainly worthy of its place on the list as it shows not only the great achievements of the industrial revolution but puts it in a context along with infrastructure and urban planning that have had a world wide impact. This is one of the better Industrial sites I have visited and the lovely weather made this a very rewarding visit, worth a visit even if Industrial heritage is not your usual idea of fun.
---
James
Appart from being a beautiful place Saltaire is also a truly remarkable one. In a time that was notorious for the poor treatment of employees by mill owners Sir Titus Salt built a self contained village around his mill to house his workers. In addition to houses and streets, which are all named after members of his family, he also built churches, schools, parks, etc... today's employers should take note. Although the houses have been in constant use since they were built the mill itself was in ruin until a few years ago but now contains shops, cafe's, business' and even art galleries (the David Hockney collection is housed in Salts mill). On a strip of land between the river Aire and the Leeds-Liverpool canal is a section of the mill that has been converted into apartments. If you walk accross the foot bridges into Roberts park there is a good view of this secondary mill across the wier. Sir Titus was a Temperate man and there are still no pubs allowed within Saltaire village. Although there are several on its boundary.
---
Site Info
Full Name

Saltaire

Unesco ID

Country

Inscribed

Type

Cultural

Criteria

2

4

Categories

Link
Visitors
185 Community Members have visited.