Nancy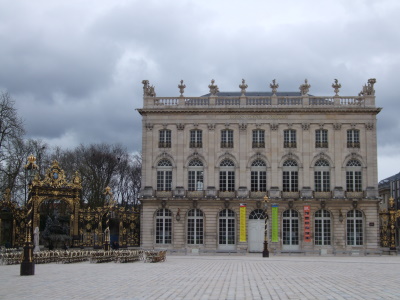 Place Stanislas, Place de la Carrière, and Place d'Alliance in Nancy are 18th-century works of urban planning ordered by an enlightened monarch.
The three squares and the surrounding monuments were developed under the patronage of the Duke of Lorraine, Stanislaw Leszczynsk. The richly decorated squares held a public function: the Opera, the Town Hall, Courts of Law, a library and a botanical garden can be accessed from here.
Community Perspective: Maybe not a world-class sight, but the place has charm. Place Stanislas is the highlight of the three squares.
Community Reviews
---
August 2018 - After spending the day in and around Verdun we spent the night in Parc naturel régional de Lorraine on a nice campground next to the lake. Unfortunately it was a catastrophic night in terms of weather and our tent got flooded, parts of the campground had to be evacuated. So that morning we decided, that before we go back to Germany, we still take the tunr to see Nancy and Metz.
We arrived in Nancy early in the morning and parked in the vicinity of Place Stanislaw. The WHS is just a few squares and the connecting alleys, but its quite authentic and magnificent with its geometry. We did not spend much time though, since we planned a lot more that day. Nice city to walk around a bit and take some pictures
---
I passed by Nancy a zillion times in the last 5 years but finally I managed to dedicate a sunny afternoon to visit the 3 squares. Place Stanislas is surely the highlight with its gates and fountains. There are several cafes, bars and restaurants with fair prices. When I visited there was a free concert from newly graduated musicians who performed as an orchestra in Place Stanislas. Magical!
---
Nancy is lovely well kept and well preserved/restored. The Stanislas place is magnificent, there are at least 4 old city gates kept and as whole, the town inside the city ring seems to be intact and there are several magnificent houses outside too.
In Nancy, the trend with restaurants moving out on streets and places in the summer is obvious. Almost impossible to take good photos at some objects because you have "umbrellas" and you are also disturbing the guests when looking at photo angles. (Not especially for Nancy but very obvious at Stanislas Place.)
---
2.50 The Netherlands - 27-Apr-10 -
The wrought iron gates with gilded ornaments are the trademark of Place Stanislas. All corners of the square have these gates, so this is the first thing you see when approaching. Wow! The surrounding buildings all are in the same style, as they were carried out within a short period and by the same team.
Place d'Alliance, about 200m eastwards from Place Stanislas, is a whole different experience. It's a small square surrounded by trees. It looks quite dilapidated, due to a lot of dog shit on the ground and the paint of the monumental Hotel d'Alsace is definitely peeled. The masterpiece here is the fountain that was modelled after the one at Piazza Navona in Rome.
Place de la Carrière is the most classical of the three squares. It lies behind the Arc de Triomphe, on the north side of Place Stanislas. It ends in a semi-circular monument that holds the Palais du Gouvernement.
I visited the squares on foot for about 1.5 hours. I used a walking tour and map that I found at my hotel. There are some other interesting sights underway, like Art Nouveau buildings and an old city gate. It's a nice walk to stretch your legs. The Place Stanislas surely is the major thing to see here.
---
3.50 Netherlands - 03-Sep-06 -
Nancy, the capital city of Lorraine in eastern France, does not see a lot of tourists like Strasbourg or Reims. Many tourists just use this city as a transit place and ignore its beautiful city centre.
The city looks a little bit run down and not attractive, however, the city square, the famous Place Stanislas is totally different with other parts of the city (my ideas is Nancy used its all city budget to maintain this place). Standing in Place Stanislas gives the feeling like you are in Paris, the royal capital, more than Nancy. The square is full with gilded statues, fountains, gates, lovely city hall, opera house and museums.
The history behide it is also very interesting. When the Polish King Stanislas (King Louis XV's father in law) exiled to France, his son in law gave the title Duke of Lorraine and allowed him to rule Lorraine as his kingdom. To make the backwater Nancy as royal capital, King Stanislas built new city which has Place Stanislas as a center and use for public assemblies and festivities. This is the symbol of enlightened age and his kingship for Stanislas and his son in law who abled to understand public demands by designed this place for public. (The reason for WHS inscription)
Place Stanislas is in the centre of Nancy and not far from the central train station. From the main entrance of the train station, you will see the old and dirty arch gate which is part of Stanislas plan to like old with new city. Walkthough the gate for about 1 km. pass many somber buildings and you will see Place Stanislas at the end of the street.
In May,2010 I had revisited Nancy and Place Stanislas and discovered the old and dirty arch I mentioned was under renovated and most of the buildings along the road were clean and beautiful, a nice contrast from my previous visit. Also Nancy is now very easy to visit as a day trip from Strasbourg or Paris or even Germany with the new TGV, or stop enroute on your trip but be noted there is no luggage storage service in the Nancy Gare!
---
Nancy doesn't really belong to France's world-class sights and cities, but it has atmosphere, charm, and culture nonetheless. By a curious twist of history, a former king of Poland came to rule Lorraine in the first half of the 18th century and set about transforming the city into something more modern than he had inherited (something like Augustus changing Rome from a city of bricks into one of marble). The result can be seen today, and the squares, palaces, residences, and parks that constitute the historic core of Nancy form a Baroque ensemble that is very pleasant and well-preserved. Again, not an absolute must-see sight, but worth a detour if you are in eastern France.
---
Site Info
Full Name

Place Stanislas, Place de la Carrière, and Place d'Alliance in Nancy

Unesco ID

Country

Inscribed

Type

Cultural

Criteria

1

4

Categories

Link
Site Links
Unesco Website
Official Website
Related
Visitors
319 Community Members have visited.