Nancy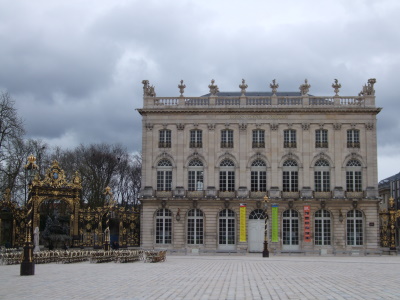 Place Stanislas, Place de la Carrière, and Place d'Alliance in Nancy are 18th century works of urban planning. The three squares and the surrounding monuments sprouted from the brain of the Polish king and duke of Lorraine, Stanislaw Leszczynsk.
The responsible architect was Emmanuel Héré. He was assisted by the iron worker Jean Lamour and the sculptors Guibal and Cyfflé. The project was carried out from 1752 to 1756. The squares are embellished with statues, fountains and a triumphal arch. Characteristic are the gilded gates and ornaments.
The squares hold a public function as well: the Opera, the Town Hall, Courts of Law, a library and a botanical garden can be accessed from here. The monuments link the medieval old town of Nancy and the new town built under Charles III in the 17th century.
Visit April 2010
The wrought iron gates with gilded ornaments are the trademark of Place Stanislas. All corners of the square have these gates, so this is the first thing you see when approaching. Wow!The surrounding buildings all are in the same style, as they were carried out within a short period and by the same team.
Place d'Alliance, about 200m eastwards from Place Stanislas, is a whole different experience. It's a small square surrounded by trees. It looks quite dilapidated, due to a lot of dog shit on the ground and the paint of the monumental Hotel d'Alsace is definitely peeled. The masterpiece here is the fountain that was modelled after the one at Piazza Navona in Rome.
Place de la Carrière is the most classical of the three squares. It lies behind the Arc de Triomphe, at the north side of Place Stanislas. It ends in a semi-circular monument which holds the Palais du Gouvernement.
I visited the squares on foot in about 1.5 hour. I used a walking tour and map that I found at my hotel. There are some other interesting sights under way, like Art Nouveau buildings and an old city gate. It's a nice walk to stretch your legs. The Place Stanislas surely is the major thing to see here.
Community Reviews
---
---
---
---
---
---
Community Rating
Community Rating 2.85. Based on 20 votes.
Site Info
Full name: Place Stanislas, Place de la Carrière, and Place d'Alliance in Nancy
Unesco ID: 229
Inscribed: 1983
Type: Cultural
Criteria: 1 4
Site Links
Unesco Website
Official Website
Related
Connections
The site has 18 connections. Show all
Visitors
199 community members have visited Nancy. Show all