Medici Villas and Gardens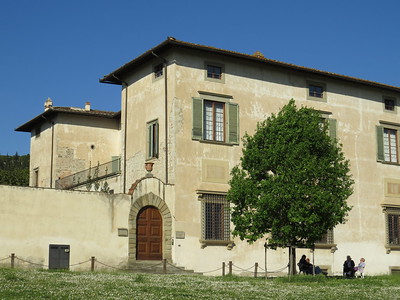 Villa de Castello
The Medici Villas and Gardens in Tuscany are a group of residences in the countryside built by the Medici family.
They are illustrative for their patronage of the arts during the Italian Renaissance.
Map of Medici Villas and Gardens
Legend
Visit April 2015
The Medici Villas and Gardens comprise a serial nomination of 12 villas and 2 gardens in Tuscany. These are the legacy of the extensive arts patronage of the wealthy and powerful De' Medici family. The constructions date from the 15th to 17th centuries, and reflect the contemporary trend among the Florentine wealthy to live in the countryside in harmony with nature.
While I was staying in Florence for a week on a busy schedule, I used a few free hours to get a feel for this WHS. I wanted to visit a spot accessible by public transport, not too far from the center of Florence and with positive recommendations. The Villa di Castello seemed to fit the bill perfectly. It lies on the outskirts of Florence (near the airport), and can be reached by a 10 minute train ride followed by a stroll of the same length.
The Villa di Castello was the country residence of Cosimo I de' Medici. He had lived there as a child, and decided to turn the villa into an ambitious project when he came to power as Grand Duke of Tuscany. The villa was to be adorned with masterpieces of Renaissance art, while the gardens were redesigned by adding statues, fountains and a system of aqueducts for the necessary water supply.
The country house itself is not open to the general public anymore – it is used by an Italian language institute. The gardens are free to enter though. There were only 2 other tourists around when I visited on a late Tuesday afternoon. The gardens are well-cared for, and still orange and lemon trees are grown on site just as in the original design.
The "formal" garden lies directly at the back of the villa, and is built against a natural hill. It has the common attributes that we know so well from other court gardens, nothing unmissable but certainly done with taste. The highlight for me was the Grotto of the Animals. It's a man-made cave embedded with stones, mosaic and seashells. Three niches hold groups of animals, ranging from wild boar to a giraffe. The display of all kinds of terrestrial, aerial and marine creatures is probably motivated by "a purely intellectual curiosity and spirit of inquiry". Cosimo als had his own zoo with exotic animals at his villa in Poggio a Caiano.
The creation of artificial grottoes such as this one was the result of the introduction of the Mannerist style in garden design. The Villa di Castello might be the first site where this was done, the better known grotto in the Boboli Gardens in Florence was modelled after it. The grotto used to hold a "water joke" to entertain the Duke and his visitors: by turning a key, the gate would lock guests inside the grotto and they would be soaked with water from hidden pipes. Unfortunately this is not on display anymore, you have to stay behind a fence and cannot enter the cave.
Outside the enclosed garden and even more uphill, a "forest" was created. In the WH nomination the Italians tried to market this as a precursor to the English landscape garden, but did not fool ICOMOS which dismissed the Medici as minor nobility with pretty small gardens. There's not much to see here among the trees, except for the intriguing Fountain of Appenino (see last photo).
In total I spent about 1.5 hours in the gardens. It's a pretty place to explore on a sunny day in Spring and an oasis compared to the Florence city center. Especially this garden of the Villa di Castello has been a large influence on Italian and French garden design, so it definitely was an educating visit too.
Click
here
to see more of my photos of Medici Villas and Gardens
Community Reviews
---
Walter Switzerland 29-May-14
On a trip to Tuscany in 2012, I tried to get to as many of the medici villas and gardens as possible. As it was before their inscription (in 2013), most villas were not well indicated and most were closed to visitors. So for some, it was more getting a glimpse of a villas than a real visit. Here is a list of the 10 villas I managed to see:
Boboli gardens are within « Historic Center of Florence » WHS. So it is inscribed twice. The gardens are nice to wander around. The site includes the Pitti Palace, a vast Renaissance palace housing a museum. A top the gardens, the Casino del Cavaliere, a nice small separate gardens.
Villa Petraia garden and villa is open to public, and easy to reach from Firenze center. It is a nice walk around the Italian gardens.
Villa Castello is about 5 minute from villa Petraia. It is usually open to public, but was closed on the day of my visit. I could see the extrenal walls of the villa. The gardens seem very interesting to visit.
Villa Pratolino is a few kilometer north of Florence centre, in the middle of a hospital campus. It is closed to visitors and the villa is hidden behind trees.
South of Florence city, Villa de Poggio Imperiale can be reached by bus. It houses a high school. The front of the building is a parking lot. This villa can be ommitted.
Villa Fiesole i a few kilometer east of Florence, accessible by bus. The village of Fiesole is on top of a hill, with great views on Florence and its valley. The villa is not open to visitors and is behind walls, so you can only get a glimpse of it.
The others villas are further afield and recquire a car, as public transportation seems difficult from Florence.
To the north, villa Cafaggiolo is a one of the oldest villa, looking like a small castle (my picture). It is not open to the public, but is easy to look at from the public road. On a hill nearby is Villa Il Trebbio, accessed by a long dirt road. Unfortunately, the villa is closed behind wall and trees.
To the west of Florence, villa Poggio a Caiano is a very nice villa and garden, both open to public. Villa La Maggia can only be seen from outside, from a public park a bit west. There is however a guided tour once a month to the inside.
Villa Cerreto Guidi houses a small and free museum on hunting. It is in a small village atop a hill. Thanks to the museum, the villa can be extensively visited. To note, a few kilometers from here, the village of Vinci, birthplace of Leonardo.
Villa Artimino houses a conference center and a small museum (only open in the morning). Nice view from the road however.
To summerize, I would recommend Villa Petraia and Castello by public transport from Florence, and Villa Poggio a Caiano and Cerreto Guidi by car.
---
Clyde Malta 28-Aug-13
I visited another 2 Medici Villas in July 2013 and August 2013. I visited Villa Poggio Imperiale which is already visible when driving to or from Piazzale Michelangiolo. It is really huge and it is currently used as a state school. I also visited the Medici Villa and Gardens at Castello. It is the seat of the Accademia della Crusca and is not regularly open to the public. The Sala dei Pali is really impressive and a must for anyone who loves the Italian language. The gardens are well kept with different plants, flowers and fruits. There is a grotto similar to the one in the Boboli Gardens with statues and shell decorations. Nearby it is also quite easy to visit Villa della Petraia and its gardens but I very much preferred the one in Castello.
---
Clyde Malta 28-Aug-13
In July 2013 I visited Florence for a couple of weeks so I decided to explore some of the sites listed in this WHS. While in the Badia Fiesolana I got a bird's eye view of the Villa Medicea di Fiesole and then I visited the Giardino di Boboli in Florence. The Giardino di Boboli is an evergreen garden where green is the main dominant colour with few flowers if any. The Giardino di Boboli was intended to be a place of contemplation and Grand Duke used to personally accompany his special guests through the garden explaining that after such an experience they would feel changed in mind and soul. The present exit near Palazzo Pitti was originally intended to be the entrance with a statue of a fat dwarf on a turtle representing Cosimo's advisor. This certainly doesn't help! I would suggest reading some information ahead of your visit otherwise you won't appreciate it. Hopefully I'll have enough time to visit more sites soon.
---
Community Rating
Community Rating 2.69. Based on 21 votes.
Your Rating
Site Info
Full name: Medici Villas and Gardens in Tuscany
Unesco ID: 175
Inscribed: 2013
Type: Cultural
Criteria: 2 4 6
Site History
2013 - Inscribed

2013 - Revision

extended from former TWHS Medici villa of Poggio a Cajano

2013 - Name change

Name was changed at the time of inscription from the original "Medici Villas and Gardens" in order to avoid confusion with Medici villas/gardens elsewhere in Italy

1982 - Requested by State Party to not be examined
Site Links
Unesco Website
Official Website
Related
Locations
The site has 14 locations. Show all
Connections
The site has 19 connections. Show all
Visitors
118 community members have visited Medici Villas and Gardens. Show all