Borobudur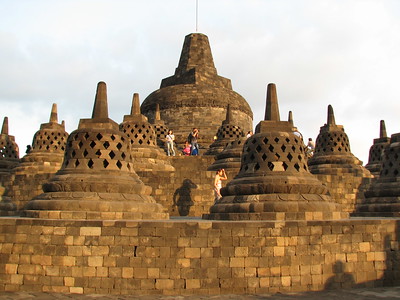 The Borobudur Temple Compounds is a ninth century Buddhist temple complex. It was built on several levels around a natural hill.
Borobudur is built as a single large stupa, and when viewed from above takes the form of a giant tantric Buddhist mandala, simultaneously representing the Buddhist cosmology and the nature of mind. The foundation is a square. It has nine platforms, of which the lower six are square and the upper three are circular. The upper platform features seventy-two small stupas surrounding one large central stupa. Each stupa is bell-shaped and pierced by numerous decorative openings. Statues of the Buddha sit inside the pierced enclosures.
The site was rediscovered in the 19th century, and restored in the early 20th. In 1973 a major renovation took place that was funded by UNESCO.
Two smaller Buddhist temples, Pawan and Mendut, are part of the designated area too.
Visit October 2009
Together with the Taj Mahal and Angkor, the Borobudur is probably one of the three most iconic WHS. I visited it at sunset. At first I was amazed that the monument cannot be seen from the road - I had always thought that it is very big? Also, when I finally got it in my view, it looked much less spectacular than I had imagined. Most of the stones are dark from exposure to the elements.
I climbed the monument by going round clockwise at every level. That's when the site certainly started to grow on me. The sheer number of carvings into the walls, and their little details, kept me interested layer after layer. At some points there are whole reliefs, like paintings, displaying parts of a boddhisatva's life or a historic scene.
The top, the central stupa surrounded by little stupas, is where all the visitors congregate. It looks a completely different place than the levels below. It's a fine spot to relax after the climb, and to contemplate all that you've seen underway. There are great views over the surrounding fields and mountains too.
Click
here
to see more of my photos of Borobudur
Community Reviews
---
---
---
---
---
---
---
---
---
---
Community Rating
Community Rating 4.42. Based on 13 votes.
Site Info
Full name: Borobudur Temple Compounds
Unesco ID: 592
Inscribed: 1991
Type: Cultural
Criteria: 1 2 6
Site Links
Unesco Website
Official Website
Related
In the News
Locations
The site has 3 locations.
Connections
The site has 20 connections. Show all
Visitors
197 community members have visited Borobudur. Show all