Rila Monastery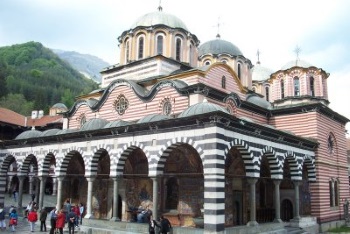 The Rila Monastery is the largest and most famous Eastern Orthodox monastery in Bulgaria.
At the heart of this monastery's history is the story of the medieval hermit Ivan. He was born in the 970's, and chose seclusion because of the moral decline during the reign of the Bulgarian Tsar Peter. He retreated to the almost inaccessible Rila Mountains. There he worked on his ideas, that were aimed at the underprivileged and for equality between people. His cave became a place of veneration for the Bulgarian people. Since the 15th century his relics have been laid to rest in the monastery itself.
Rila's monastic buildings originally date from the late 10th century, and were set up by the monastic community around Ivan. In the 14th century they were turned into a fortress by Hrelyo Dragovol, a feudal lord. Part of the walls and the tower today still remind of that period.
On January 13th 1833, a fire broke out and destroyed almost all (wooden) residential quarters. This national calamity was put right by thousands of Bulgarian craftsmen, that restored the buildings in a couple of years.
Map of Rila Monastery
Legend
Visit May 2004
Inaccesible for the medieval man, stil a time-consuming trip for the modern traveller. From Sofia it takes almost all day by public transport to get there (and back), so I decided to be clever and rent a car. And this also took me best part of the day....
Driving in Bulgaria means escaping the potholes in the streets, pedestrians crossing 'the highway', circling around the ubiquitous horse-carriages, dead dogs and other runover animals. This can be fun, but what they add is totally erratic signposting. Although I had a detailed road map in Cyrillic, I took the wrong way seriously three times. In all, it costed some four hours to arrive at the monastery 120 kilometres from Sofia. What a day...
Here the lamenting stops: because it was worth all the trouble. Rila's is the most momentable, awe-inspiring, colourful and eccentric monastery I have ever been to (and I've seen many). Its location, in the dark green forests and with snow-clad mountains in the backgrounds, couldn't be better. The outside walls are a bit bleak, but entering via the Dupnitsa-gate, my mouth fell open taking in the spectacle. I can't begin to describe the colours, the frescoes, the architecture and all the details, but I hope I can give an impression via the pictures on this site.
Community Reviews
---
---
---
---
---
---
---
---
Community Rating
Community Rating 3.79. Based on 19 votes.
Site Info
Full name: Rila Monastery
Unesco ID: 216
Inscribed: 1983
Type: Cultural
Criteria: 6
Site Links
Unesco Website
Official Website
Related
Locations
The site has 5 locations.
Connections
The site has 10 connections.
Visitors
155 community members have visited Rila Monastery. Show all