Rila Monastery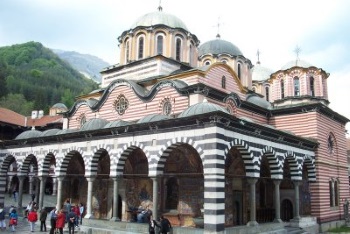 The Rila Monastery is a symbol of the 19th-century Bulgarian Renaissance.
The monastery in the remote Rila Mountains has its origins in the 10th century and had a strong influence on the Eastern Orthodox world in the following centuries. A fire in 1833 destroyed almost all buildings, which were made out of wood. The buildings were swiftly restored by Bulgarian craftsmen and got their current appearance.
Community Perspective: The setting of the main monastery is awe-inspiring and the frescoes are colourful. The four related sites so far have been mostly unreviewed, although Nan managed to hike to Saint Ivan's cave. He also has provided public transport tips.

Community Reviews
---
I visited the rila monastery on jan the 17th with a minibus of one of the few agencies which offer trips to the most famous and important bulgarian monastery. We first visited the boyana church(another unesco site) ,stayed there for around 20 min,and then headed for the rila monastery where we had around 2,5 hours at our disposal. First I discovered every corner of the impressive monastery,bought some candles,had some sweets from the monastery's bakery,also bought some bread there. Then I decided to try my luck and walk to the Ivan Rilski cave....when I reached the Sveti Teodisi church I realized that I wouldnt make it back in time to catch my bus to Sofia.I hurried back to the monastery-on the way I encounterd a pack of 5-6 street dogs in the middle of nowwhere,a quite scary surprise,armed with a big piece of wood I just left them behind,what an unpleasant situation it was-and just made it to catch my return bus to Sofia.The next day my flight to Abu Dhabi was from S ofia's airport.
Whoever is interested in unesco sites and whoever visits bulgaria has to visit the rila monastery. It is the most important and most beautiful place that country can offer to the world.
The only pity is that due to the massive influx of visitors( I was there in winter time,quite a few people there,but not overran or overcrowded) the place has lost its importance as a religious site.
I love those orthodox monasteries in russia where you can feel that you are on holy ground,so to speak,no or few foreign visitors,native believers and worshippers,everyone shows respect and religious devotion.
The rila monastery has become a mere touristic place where foreign visitors in short trousers( even during winter time looking like clowns) and baseball caps take pictures of every stone there.
Nevertheless,the rila monastery is one of the wonders of our world and has to be visited when in bulgaria.
---
Rila Monastery is a nice day trip from Sofia taking you into the mountains where you will find a colorful monastery. It does feel special and I can't quite fathom the bad evaluation it got by Unesco.
The site spans multiple locations with the monastery in the center. If you want to see the other parts you will have to do some hiking (or bring a car). For your efforts you will be rewarded with nice nature and mountain views.
It took me 1:15h to make it to Saint Ivan's cave. On my way up I wasn't able to spot the start of the trail and walked along the road. The sign posting leaves much to be desired; it's also mostly in Bulgarian. From the cave it's quite straightforward following the trail back, though. But the trails were still rather rough. I assume they will do some maintenance before the hiking season starts in earnest. Given the ubiquity of camping sites and barbecue areas I would guess the area is rather popular in summer.
Getting There
There are daily busses from Sofia departing the western bus station Ovcha Kupel (Tram Line #5) at 10:20h. Tickets are bought on the bus and cost around 6€ one way. Be advised that the bus may be crowded. So if you prefer to have a seat for the next three hours of bus ride, it's best to queue early.
The return by direct bus is already at 15:00h, giving you a less than two hour time window. Enough, if all you want to see is the monastery itself, get a coffee afterwards and get in line early again for your seat. Too little if you actually want to hike to the cave which I would recommend.
I returned with the bus at 17:00h to Dupniza. From there half hourly busses run back to Sofia. This connection isn't even much slower than the direct bus clocking in around 3h. The direct bus makes a lot of stops and does a 15min break in Rila. Not really tourist friendly.
If you are travelling onwards to Bansko (Pirin) or Thessaloniki you may want to consider staying in Blagoewgrad. There is a 7:00h and a 12:00h bus to the monastery and it saves you some time as you don't need to go back and forth to Sofia twice. I skipped on this option as I was eager to get to Sofia and wasn't sure what to do about my luggage. Some German travellers I met asked around in the monastery and had their luggage stored with the security of the monastery, probably for a tip.
For current bus schedules please check the monasteries site.
---
chris
31th May 2014
Idea was to go both Rila Monastery AND drive short into Pirin park: that's to much for a day trip from Sofia. So we stuck to the Rila Monastery. Day we visited the kitchen was in renovation and seems to take a bit of months more. The Monastery is really great! We arrived early, around 10AM, there was almost nobody, at 11AM the big groups arrived and we were done making photo's (unfortunately not in the church or museum, also not WITHOUT flash.). My personal opinion is that without flash it's OK to make photos as it does not damage anything.
After this, we drove a bit further (around 10 minutes) the road into the mountains, you find a sign of St. Ivan, there you can do a short 30 minute hike up the mountain to the cave he originally lived in, there is a small church devoted to him to. It's not (as far as I know) part of the WHS but for sure worth to visit.
for photo's check my blog:
www.christravelblog.com/bulgaria-sofia-2014-05-28-2014-06-02/
---
Steven
I knew from my tour guide that Rila monestery was spectacular, but I really didn't expect what I saw. Such grandeur and sheer beauty is simply shocking.
I've been to most European countries and this is by far the most spectacular monestery there is. A must see, if you are comming to europe.
---
Horvath Mat
I visited Bulgaria this August, and I must say that the Rila monastery was one of the most beautiful things I saw there, though I travelled around the country (Sofia, Varna, Plovdiv etc.) and I saw quite a lot if monuments and sights.
I think that the cloister looks fantastic and that it's situated in a gorgeous location, among those fantastic mountains. I really liked those verandahs and balconies, with columns and arches, and the mural paintings were amazing too.
---
4.00 The Netherlands - 26-May-04 -
Inaccessible for the medieval man, still a time-consuming trip for the modern traveller. From Sofia it takes almost all day by public transport to get there (and back), so I decided to be clever and rent a car. And this also took me the best part of the day....
Driving in Bulgaria means escaping the potholes in the streets, pedestrians crossing 'the highway', circling around the ubiquitous horse carriages, dead dogs and other runover animals. This can be fun, but what they add is totally erratic signposting. Although I had a detailed road map in Cyrillic, I took the wrong way seriously three times. In all, it cost some four hours to arrive at the monastery 120 kilometers from Sofia. What a day...
Here the lamenting stops: because it was worth all the trouble. Rila's is the most awe-inspiring, colourful and eccentric monastery I have ever been to (and I've seen many). Its location, in the dark green forests and with snow-clad mountains in the background, couldn't be better. The outside walls are a bit bleak, but entering via the Dupnitsa-gate, my mouth fell open taking in the spectacle. I can't begin to describe the colours, the frescoes, the architecture, and all the details, but I hope I can give an impression via the pictures on this site.
---
Vlady Ardenski
I used to live in Bulgarai, until i immigrated to Canada. My mother told me that it would be a horrbile waste to have lived in Bulgaria and not to have seen the Rila Monestery. So she got me a ticket and i went to Bulgarai. After a few days of hanging out with my friends i went to the Rila Monestery (with not too much enthusiasm knowing i could be hanging out with my friends). The moment me and my grandparents arrived i was shocked at the beauty and the arcitecture i had seen before my eyes. When i saw the well preserved arcitechture that stood before my eyes i had one more reason to be proud of being Bulgarian. The Monestery is located in the Rila mountain, where it was made to preserve Bulgarian culture from the invasion of Turkie. For anybody who has the time, belive it is something worth seein in your life time.
- An anonomous Bulgarain
---
Marie t
Monastery of Rila it's the first reason why i gone in Bulgaria the first time. i really love it and be happy to see it eache time i can. it's a beautiful monastery "lost" in the Mount Rila, in the south west of Bulgaria. It was founded in the X century by the monk-hermit St John of Rila and it played an important role in the intellectual and political life of Bulgaria during the Middle Ages After the etablishment of the ottoman rule the cloister quickly falls into decay, but in the XV century it is again restored and inhabited and becomes a stronghold of the Bulgarian national spirit and culture. In the epoch of the Bulgarian national revival the Rila cloister is enlarged an renovated withe the help of the whle nation and participation of the most priminent Bulgarian craftsmen -builders and painters. In its present appearance it is the most impresive monument of the Bulgarian revival- a unique architectural ensemble, in wich are preseved artistic welths an rich museum collections.
---
Site Info
Site Links
Unesco Website
Official Website
Visitors
278 Community Members have visited.