Pilgrimage Church of Wies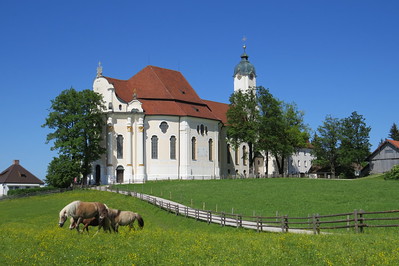 The Pilgrimage Church of Wies is considered a masterpiece of Bavarian Rococo.
The exuberant stucco work and frescoes in lively colours were made between 1745 and 1754 by the brothers Johann Baptist und Dominikus Zimmermann.
In 1738 a miracle appeared in this Alpine valley: tears were seen on a dilapidated wooden figure of the Scourged Saviour. This miracle resulted in a pilgrimage rush to see the sculpture. In 1740 a small chapel was built to house the statue, but it was soon realized that the building would be too small for the number of pilgrims it attracted, and thus Steingaden Abbey decided to commission a separate shrine.
Map of Pilgrimage Church of Wies
Legend
Visit June 2014
Exactly one week after my visit to the Slovenian Alps, I found myself on the other side of this mountain range. It's a long holiday weekend in Holland (and in Germany) and I used it to drive all the way to the south of Germany, to Bavaria. This church actually lies quite far from everything, even to Munich it's still a 1.5 hours drive. But for that location it sees a remarkable number of visitors: 1.2 million pilgrims and tourists arrive here yearly. The size of the car park is testimony to that (it can hold some 20 buses), though it's not as extreme as Mont St. Michel which has an airport size parking.
The church is bigger than I thought it would be. I was expecting a small village church, but it has a fair size. It lies in a lovely setting amidst the green meadows and with the peaks of the Alps in the background. I had to wander around for an hour before I could get in: a marriage ceremony was going on. The program for that day showed another wedding, a christening and three regular church services. During all these ceremonies the interior of the church is closed to outsiders. Fortunately there's a cafe next door to pass the time with a drink or ice cream. I also had a quick look at the old chapel which used to house the crying wooden Christ statue.
At 4 p.m. I was finally allowed in. There were about 30 other visitors, although people kept coming and going so I couldn't keep track of the actual numbers. I was expecting a lot of the decoration, but although certainly interesting I wasn't really overwhelmed. I guess I have seen so many Latin American churches that are over-the-top exuberant that I am not easily surprised anymore. Earlier this year for example I visited the Rosary Chapel in Puebla (Mexico), where my mouth literally fell open. The genius of the church in Wies lies in the combination of murals and stucco work.
The 4 o'clock opening was advertised as a "guided tour". I didn't see any guide, but after a while someone came forward and herded us all into the church banks at the front. He introduced himself as the church's priest, and started to tell us the story of this church and the decoration scheme. This was all done in German with a Bavarian accent, so that scared away the Asian visitors after a few minutes. But I stayed on, and his story made the decorations come alive for me. He pointed out where to look, and told about the theological meaning of the various decorative objects. All are symbolizing "Mercy", no depiction of anything evil can be found inside.
Instead of just looking at one bright chaos of ornaments, the details came forward during his speech. He spoke so long (45 minutes) that we had to leave immediately after that again as another group for a church ceremony was waiting to enter. That way I missed out on the remains of the original wooden statue, which are kept behind the altar. But it was a satisfying visit after all.
Click
here
to see more of my photos of Pilgrimage Church of Wies
Community Reviews
---
---
---
---
---
---
---
---
---
---
---
Community Rating
Community Rating 2.81. Based on 21 votes.
Site Info
Full name: Pilgrimage Church of Wies
Unesco ID: 271
Inscribed: 1983
Type: Cultural
Criteria: 1 3
Site Links
Unesco Website
Official Website
Related
In the News
Connections
The site has 9 connections.
Visitors
159 community members have visited Pilgrimage Church of Wies. Show all