Jeju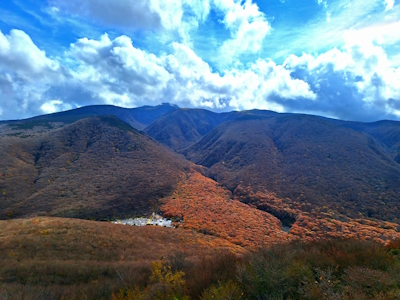 Jeju volcanic island is an example of a large shield volcano, a lesser common type of volcano and rare in its enviromental setting. Its most distinctive feature however is its system of lava tube caves.
The nominated area consists of 5 locations:
Hallasan Natural Reserve
Geomunoreum Lava Tube System, divided in 3 parts
Seongsan Ilchulbong Tuff Cone

Community Reviews
---
The unique volcanic formations and ecosystems on Jeju Island have ensured the place a spot on the list of UNESCO WHS. For those with less expertise in geology or biology, this translates into "beautiful landscape with a lot of hiking opportunities". The enlistment includes three different sites: Mount Hallasan, the Lava Tunnels and the tuff cone Seonsang Ilchulbong. My time on the island did only allow me to visit two of them which means that I skipped the Lava Tunnels. Those who love hiking and the joy of (almost) unspoilt nature while not missing the infrastructure of the civilized world will enjoy this place as I did in 2015.
In South Korea, hiking paths are often installed in a way that they are separated from their surrounding landscape, either by a low physical barrier like a fence or dense vegetation. This allows hikers to enjoy nature while making sure that they stay on the path and do not destroy the environment. In case of Seonsang Ilchulbong, where a unique ecosystem of plants and animals has established itself, it means that there is one viewing platform from which you can look into the crater – no less, but no more. Some therefore may be disappointed that they climb up (20 minutes) all the way for a short, yet stunning view. The hiking paths on Mount Hallasan are similar. Here however, the hike up is already an attraction with all the different vegetations and climatic regions. Also, on the uppermost stretches, the infrastructure diminishes and the paths become bare paths without barriers. That means that there is not only much more to see but also more space compared to Seonsang Ilchulbong.
Most South Koreans love hiking, therefore expect both mentioned places to be full on a sunny day – but only on the smaller Seongsan Ilchulbong you may get the feeling that is is overcrowded. Both sites charge you a small entry fee and have touristic infrastructure like toilets, snack bars and souvenir shops. Note that on Mount Hallasan, these are available on the lower stretches of the path. Other things you have to notice on Mount Hallasan is that they will not let you in (or limit your access up to a certain checkpoint which has to be reached before 12:30!) if you arrive so late that you won't manage to get up and down again before sunset. Also, there are several gates to the Mount Hallasan National Park and several main hiking paths, each with a different name. As of 2021, only two of them (Seongpanak and Gwaneumsa) lead all the way up to the summit. It is recommended to visit the park's website in order to check opening times and eventual path closures beforehand. I planned to go up Seongpanak and go down on Gwaneumsa but was surprised by a path closure and had to use Seongpanak up and down.
Seonsang Ilchulbong and Mount Hallasan (Seongpanak Trail) are easily accessible by public transport. Even without any knowledge of the Korean language, the bus system is easy to use and you should have no problem fining the right stop to alight. In case of doubt, just get off at the place where most people with tracksuits are leaving.
Read more from Airpunk here.
---
3.00 Philippines - 07-Oct-19 -
WHS#2
In April 2012, My family and I joined a cruise from Shanghai to Tokyo. Our first stop was Jeju, where we took a half-day tour of the island. Unfortunately, the cruise being full of mostly elderly people or families with children, like myself at the time, the tour didn't include a visit to the lava caves. At the time, having not been the family travel researcher, I didn't know what to expect of the tour, so I simply enjoyed the cultural village excursion, where we saw some nice lava statues and tried horse bones. Now with all these statues, we must've been near a volcano, and indeed, the last stop of the day was Seongsan Ilchulbong.
The volcanic cone towered high above the sea, like a huge castle. Steep grey cliffs occasionally ended in black sand beaches, but I wasn't here to swim. My dad and I, along with my childhood friend and her dad who had joined the cruise with us, decided to climb to the peak. The path, rather easy with well-defined steps, was really crowded with tourists, which caused us to take nearly an hour to get to the top. When we did, we were treated to the view of the crater, which at the time, I couldn't even believe was a crater. It was just this vast flat grassland in a wide bowl below our feet, and it reminded me of a golf course by the sea. At the time, I just couldn't believe that this was natural. The steep walls rising straight from the sea just didn't match this huge shallow crater in my mind. It was a really unique and scenic place, though the tourist numbers were slightly unpleasant, as we all scrambled for views at the railings. After taking the view and our breaths in, we went back down, which only took us around 10 minutes.
Seongsan Ilchulbong is just one of the many volcanic features of the island. It's probably the most scenic highlight of the island, and it's definitely a unique, or at least exceptional site in the world of geology as a well-preserved tuff cone with a sea cliff. There are even several rare plant species within the crater. Of course, the centerpiece of Jeju is Hallasan, the highest mountain in South Korea, but the best way to appreciate it is probably to climb it, which would take a whole day. The most outstanding feature of the island, however, is the lava caves, which I really regret missing. The caves probably could've been their own WHS, but I'm glad that they decided to include the diversity of the island's volcanic features. Together, they all just fill in each other's gaps and show a full story of volcanism and its different processes that are less common in other parts of the world. Jeju is an exemplary volcanic system in the world, comparable in uniqueness and richness to the Big Island of Hawaii, Aeolian Islands, and Tongariro National Park. Although distinguishable from any of them for its relative lack of dynamic activity observable, it makes up for that with its unique formations, most especially the greatest collection of lava caves in the world. Jeju is definitely worthy of its recognition, not as a #7WondersofNature, but as a unique and impressive WHS and one of the most unique and diverse volcanic landscapes in the world.
---
In June 2017 I spent a couple of days visiting Jeju, where I stayed at Hotel RegentMarine, which is located in Jeju City on the waterfront between Black Pork Street and Raw Fish Street (those are the actual names in translation). On my first day, I visited Jeju City, where I had lunch on Black Pork Street at Restaurant Dombedon, probably the world's only Michelin-starred pork barbecue restaurant. For dinner, I ate on Raw Fish Street, where my abalone was likely harvested by a Haenyeo, free-diving women who can descend for up to three minutes and reach depths of nearly 65 feet. For my second day, I arranged for a car and driver (Kimi9461 (at) hanmail.net) and visited the Manjanggul lava tube and Seongsan Ilchulbong tuff cone, components of the Jeju Volcanic Island and Lava Tubes UNESCO WHS. I also visited two museums, Jeju Haenyeo Museum (which tells the story of the Haenyeo, who plunge to the sea floor to catch crustaceans, mollusks and octopi) and Jeju Loveland (an outdoor, sexually-explicit sculpture park). Mr. Kim also arranged for us to be quickly seated, avoiding the typical hourlong wait, for lunch of abalone porridge at Myeongjin Jeonbok Abalone Restaurant, probably the most well-known and popular on Jeju. Across from the restaurant, I was able to watch many Haenyeo dive to catch crustaceans and other sea creatures (the attached photo is of a Haenyeo, who were far more interesting than the WHS).
---
I visited this WHS in April 2017. I visited all 3 locations over 4 days, namely the Manjanggul Lava Tube from the Geomunoreum Lava Tube System, Mt Hallasan and Seongsan Ilchulbong Tuff Cone. All entrances have free admission in April.
The only lava tube open to tourists is the Manjanggul Lava Tube which is 7.4km long, 18m wide and 23m high. Only 1 km is accessible but it is more than enough to grasp the OUV of this unique lava tube. The vast majority of lava tubes are formed by a basaltic lava flow which contains less viscosity. When the lava flow from the volcanic crater stops, it forms an empty space shaped like a tube. Thenm the lava flows continuously into this tube, the ground melts down in the high temperature and deepens gradually.
A number of impressive lava formations can be observed while walking underground for 1km: lava flowstones, lava rafts, lava shelves, lava stalactites and stalagmites, lava flowlines, quartzite fragments and last but certainly not least, the world's largest known 7.6m high lava column (picture, top right). The small information centre has a number of information boards and lava fragments as well as the original UNESCO certificate (picture, top left).
The second location I visited was Mt Hallasan. This is where a rental car comes in handy as I managed to drive through the never-ending maze of green tea plantations (not the ones at O'Sulloc; picture, bottom left) beneath Mt Hallasan. The mountain peak is also visible from Yongmeori or from Jungmun.
The third location I visited was the Sunrise Peak tuff cone. As the name suggests, the views at sunrise (on a clear day) are incredible (picture, bottom right). Here I could clearly experience the unequalled quality of scenic value (criterion vii) and the world class geological value (criterion viii) of this WHS. The 180m climb to the top of the tuff cone is very worthwhile but if you wait around 30 minutes after sunrise, you'll be rewarded with similar views but without the crowds. The tuff cone is also visible from the Phoenix Island Resort as well as from U-do island. If you have time to spare, there are several short hikes to the black sandy beaches beneath the tuff cone.
Overall, I enjoyed my time in Jeju. The island proudly displays its 3 titles, namely UNESCO world natural heritage, part of the Glocal Geoparks Network and 1 of the 7 wonders of nature however you'll need a significant dose of patience and time to take in the 3 locations before the bus loads of Chinese and Korean tourists. I'd recommend a visit to the Yongmeori Coast as well as U-do island by ferry (possible future extension).
---
3.00 Netherlands - 30-Oct-12 -
Heavily promoted as one of the new seven natural wonders of the world, Jeju Island, an oval volcanic island in the East China Sea, is a different country of South Korea with its different landscape, climate, architecture or even the taste of kimchi. Jeju is not a new discovered destination for me; my Korean friend often posted their honeymoon photos on Jeju on their webpage, Jeju is popular for Korean honeymooner, and during my last trip to Seoul, I saw many advertisements of its new seven wonder campaigns, even a large booth in Seoul Station for clicking the vote, so when I decided to visit Korea again, part of my annual Asian trip this year, I requested to visit Jeju as my prime destination to discover this island.
The best way to see Jeju is to rent a car, after landed at Jeju Airport, my first place to visit was the famous Manjanggul Cave; the lava tube cave is indeed a great site, very interesting, unique and definitely the best site of Jeju. While I really enjoyed the place, I also really concerned with the protection of the cave, currently tourists can freely touch and walk inside which finally someday will damage the cave and its unique lava surface. My next destination was the famous sunrise peak or Seongsan Ilchulbong which is actually an eroded volcano next to the sea; I was surprised to discover that the peak is surrounded by a very big town and large car park with hundreds of bus tours, clearly the peak is very popular. The peak itself is quite nice with its beautiful green lawn, high cliff and seacoast landscape, but with thousands of tourists, the place was really chaotic and noisy and made the whole experience not quite enjoyable. Actually I had much more enjoyable time seeing Seongsan Ilchulbong from the nearby beautiful Seopjikoji Peninsular or Phoenix Island Resort, and as already mentioned by Paul, the works of Tadao Ando are very interesting and his design use Seongsan Ilchulbong as part of borrowed landscape is very classy.
Due to bad weather on Hallasan, I only saw two parts of the Jeju's World Heritage Site. The island is indeed a nice place to visit especially for its unique volcanic wonders not only the lave tubes but many beautiful lava coastline. For other manmade tourist attractions I found them are just fine and sometime to bizarre to visit. The food on Jeju is also nice especially abalone and other seafood, local products made from cactus and its local orange are quite good for souvenirs and interesting for their taste. In my opinion, UNESCO sites on Jeju, especially Manajanggul Cave, are one of the best sites that Korean offered to the World Heritage and should be seen at least once in a lifetime.
---
Another day, another island on our RTW cruise – but this visit to Jeju was more critical than most as it offered the promise of a completely new WHS after a long period of "revisits" since Rapa Nui on the other side of the Pacific! With just 9 hours ashore we somewhat reluctantly decided to use a standard tour which promised to take in 2 of the 3 elements of the inscribed site, together some more of Jeju's delights!
The big worry was whether the tour would give us enough time at our priority sites and after visits to a crater, a folk village and a resort it was after lunch before we reached the Seongsan Ilchulbong tuff cone, otherwise known as "Sunrise Peak" (Our lunch by the way was served in the visually stunning "Glass House" by Tadeo Ando – well above the normal quality of restaurant used for tourist groups around the World but it was a pity we couldn't also take in his "Genius Loci" or the interior of Botta's "Agora" at the same Phoenix Island location!). We were then presented with an option – either go to see the Haenyeo diving ladies whose "show" commenced at 1.30 or climb to the top of the crater – in either case we would leave in 1 hour and it was now 1.05!!
Well there was no alternative of course but to try for both - and it was well worth doing so too. Seongsan Ilchulbong is often described as a huge offshore stone castle with sheer cliffs all round – in reality it is connected to "mainland" Jeju by a spit of land but the climb starts only a bit above sea level and climbs steeply to the summit at 182 metrs. It was a popular spot and the stairway got very crowded. The summit revealed that those steep sides hid a deep circular crater (its floor just 90 metres above sea level) - this is a "volcanic cone formed by Surtseyan-type hydrovolcanic activity about 5,000 years ago" (Wiki). The views on all sides were spectacular from the very narrow summit ledge.
Next to the diving ladies so, after a speedy climb of 15 minutes, it was less half than that to run down. Luckily they started a bit late and we arrived in time to see and hear the rituals they undertake before diving. The Haenyeo are mainly old ladies who dive without oxygen down to 20 metres for conch, urchin, abalone and octopus looking a bit like "Michelin men" with their rubber wet suits highlighting their avoirdupois! Apparently they are embarked on a project to be inscribed as "Intangible Cultural Heritage" – it was certainly an interesting vignette of Korean culture and worth taking in if you can, even if the show at Sunrise Peak is one put on for tourists
So, it was on to the "main event" – the Geomunoreum lava tube system "regarded as the finest lava tube system of caves anywhere," (UNESCO – though Hawaii et al might disagree!). Arrival at 2.40 gave us a full hour to cover the underground walk with reasonable time to take in the atmosphere and the numerous geological phenomena on display. Only 1 km of one of the tubes, that of Manjaggul, is open. Its entire length is 13.4kms with a height of 23m and a width of 18m (photo). We had visited lava tubes in USA but found Manjaggul a worthwhile experience, well presented with informative signs.
Both Seongsan Ilchubong and Manjaggul deserve a bit of research before and after a visit to help understand the geological processes which created them and what makes them special enough to be inscribed. Ok, Jeju requires more than the 9 hours we gave it, but I felt we used our limited time reasonably well and, in particular, that we did justice to the 2 WHS elements we visited (and we saw the third as we sailed away with the sun shining brightly on the snow capped peak of Mt Halla!).
---
4.50 Belgium, France - 31-Mar-12 -
Jejudo, which means Jeju Island, is the biggest island of Korea and its most touristic area for Korean people dreaming of beautiful beaches and nice sea. The WHS there mainly consists of the Hallasan mount, an extinct volcano culminating at almost 2000 meters and the lava tubes inside which you can walk and enjoy the natural sculptures made by lava and water.
The Volcano is a great national park in which people hike and climb to the top. Four different ways allow to get to the top and are more or less easy to use. Whatever the one you take, you will have several hours of hard walk to get to the top and same thing to get down. However, you will enjoy the beautiful landscape of the park with its fauna and flora and its different places between forests, solid lava, water falls and cliffs. Lava tubes are really amazing and offer a natural testimony of the work made by lava first and erosion then.
---
A memorable part of visiting Jeju was meeting so many friendly visitors, mostly local, on ther ferry from Mokpo to Cgheju-do. But I did visit some of Jeju's volcanic attractions.
one day I took a bus from Jeju-do up to Seongpapak on the side of Mount Hallasan and from there gained some views of the summit, as well as visiting the WHS museum there.
on another day I took a different bus heading to Seongsan Ilchubong and got off near the Manjanggul lava tubes and went for a 2km hike down through a tube, a black tunnel big enough to run a train through. Along the way were some beautifully illuminated lava formations. The 1 km open for visits is only a fraction of what is there.
Returning to the bus stop I caught another bus to Seongsan Ilchubong, clearly a place of pilgimage for the hundreds of people gathered there to climb to the summit.
---
4.00 California - United States of America - 17-Feb-10 -
An incredible island with volcanic lava tubes, the beautiful Hala mountain, and a distinct culture from that of mainland Korea. Also the ilchul-bong is a must see crater located on the eastern edge of the island. This paradise is full of delicious seafood, friendly people, fascinating "stone grandfather" statues, Haenyo Women Divers, and numerous waterfalls. Visitors planning a trip should really consider their timing, because for Koreans there are definitely high and low seasons in regards to tourism, and the island can become quite busy. Moreover, foreign visitors can rent cars or smaller vehicles on Jeju, which is less restrictive than mainland South Korea. Setting up your hotel should also be considered carefully, Jeju City or Seogwipo. I chose the later, but it really depends on your travel priorities.
Besides the 3 inscribed areas (Hallasan, Geomunoreum Lava Tube System, and Seongsan Ilchulbong), there is talk of expanding the property to Yongmeori coast, additional caves and oreum, and potentially even some of the smaller volcanic islands off the coast of Jeju-do. I would certainly welcome an extension. Nevertheless, a trip to Jeju is a highlight for many who visit Korea.
Read more from Kyle Magnuson here.
---
3.00 The Netherlands - 18-Sep-01 -
Jeju island is the equivalent of a tropical paradise, especially for regional tourists. The Hawaii of South Korea, with its sunny climate and even real palm trees. On the flight that I took from Busan to Jeju were at least 100 elder women, excited as children going on a school trip.
Arriving at Jeju airport, however, the island is covered in fog and rain.
The next day it is still raining. I decide to join a bus tour, to get an easy (and dry) glimpse of the island. The tour takes 8 hours, and circles the eastern part of the island - the volcano crater, lava caves, and the open-air museum are included. I'm joined by about 10 Koreans and a German girl. We (the westerners) haven't got a real clue where we are going, so a surprise tour it is (the guide only speaks Korean).
First, we stop at the "Mystery Road", an optical illusion. Really strange, but funny.
The Sangumburi crater is stop number two. This should be an impressive sight, a large green volcanic crater. Now only fog, just the edge of the crater can be seen.
So we go on. Most of the Korean passengers are fast asleep now. The next stop is the Song-Eup Folk Village, an open-air museum where we are lured into a tent where a sales presentation of health products is held (tea, pills). The Koreans are wide awake now and buy in large quantities.
After a great bulgalbi lunch we go horse riding. Two brave Koreans from our group are given a cowboy hat and boots and sit on a horse for 10 minutes in the pouring rain.
The bus route now takes us to the coast, to the Sunshine Peak. We end up at the lava caves of Manjanggul. There we have an hour to follow the trail that the lava has made underground. The most impressive sight of the day in my opinion. The caves are cold and dark, and their walls are molded into strange forms by the lava. Most of the Korean co-passengers have stayed on the bus by the way.
The day ends at a fish restaurant, where the Koreans start being attentive all again and where I have my first freshly cooked octopus.
---
Site Info
Full Name

Jeju Volcanic Island and Lava Tubes

Unesco ID

Country

Inscribed

Type

Natural

Criteria

7

8

Categories

Link
Site Links
Unesco Website
Official Website
Related
In the News
Visitors
144 Community Members have visited.