Crespi d'Adda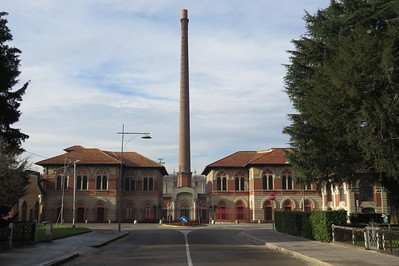 Crespi d'Adda is a late 19th century model worker's village. It is one of the best preserved examples of the phenomenon of "company towns", which were developed by enlightened industrialists in Europe and North America.
The aim was to house factory workers close to their work and the raw materials. The urban layout of Crespi d'Adda and its architectural appearance are still unchanged.
The town was founded in 1878 by the textile manufacturer Crlstoforo Benigno Crespi, who build a number of houses for his workers around a mill. His son, Silvio Benigno Crespi, turned this into a village based on an in ideological model. Besides single-family houses, with their own gardens, he constructed common services like a school, a theatre and a hospital.
Map of Crespi d'Adda
Legend
Visit December 2013
Reading the previous reviews, I was expecting a desolate WHS in decay. When I arrived however on a sunny Sunday morning, the town looked bright and I certainly wasn't the only visitor. Local people streamed out of the church, a service had just ended. A group of photographers was trying creative shots of the tree lined streets and the industrial buildings. And numerous people were using the streets (that are low on traffic) for jogging or cycling. I parked my car in the town center and went out to explore too.
The main attraction is the former factory. It's an iconic sight (see larger picture above), architecturally interesting. Unfortunately the building is closed, and no effort has been made to turn it into something informative about its past. I wonder what the new owners of Percassi will do about it – they seem to want to house their business headquarters in the factory buildings, but will that mean these buildings stay closed for tourists?
In all I wandered around Crespi d´Adda´s streets for about an hour. The church and school are worth a look, and I even walked uphill to try and get better views of the factory owner´s palace. The design of the town was inspired by English examples, and certainly Saltaire springs to mind. The rigid street plan and the cubical houses are similar. This Italian version however has more flair. The houses aren´t so close together, are painted different colours and all have good gardens. The church is a pretty thing, and most of the other communal buildings seem to have been designed by a creative architect. A final interesting feature is the outdoor laundry place in the town center, which was made to save the inhabitants the walk to the river for washing clothes.
Click
here
to see more of my photos of Crespi d'Adda
Community Reviews
---
---
---
---
---
Community Rating
Community Rating 2.34. Based on 19 votes.
Site Info
Full name: Crespi d'Adda
Unesco ID: 730
Inscribed: 1995
Type: Cultural
Criteria: 4 5
Site Links
Unesco Website
Official Website
Related
In the News
Connections
The site has 15 connections. Show all
Visitors
120 community members have visited Crespi d'Adda. Show all