Waterton Glacier International Peace Park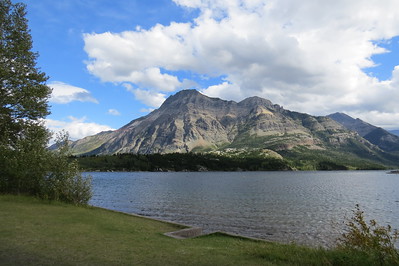 Waterton Glacier International Peace Park is known for its superlative mountain scenery of glacial origin.
Located on the border between Canada and the USA, Waterton Lakes and Glacier national parks form the world's first International Peace Park since 1932.
Among its recorded plusses are a unique geological feature in the form of the Lewis overthrust. There are also superb examples of Precambrian rock formations, six species stromatolites (fossil algae) and 98% of the world's remaining stock of genetically pure Westslope Cutthroat Trout.
There have been three evaluations of a proposals of this site. Reservations were expressed and the site was rated as of secondary importance. It duplicates many values that can be seen in the Canadian Rocky Mountain Parks.
Map of Waterton Glacier International Peace Park
Legend
Visit September 2014
I visited the Canadian side of this WHS. I stayed at the town (tourist resort) of Waterton for 3 days, which was a perfect amount of time to me. The park is pretty compact, and your range to see and do things is limited of course due to the border with the USA. The particular reason for becoming a WHS is not so clear and it will obviously have much in common with the Canadian Rockies which are just a bit to the northwest from here. It is said though that wildlife is still more abundant here in Waterton Lakes NP and there are less tourists, a conclusion that I can agree with after having visited Banff & Jasper.
Three sights stood out for me here: Bison Paddock, Red Rock Canyon and Bertha Lake. The Bison Paddock is a loop road located just before the official entrance to the park. It's a bit like being on a safari: the narrow road winds through a grassland area, which has iconic views for this park "where the mountains meet the prairie". At the far end I encountered the group of American bison that have been reintroduced here.
Red Rock Canyon lies at the end of a parkway that is known for its wildlife sightings in the early evening. But I had to work hard to see any! At my first try, I saw some female bighorn sheep at the Red Rock Canyon parking. They went on to climb about at the red rocks of the canyon itself, a great sight. I drove this entire parkway twice more, once every evening that I stayed in Waterton. It's a pretty drive anyway, but you want to see some big animals of course. I finally succeeded on the return drive of my third try: I saw two black bears at different spots. The first one was crossing the road in front of me, the second one was running across the grassland. Never seen a bear running before, they jump like long-jump athletes and are very fast.
I hiked up to Bertha Lake, and circled this beautiful pristine mountain lake. This is a full-day hike, 17km including the detours and the walk back to the hotel in town. I was the first on the trail, and later encountered only a handful of other visitors near the lake. Most people seem to do this walk only to Bertha Falls, which is about half-way but skips the steeper but prettier section. The lake has a few pebbled beaches, but is mostly surrounded by forest. To circle it in its entirety takes 4km. I was happy to do this, it's a fine narrow trail and the weather was perfectly sunny. Combined with few other people around, these were perfect hiking circumstances.
Click
here
to see more of my photos of Waterton Glacier International Peace Park
Community Reviews
---
---
---
---
---
---
---
Share your experiences!
Have you been to Waterton Glacier International Peace Park? Add your own review!
Community Rating
Community Rating 4.00. Based on 8 votes.
Site Info
Full name: Waterton Glacier International Peace Park
Unesco ID: 354
Inscribed: 1995
Type: Natural
Criteria: 7 9
Site History
1995 - Inscribed

1994 - Referred

Bureau - Still issues regarding comparison with other sites in W Cordillera. New nomination required

1985 - Deferred

Has featrures already on list. Better if linked to Waterton in Canada. But Waterton is not on Canada's Tentative List! Canada indicated it would add it!
Site Links
Unesco Website
Official Website
Related
In the News
Locations
The site has 1 locations.
Access from the Canadian side is best via flying into Calgary Airport, and then drive southwards for ca. 250 km.
Connections
The site has 22 connections. Show all
Visitors
115 community members have visited Waterton Glacier International Peace Park. Show all