Old Town of Galle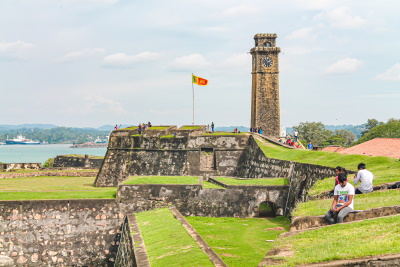 The Old Town of Galle and its Fortifications illustrate the interaction of European architecture and South Asian traditions.
In the early 17th century Galle was taken from the Portuguese by the Dutch. They established the still-existing fortress and ramparts as well as its urban look. European building materials were replaced by those more convenient in Asia such as coral and granite, and verandahs and shaded streets were added to suit the climate. Particularly notable also is its 17th-century sewer system flushed by seawater.
Community Perspective: The fort and city center are in good condition and reviewers find the place quite charming.
Community Reviews
---
There's a really pleasant atmosphere in the streets of the old town of Galle. The architecture has that really interesting mix of European colonialism and South Asia. What I liked was that, although there are quite a few hotels and restaurants, not all of the Old Town felt touristy. There are still quite a few people living here and it has an authentic community.
There are great views along the coastline and it's worth walking the old fortifications to see that side of things.
Read more from Michael Turtle here.
---
3.00 Netherlands - 18-Jan-09 -
If the list of world heritage site is Sri Lanka national history book, it will definitely start with Anuradhapura as the starting point of Sinhalese culture and end with Galle as the starting point of colonial period. Galle is a unique cultural world heritage site as it is not related to Sinhalese culture or Buddhism at all; visiting Galle is truly another chapter of Sri Lanka history.
Galle is located in the small peninsular and surrounded by the mighty fortifications system built by Portuguese and developed by Dutch. Galle was the important port of call that was a part of spice maritime route; as the result, Gall has unique atmosphere of cultural exchange of local people, Muslim, Dutch and British. At present, Galle has been regarded as one of best preserved colonial cities in South Asia.
During my visit, there was a large construction of new road surface, so Galle I saw was a big construction site with many pile of rock and sand for concrete road; however these were unable to destroy the charm of Galle. People are extremely friendly and each alley has its own characteristic, really similar with mosque area of George Town, Penang. The main attraction of Galle is the fort, the grandest is the northern part with comprise of three bastions, star, sun and moon, a real engineering wonder; however, the southern part is my favorite with extremely beautiful view of amazing Indian Ocean, lighthouse and lovely mosque. The city center around Dutch church is also nice with unique Holland atmosphere.
Galle is an easy and nice place to enjoy, this is not a must place to visit in my opinion, but visiting Galle is the complete historical lesson from colonial era to contemporary tsunami tragedy of this beautiful country, Sri Lanka, so why not visit this town is maybe the hardest question to answer.
---
Galle Fort is a beautiful place, but is, of course, almost overwhelmed by the horrors of the Asian Tsunami. So many people there must have lost everything.
If you are in Sri Lanka you should undoubtedly visit this place.
---
3.00 The Netherlands - 12-Aug-96 -
The Dutch connection makes Galle an interesting place to visit (for me, as I am Dutch myself). Especially the church (Groote Kerk) and some of the little streets looked very familiar. Hire a bike, and you feel like you are in Holland.
The new part of Galle is hell, but the old town I found quite charming (though very small).
---
We have just visited post-Tsunami Galle (Mar 2005). If you are in Sri Lanka you should DEFINITELY try to go there - both because the locals need tourists and because the old town is as delightful as ever. As far as we could make out the majority of the old town escaped the direct effect of the Tsunami (it is both protected by the ramparts and partially built on a rise) and the guest houses and restaurants are fully working. Unfortunately the same cannot be said of the area outside the walls. Grass is growing on the cricket ground again and the railway and bus services are working but many of the structures facing the sea are destroyed.
The NGOs seem to have done (and are still doing) a wonderful job - but the same cannot be said for the Sri Lankan government - which seems paralysed by corruption, incompetence, lack of skills, inertia, bureaucracy and political infighting. Its suggested rule that no building can take place within 100 metres of the shore line (possibly including surviving buildings) is causing despondency and confusion among locals whose little piece of land is their only hope of a livelihood - suspicion abounds that such "forbidden areas" will find their way into the hands of big developers (politically connected of course!). Schools are not yet properly working and we heard of families whose children are unable to register anywhere (eg in other areas where they have relatives) because their papers have all been washed away. The army is noticeable by its absence when it should surely be building wooden structures to get people out of the tents which will not be suitable for the upcoming monsoon. The government has complained that it hasn't seen any of the money promised by Western governments – but this is because it has been tardy in coming forward with properly thought through projects. Even the locals expect a large part of any monies reaching Sri Lanka through the government to "disappear". It is hardly surprising that the government newspapers adopt a negative stance towards the NGOs, accusing them of overlapping and being uncoordinated – they are showing up the government's own lack of action and providing a means by which monies can reach the locals without providing an opportunity for "siphoning off" by politicians and officials!
---
Site Info
Site Links
Unesco Website
Official Website
Related
In the News
Visitors
243 Community Members have visited.