Hedeby and Danevirke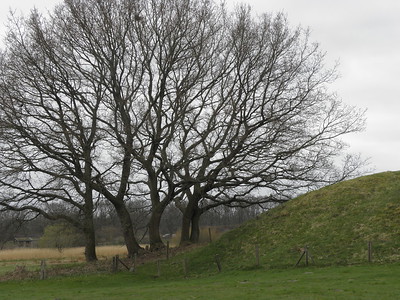 The Archaeological Border Complex of Hedeby and the Danevirke is a relict cultural landscape of a trading centre between Western and Northern Europe.
The designated area consists of a 33km long fortification, the Danevirke, and the archaeological site of the trading town Hedeby. The site consists of 22 locations, mainly segments of the former border wall. The Danevirke consists of several walls, trenches and the Schlei Barrier.
Hedeby became a principal marketplace because of its geographical location on the major trade routes between the Frankish Empire and Scandinavia (north-south), and between the Baltic and the North Sea (east-west). Between 800 and 1000 the growing economic power of the Vikings led to its dramatic expansion as a major trading centre.
Map of Hedeby and Danevirke
Legend
Visit April 2013
I visited Danevirk and Hedeby on my way to the WHS of Jelling. There are several places where one can see the remains of the Danevirk (or Dannewerk in German), but the Viking Museum at Haithabu probably is the most worthwhile.
The Danevirk was the Viking's equivalent to Hadrian's Wall: built to keep out the barbarians. It covered a stretch of 30km in what is now the German state of Schleswig-Holstein (formerly in Denmark). Hedeby / Haithabu was the most important town in the region. It was located along the shortcut route between North Sea and Baltic Sea.
The Viking Museum at Haithabu has a modern presentation inside, though as so often there has not been found much of real interest from the Viking area. A lot of people seemed to have lost their money bag while getting on or off board in the harbour!
The museum has a large outdoor part too. It holds a recreation of Haithabu on its original location, a part of the Dannewerk and the semicircular defensive walls of Haithabu itself. It's a great area for a longer hike: you can either walk on top of the Dannewerk, or do a full loop around the lake.
Click
here
to see more of my photos of Hedeby and Danevirke
Community Reviews
---
Tsunami Japan / USA / Germany 17-Oct-17
Some man involved in nominating this site for Germany came over to speak in my class during Winter Semester 2015-16 when I was still enrolled in the master's degree program "World Heritage Studies" in Germany and said that they had given up nominating this site as a transnational serial site with 4 other state parties and had decided to go alone at it; thus another nomination called "Hedeby and Danevirke, an archaeological border landscape."
I took a Flix bus from Hamburg, which dropped me off at some gas station in Schleswig about 3 km away from the outdoor museum area. But luckily within a few minutes I found an elderly woman who lives in Busdorf near the museum and who gave me a ride to the museum area.
I had seen this kind of reconstructed Viking houses in Lofoten Islands in Norway, Birka in Sweden and Trelleborg in Denmark.
So I guess it may be a good idea to distinguish itself by presenting this area with such a different view point as archaeological border landscape with the remains of the earthwork.
Read more from Tsunami here.
---
I visited the Hedeby site, which is well developed for tourists, with a museum (closed at the moment for refurbishment), walking pathes and reconstructed houses. Hedeby (or Haithabu in German) was a well-sized city at the edge of the viking lands. As with other viking sites (like Birka or Trelleborg) the problem is that almost everything was built out of wood, so there is not much left of it but the earthworks. In the case of Hedeby, the earthen city walls are still standing (and walkable), but most of the area inside is empty. There are some quite nice reconstructions of viking houses, which will be the most interesting thing for most visitors. There are also demonstrations, market stalls and exhibition houses, so there is more to do than to stare at mounds. Also interesting is the visitable archaeological dig, although most finds seemed to be small things like nails or bone remains. The whole area is rather idyllic, with a nice lake and an undisturbed environment. It is a good place for hiking. As there are no nearby settlements today, getting there can be a problem. It is rather easy with a car, as the main highway from the north (e.g. to Jelling) to the south (e.g. to Hamburg) is quite close, but public transport might be difficult.
All in all, I had a very pleasant visit there, and really got a good impression of how they lived in the viking times. However, the most interesting things are reconstructions (Kind of like Unteruhldingen with the pile dwellings). Therefore it is hard to judge the worthiness and OUV of the site.
Visited May 2017
Importance: 3/5 Beauty: 2/5 Uniqueness: 4/5 Environment: 4/5 Experience: 4/5
---
Community Rating
Community Rating 2.08. Based on 6 votes.
Your Rating
Site Info
Full name: Archaeological Border Complex of Hedeby and the Danevirke
Unesco ID: 1553
Inscribed: 2018
Type: Cultural
Criteria: 3 4
Site History
2018 - Inscribed

2015 - Deferred
Site Links
Unesco Website
Official Website
Related
In the News
Locations
The site has 22 locations. Show all
Connections
The site has 11 connections. Show all
Visitors
22 community members have visited Hedeby and Danevirke. Show all