Rhaetian Railway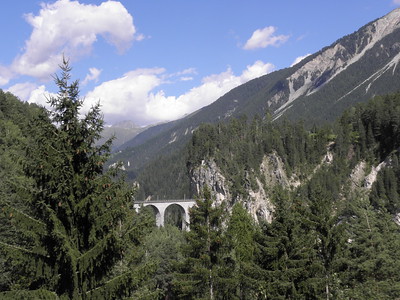 "The Rhaetian Railway in the Albula / Bernina Landscapes" consists of the Albula and Bernina transalpine railway lines, noted for their technical quality. The lines were built from 1908-1910.
The Albula line leads from Chur to St. Mortiz and has:
- 42 tunnels and covered galleries (16.5 km)
- 144 viaducts and bridges (2.9 km)
The Bernina line leads from St. Moritz to Tirano across the border in Italy.
It was designed to follow an existing mountain road.
Map of Rhaetian Railway
Legend
Visit August 2012
After having visited Mustair, I drove across another mountain pass: the narrow and winding Albula pass. I wondered if it follows the same stretch as the railway line. I saw some tracks and stations, but none of the remarkable engineering works.
I had to try riding a train on this railway of course. So I parked my car in Thusis, and bought a return ticket to St. Moritz. This covers the designated part of the Albula line. I travelled in the regular regional express train, which leaves every hour for the 1.5 hour stretch. The plus side of this train is that the windows can be opened, so you can get better photos. If you know what to take photos of, that is.
I had printed the Albula part of the nomination dossier, and tried to follow the route on paper while I was on the train. But to be honest - the objects mentioned are difficult to see from the train. At first the only things I noticed were the numerous tunnels. One sits in the dark for almost half of the time! The icon of this line is the Landwasser Viaduct, and fortunately it was announced by the conductor when we were almost there. So I could get a good look at it and take some photos.
The remaining technical highlights en route I found difficult to appreciate from the train. So I was a bit disappointed with the "experience" in general.
Community Reviews
---
---
---
---
---
---
---
Community Rating
Community Rating 2.80. Based on 15 votes.
Site Info
Full name: Rhaetian Railway in the Albula / Bernina Landscapes
Unesco ID: 1276
Inscribed: 2008
Type: Cultural
Criteria: 2 4
Site Links
Unesco Website
Official Website
Related
Extensive collection of photos
Connections
The site has 11 connections. Show all
Visitors
129 community members have visited Rhaetian Railway. Show all