Mudejar Architecture of Aragon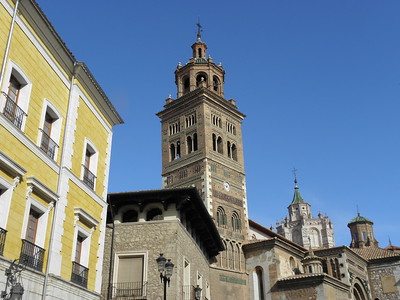 The Mudéjar Architecture of Aragon is represented by 10 buildings that are the most outstanding examples of Mudéjar art and architecture.
Mudéjar is the style of Iberian architecture and decoration strongly influenced by Moorish taste and workmanship. The included sites cover the whole period, from the 12th to the 16th century.
The architecture is characterized by bell towers shaped like the islamic minaret, the use of bricks, glazed tiles and wooden ceilings.
Map of Mudejar Architecture of Aragon
Legend
Visit November 2011
In preparation of this trip I had been researching the 'Mudéjar' concept for a bit, as I knew nothing about it. The difference with the famous Moorish architecture in Spain (the Alhambra for example) is that Mudéjar is a fusion style between Islamic and Christian traditions. It evolved in areas where the Christians reconquered land from the Moors from the 12th century on. Islamic craftsmen and builders kept on working, and the new churches that were built copied the structure and decoration of minarets. Then they added gothic or baroque ornaments, and included Christian imagery.
I only visited the town of Teruel out of this serial nomination covering 5 separate cities. Teruel is the site of the original nomination from 1986, and also the one with the earliest surviving examples of Mudéjar architecture. I drove there from Valencia Airport, and on the way I encountered already many towns with the characteristic minaret-like bell towers. They are slim and tall, made out of brick and decorated with glazed tiles. This motorway is aptly named 'Autovia de Mudejar'.
Teruel has two free standing Mudéjar towers, and two more adjacent to churches. On approach of the city center, the panaroma is excellent, with oriental, exotic touches. Up close the towers appear well-cared for, sometimes in stark contrast with the surrounding dilapidating modern structures.
I also entered both nominated churches in Teruel. The cathedral has a complete decorated wooden ceiling, which is praised as thé number one Mudéjar remain. However you need binoculars to take it all in, the ornaments are too far away to see clearly. The church of San Pedro lived up to its promise: its interior could have been taken away completely from Morocco.
Although I wouldn't rate this as an unmissable WHS, it is an interesting addition to the total picture after you've seen the masterworks of this tradition in Morocco and Andalucia.
Community Reviews
---
---
---
---
---
---
---
---
Community Rating
Community Rating 2.92. Based on 12 votes.
Your Rating
Site Info
Full name: Mudejar Architecture of Aragon
Unesco ID: 378
Inscribed: 1986
Type: Cultural
Criteria: 4
Site History
2001 - Extended

To include sites in Calatayud, Cervera la de Cañada, Tobed and Zaragoza

2001 - Name change

From "Mudejar Architecture of Teruel" to "Mudejar Architecture of Aragon"

1986 - Inscribed
Site Links
Unesco Website
Official Website
Related
Mudejar architecture in the region of Calatayud
Locations
The site has 10 locations.
Connections
The site has 19 connections. Show all
Visitors
127 community members have visited Mudejar Architecture of Aragon. Show all