Mining Cultural Landscape Erzgebirge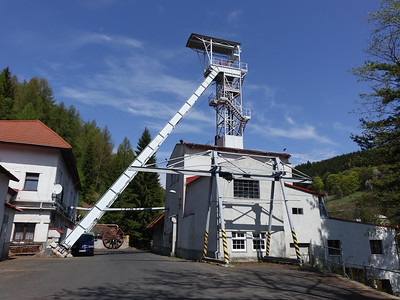 Erzgebirge / Krušnohoří Mining Region is a mining region that has been used from the Middle Ages onwards.
The 95x45 km area is located in southeastern Germany (Saxony) and northwestern Czechia. Amongst the raw materials mined over the course of centuries were ores of the metals silver, tin, zinc, cobalt, nickel, copper and lead; but anthracite and uranium were also extracted into the 20th century.

Map of Mining Cultural Landscape Erzgebirge
Load map
Community Reviews
---
My review is only on the Red Tower of Death and mirrors Walter's visit, although he got closer. I only got as close as the fence at the back of the industrial park for a view.
The site itself is closed however I do have some information if you want to visit. There is a standard brown tourist sign on the highway identifying the site. You turn after the industrial park. The site was closed for me and you cannot see the tower from the entrance due to the height of the fence. A sign on the door says the it will open after June 1 2023 but only on Saturday and Sunday for tours at 10am and 1pm. Tours are required but are free.
Personally, I wouldn't go into that dusty uranium scented tower but I would have liked to have at least approached the building.
---
I visited this WHS in Summer 2019 en route from Zatec to Augsburg, Germany. I focused mainly on the Czech side even though I drove through other minor sites on the German side too.
Coming from Zatec, you can't but notice the huge power plant (which is quite of an eyesore!) before getting to Jachymov. Like the rest of Northwestern Czechia, Jachymov has definitely seen better days even though the inscribed sites are quite in good condition with several information boards in English too. The view from the winding road leading to Jachymov is that of an old mining town like many others on the list.
The most interesting site in Jachymov is the Dul Svornost mine which has been operating since 1530 and is one of the oldest complexes in Europe. It is also the last functioning mine in the Jachymov region. Originally, the mine produced silver, cobalt, arsenic and bismuth. In the 19th and 20th centuries, it was a source of radium ores and uranium, hence the peculiar monument of Jachymov just before entering the town. Since 1964 the mine has been used to provide therapeutic radon water (which is believed to be up to 13,000 years old!) for the Jachymov spa. For those that are more keen on industrial heritage sites, there are several trails along what is known as the Stribirna Stezka/Silberstrasse.
---
From the TWHS "Ore Mountains mining landscape" that has a great chance to be inscribed on the list this year, I visited historical center of Freiberg on the German side, and all five sites nominated by Czechia: (i) Jáchymov mining landscape, (ii) Abertamy – Horní Blatná – Boží Dar mining landscape, (iii) Krupka mining landscape, (iv) Měděnec (Měďník) mining landscape, and I saw (v) Red Tower of Death from distance of few hundreds meters going by bus from Jáchymov towards Ostrov and Karlovy Vary.
Despite a slight over-representation of mines on the list, I have to admit that the phenomenon of mining played a key role in the development, economy, and also scientific research of Central Europe. It resulted in knowledge and wealth that were eventually distributed worldwide. Among the mining WHSs that I visited (Goslar-Rammelsberg in German Harz Mountains; Banská Šťavnica in Slovak Ore Mountains; and Kutná Hora mining town in Czechia), the Erzgebirge/Krušnohoří landscape is kind of exceptional because of its enormous size and large diversity in terms of typology, landscape, nature, architecture and also of materials (silver, tin, cobalt, copper, iron ore, coal, uranium and other elements such as molybdenum, tungsten, lithium, radium, radon, etc.)
My impression from the visited sites:
(A) Germany – the majority of nominated sites are located there, but I visited only town of Frieberg (I traveled from Dresden by train). It happened two times and in both cases it was during Christmas, and I enjoyed the Christmas Market there much more than those in Dresden. Spirit of mining traditions was strongly evident during Freiberg Christmas feasts. Be prepared that winter is pretty tough here, and heavy snowing might be quite frequent.
Freiberg is biggest and oldest mining town in Ore Mountains founded in 12th century. The town contains quite dense but regular network of streets and several squares with a lot of houses from Middle Ages. Due to rough weather, houses are quite compact with high roofs. The cathedral is not very spectacular from outside, but it has pretty interesting interior with incredible late-gothic but shockingly modern pulpit, other gothic sculptures and great Romanesque portal called Golden Gate inspired by French cathedral style.
The highlight for me was visiting of museum Terra Mineralia in the former castle with really vast collection of minerals from all over the world including of course Ore Mountains.
(B) Czechia: I chose beautiful spa town Karlovy Vary (another TWHS) as a "base camp" for exploration of the mining sites in Krušné Hory (Ore Mountains), and it took three days to me. All of them are in principle accessible by train or bus: Horní Blatná directly from Karlovy Vary – ca. 1 hour; Krupka from Karlovy Vary via Teplice combined with local bus – quite long 2.5 hours from KV; Měděnec by local train from Chomutov during weekends only, so I travel from Karlovy Vary by train to the train stop Perštejn ca. 0.5 hour, and walked uphill (attitude from 400 to 900 m) for 7 km = 2.5 hours; Jáchymov, Abertamy, Boží Dar and Ostrov with the Red Tower are easily accessible by local buses from Karlovy Vary (all around 1 hour or less).
(B1) Abretamy-Horní Blatná-Boží Dar mining landscape is beautiful mountainous plateau with attitude around 1000 m, covered by spruce forests, pastures, and large bog areas (national nature reserve Božídarské rašliniště) with scattered sorbus trees and with traces after intensive mining in 16-20th century. I visited old tin mine Mauritius close to Abertamy (check web pages montanregion.cz), and it was very interesting experience. Old mining town Horní Blatná is also included to the core zone, and it has regular Renaissance structure with large church in the middle of square. Town is nice but not extremely spectacular. Furthermore, some parts are in decay and waiting for restoration. On the slopes of hill called Blatný vrch, very close to Horní Blatná, there are perhaps the most spectacular traces from mining of tin in this mining landscape: Vlčí Jámy and Sněžné Jámy. They resemble rocky canyons, now partly covered by forest.
(B2) Then, I travel from Horní Blatná to Jáchymov by bus, and I spent there only half an hour that is definitely not enough to explore everything interesting in the area. Jáchymov is certainly the most important part of the Czech cluster. It was almost deserted in Saturday's late afternoon undergoing thorough reconstruction of the main square. The condition of many buildings of Jáchymov is quite bad and I hope that the inscription should accelerate the restoration works.
(B3) I could see Red Tower of Death (in Czech: Rudá věž smrti) through bus window when traveling from Jáchymov back to Karlovy Vary. It was nicely visible, because it is in the middle of brown-fields with already pulled-down factories around. The Tower is declared as the national monument and it is not regularly accessible yet. In Czech language, red means "červený" but "rudý" (with meaning deep red) is used in this case, and the reason for that is not color of the Tower but connotations with color of Communist Revolution. The Tower is now sad symbol of Communists repressions. It was used for sorting of pure uranium ore intended for export to Soviet Union. It was very dusty inside, thus many political prisoners died there.
(B4) Next day, I went to Krupka by train. I traveled from Karlovy Vary, but the place is also accessible by train from Prague. The best way is to get-off in town Teplice and traveled uphill to Komáří vížka by local bus in direction to Fojtovice village. The cable car is also the option, but its operation is limited and it is also much more expensive than the bus. There are excellent views, miners´ chapel of St. Wolfgang and big holes after mining. Then, we easily walked down in direction to historic center of Krupka via small settlement Horní Krupka (there are marked trails). There are several tin mines on the slopes, but only one is accessible for visitors: Štola Starý Martin. I did not visit it, because I was in the old mine day before… Instead, we enjoyed the town Krupka, which is very small – just one street surrounded by steep slopes, and nearby ruins of the castle with excellent views. I must say that it was very pleasant place!
(PHOTO – view towards the core of Krupka mining landscape from the castle)
(B5) The last day of my stay in this corner of Czechia, I decided to go to town Měděnec and visit Mědník hill. Names are derived from Czech word měď = copper, because of intensive mining of this metal there. It is located on the main range of Ore Mountains. The town had originally a rectangular street-frame with square and church in the middle, but it was almost completely destroyed and abandoned after closing of mines and after WWII. Now, it is very tranquil place with beautiful nature all around. Only small Měďník hill close to the town is included to the core zone. It is easily recognizable because of the small round Baroque chapel on the top. The hill is penetrated by old mining works like Ementaller cheese!
To conclude: I must say that I enjoyed my trip to the Mining landscapes of Krušné Hory. All the sites are kind of special, and I cannot say, which one is the most beautiful. I was also thinking if the Czech components are more or less valuable than those on the Saxony side of Ore Mountains. I have no answer at the moment. The Czech sites are maybe more authentic – read this that some of them urgently need restoration, especially towns of Jáchymov and Horní Blatná, but they are certainly not tourist traps. Some travelers complained that locals might be rude to travelers, but I have different experience.
---
2.50 The Netherlands - 28-Apr-18 -
In the east of Germany and just across the border in the northwest of Czechia lies a region called the Ore Mountains (Erzgebirge/Krušnohoří in the respective local languages). Its name comes from the ores (silver, copper, tin, zinc) that have been mined here over the centuries. The Germans and Czechs have been active since 2015 to secure a shared spot for this area on the World Heritage List.
On the German side, I checked out 3 locations in the Marienberg Mining Area: the city center of Marienberg, a reconstructed horse-driven mill in the Lauta Mining Landscape, and the Grünthal Liquation Hut Complex in Olbernhau. Marienberg's distinguishing feature is its large city square, designed in the style of the Italian Renaissance. I noticed little of further interest in the city centre, but I did pay a visit to the regional museum which is housed in a massive former granary from the early 19th century. The employees on duty seemed a bit shocked that I wanted to visit. The exhibition unfortunately mainly focuses on the traditional crafts and daily life in the region, not so much on the mining.
I can be brief about the second location on my list: the Pferdegöpel auf dem Rudolphschacht (Lauta) cannot be visited without a tour, and I had to wait another hour for one to start. So I drove straight on to the last location: Grünthal in Olbernhau. This immediately felt a lot better: a fast-flowing river runs through the valley (always handy for the hydropower), and there is a lot of forests around (and therefore wood for the factory). Via a stone gate, one enters a separate neighbourhood: this was the site where metals were extracted from ores. An old labourer's house and a small mining museum can be visited. At the museum, I was put in front of a 25min video that showed its production process (including a lot of nostalgic GDR footage). From 1537, silver and later also copper were extracted and processed (to coins, for example). Later the Grünthal factory specialized in tin plates until it closed in 1990.
The next day I drove across the mountains from Marienberg to the Czech part of this mining region. The first town after the (hardly distinguishable) border is called Jachymov. Jachymov has known mining since the 16th century: it grew to 18,000 inhabitants at the time, but now there are only 2,700. At first the growth was based on silver, but since the 19th-century uranium mining is typical of Jachymov. The remains of the old mines are still used to extract the radioactive radon for use in the local spa. During the communist period, political prisoners worked as forced labourers in these uranium mines.
In memory of them, an 8.5 km long trail has been designed along the remains of the mining industry and the prisoner barracks. It passes the still functioning Svornost mine and the mining open-air museum (unfortunately closed until the summer season). The path continues through the forest, and I found it pretty demanding due to the large differences in altitude. Halfway I decided to take a shortcut back to Jachymov. Jachymov's story is an interesting one anyway, and I found it the highlight of my trip to the Ore Mountains.
An inscription of the Ore Mountains ticks a lot of existing Connections, such as Uranium mining (Jachymov), Mints (Olbernhau, Jachymov), Ideal City (Marienberg) and Thirty Years' War (the Saigerhütte Grünthal in Olbernhau was raided by Swedish troops). Some of the locations are interesting enough, but overall there are way too many of them scattered around a large area. Other reviewers have hinted that the tourist friendliness in the region could be improved as well, and that was also my experience. Especially after I just enjoyed the Omani hospitality this was a disappointment - as an independent and curious WH traveller, you're almost seen as an intruder.
Read more from Els Slots here.
---
0.50 Switzerland - 13-Jan-17 -
Erzgebirge / Krušnohoří Mining Cultural Landscape was originally planned for nomination in 2016. I decided to visit this TL site ahead of its official inscription, in april 2016. This nomination was withdrawn a few weeks later, due to the ICOMOS evaluation, pointing, as I understood, a lack of coherence between the individual components.
It is true that this project is difficult to apprehend. On the German side, there is 8 areas, with 39 elements and more than 110 sites (some sites including up to 11 significant objects). The Czech side consists of 4 cultural lanscapes, one lime work and the Red Tower of Death.
The nomination dossier avaiblable on the WHC site does not show clear maps of the different elements, sites or significant objects, and I spent considerable amount of time researching the internet to correctly locate all objects. I found this site in German (http://www.jenskuglerverlag.de/studien-dokumentationen) which lists some studies with maps of some of the elements.
I must say that I do agree with ICOMOS with the lack of coherence, at least on the German part. It is a patchwork of monuments (some very vaguely) related to the mining history of the area. To note :
- head office of companies working in mining (or in watch making, or cutlery and tableware).
- administrative building of mining companies, far away from the mines.
- professional schools, I imagine in which engineers were trained for mining.
- churches and cathedral where miners could attend service.
- castle or historic centers of towns with mining history.
- a hunting lodge
- a hospital for workers.
- a monastery with no evident link to mining industry.
The Czech part is more coherent, with 6 elements centered around villages built for mining and their immediate environment.
Anyway, apart from those consideration, visiting the area is fun. You need a car to go around all the elements, because they are scattered around a quite large area. Going by public transport would be time consuming, and not always rewarding. It is impossible to know beforehand what to expect, never sure to even locate some sites (even with good maps), or being able to visit (at one location, I was rudely yield at by a woman arguing it was a private propriety, as I was only taking a picture from the public road).
Some sites are anti-climaxic, with a very small elements (like the mouth of an adit or a ditch).
Town centers are easier to visit (Marienberg, Annaberg, Schnneberg), but are not the nicest town centers in Germany.
Altogether, I would recommend seing a few part in the German part (to be able to tick the sites) and concentrate on the Czech component. Besides, five of the six Czech elements are within a 30 minutes drive from Karlovy Kary, another TL element with good hotels infrastructure.
The 4 czech cultural landscape componants are centered around villages, with mining elements and landscape shaped by mining industry. There are all situated in the hills, and there is very nice view on the valleys below.
The Lime Works in Hàj, near Loucna poc Klnovcem is difficult to find. Check Google map beforehand. No signpost whatsoever. This difficulty makes visiint the site even more enjoyable. It is an abandonned lime works, quite well preseved in the middle of a forest.
The Red Tower of Death is a simple brick tower, in the middle of an industrial park near Jachimov. It is an important national cultural momument in the Czech Republic, because it is linked to uranium extraction after WWII, and it symbolises suffering from political prisoners in forced-labour camps of that period.
It can be seen from the road. There is no signs or indication. The industrial park is not open to public. I went to its reception, and the security guards nicely allowed me to sign in, enter and check out the tower from close. The guard only spoke a few words of english, so it was a bit difficult to understand, but he was very nice, explaining to be careful about trucks. The enclosed picture hows the Red Tower.
---
Japan / USA / Europe - 05-Sep-16 -
I visited several towns around Dresden recently, and Altenberg was one of them. It is in a mountainous area close to the border with Czechia and is known for cross country skiing among Germans.
Altenberg is also one of the mining towns collectively nominated by Germany for a WHS. It sounds like it is for sure to become a WHS within a few years.
I visited on a morning trip on a Sunday by train from Dresden.
Both the tourist office and the mining museum were open on the Sunday morning.
So I visited the museum by one of the entrances to the tin mine and then went to see what they call "Pinge," a huge hole that was created when the mine collapsed in 1620. The diameter today is about 400 meters, and the depth is about 150 meters.
PHOTO 1: The banner reads, "Wir sind auf dem Weg zum Unesco-Welterbe," which means, "We are on the way to Unesco World Heritage."
PHOTO 2: One of the entrances to the mine.
PHOTO 3: There is a 1200 meter-long fence surrounding "Pinge." The sign reads, "Bereten verboten: Lebensgefahr!" I later found out that it meant, "Entrance forbidden: Fatal!"
PHOTO 4: "Pinge."
As you can see, my German is not very good.
---
Site Info
Site History
2016

Requested by State Party to not be examined
2015

Postponed

"At the request of both States Parties, the examination of this nomination is postponed to the following cycle of evaluation"
2012

Revision

Has been on Tentative List of Germany as "Ore Mountains: mining and cultural landscape" since 1999 and as Karl-Liebknecht-Schacht in Lugau/Oelsnitz and Freiberg on the GDR T List of 1989
Site Links
Unesco Website
Official Website
Visitors
121 Community Members have visited.