Mérida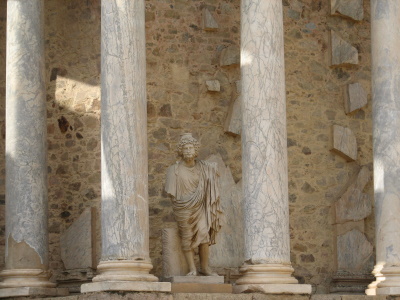 The Archaeological Ensemble of Mérida holds the remains of many public buildings that were the trademarks of a major Roman provincial capital.
Mérida was founded in 25 BC with the name of Emerita Augusta. The city became the capital of Lusitania province, and one of the most important cities in the Roman empire.
Mérida preserves more important ancient Roman monuments than any other city in Spain. They include:
- Guadiana bridge
- Amphitheatre
- Theatre
- Temple of Diana
- Arch of Trajan
- Circus
- Water supply system
- Baths
- Residences
- Tombs
Some later monuments (like the Moorish Alcazabar and two early Christian churches) are also part of the as world heritage site designated area.
Visit March 2008
Already at Mérida's admission in 1993 there were 20 other (Mediterranean) Roman heritages inscribed on the List. And many more followed, currently I count 28 of them and even last year one was added (Serbia's Gamzigrad-Romuliana). "Ancient Rome" is one of the most common site categories. One just wonders how many is enough? My personal favourites so far have been Rome, Pompeii and the Villa Romana del Casale. Before my trip to Extremadura I wondered what Mérida has to offer that all the others don't.
Modern Mérida feels a bit dilapidated at first sight: graffiti, poor housing. I started my tour of the Roman monuments at the amphitheatre and the theatre. For 10 Euros you get an entry ticket to these and the other important sites in town, which can be used over several days. Good value I think. The prize piece is the ancient Roman theatre, which could seat 6000 people and still has the formidable stage with marble columns and statues (although these are replicas).
Close to the theatres is the Roman Museum, which is very much worth visiting. This is were my initial concern faded away. The accomplishments of the Ancient Romans continue to amaze. Remember that the Civilization of Ancient Rome existed really early in history - more than 1000 years before Angkor Wat or Machu Picchu were constructed - and that so much is left, both physical and in writing. There's a well presented exhibition here about the local Roman road system, the Via de la Plata. Entry to this great museum is only 2.40 Euros (and free to minors, seniors and the unemployed!).
The numerous Roman monuments of Mérida are scattered around the modern town. Their quality lies in their ensemble: it would be a great destination for a school trip as you can point out every aspect of life in a Roman city. It shows how they lived (how the rich lived anyway), what they did in their spare time (the theatres, the circus), how they travelled and how they buried their dead. So, Yes, Mérida surely deserves its place among the 28 Ancient Roman WHS.
Community Reviews
---
---
---
---
---
Community Rating
Community Rating 2.89. Based on 14 votes.
Site Info
Full name: Archaeological Ensemble of Mérida
Unesco ID: 664
Inscribed: 1993
Type: Cultural
Criteria: 3 4
Site Links
Unesco Website
Official Website
Related
In the News
Locations
The site has 22 locations. Show all
Connections
The site has 16 connections. Show all
Visitors
137 community members have visited Mérida. Show all