Ibiza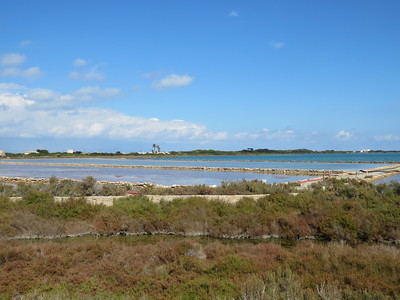 .
Ibiza, Biodiversity and Culture, was designated because of its marine ecosystems, Phoenician ruins and a fortified acropolis.
The WHS encompasses 4 locations on the Balearic islands of Ibiza and Formentera:
The marine ecosystem along the shoreline of the islands is notable for its well-preserved Posidonia, a kind of seagrass.
Ibiza's 16th century fortifications have influenced harbour towns in the Caribbean.
Ibiza was known as Ebysos during Phoenician times. It was an important harbour in the Mediterranean. Remains from that period include the cemetery of Puig des Molins and the Archaeological Site of Sa Caleta.
Visit February 2018
Ibiza, Biodiversity and Culture is one of the most eclectic WHS on the list. It includes seagrass beds, salt lakes, Phoenician ruins and 16th century military fortifications. As far as I am aware, there is no common link between these features besides their geographical proximity. Previous visitors rated this WHS a meagre 2.08 out of 5 stars on average, so my expectations were not high when I flew out to Ibiza for a weekend in late February. But at least I would enjoy 2 days in the sun while it was freezing severely at home.
Saturday I spent on Formentera, Ibiza's small sister island that lies half an hour away by ferry. It is much more unspoilt, and features 32 'green routes' of hiking and bike paths. The northern tip of Formentera is also part of the core zone of this WHS. It is known for two things: the salt flats, where flamingos and other birds nestle in winter. And for the ecosystem of the Posidonia seagrass – possibly the most unknown part of the site's OUV.
By following the trails #1, #19 and #2 from the harbour of Formentera, I created a nice 14km hike through Parque natural de Ses Salines. I was looking out mostly for the seagrass, and was expecting to see long, flat strips of green leaves underwater near the shoreline. I had no luck until I entered the beach of Ses Illetes ('the best beach in Europe', and a nudist beach too!). It is renowned for its very blue water and soft sand – both effects of the seagrass prairies that act as natural barriers. While walking on that beach I saw tons of brown strips that could be nothing else than dead seagrass. Next to it were hundreds of hairy balls, similar to kiwifruits: these are balls of fibrous material from the Posidonia seagrass foliage. A really odd sight.
On Sunday I started out at the Puig des Molins museum. It is located in a residential area in the center of Ibiza-City. Entry is free on Sundays, and this is a site well worth visiting. The museum has 5 display rooms full of Punic, Phoenician and Roman findings from the cemetery that was present at this location. The remains of the dead were buried together with numerous objects, of which the painted ostrich eggs stand out most. Lots of Egyptian-style figurines were also found. The only downside of the museum is that all texts accompanying the objects are in Catalan and Spanish only. Afterwards one can also have a look into one of the hypogea (or rather: a network of connected hypogea), which lies in a field next door.
Finally I made my way uphill to Dalt Vila, the fortified upper city towering above modern Ibiza-City or Eivissa. On a Sunday it is totally devoid of any action. There are some viewpoints from where you can have a look at the fortifications or the harbour, but that's about it. I was pretty disappointed by it all.
In the end, my first hunch that allocating one day for the whole Ibiza WHS was already enough turned out to be true. I spent Sunday afternoon reading and enjoying the sun in the harbour. I had no idea what else to do. The excursion to Formentera and the pleasant hiking over there will remain as my best memory of this weekend trip.
Click
here
to see more of my photos of Ibiza
Community Reviews
---
---
---
---
---
---
Community Rating
Community Rating 2.33. Based on 9 votes.
Site Info
Full name: Ibiza, Biodiversity and Culture
Unesco ID: 417
Inscribed: 1999
Type: Mixed
Criteria: 2 3 4 9 10
Site History
1999 - Revision

Successor of D'alt Vila TWHS (1985)

1999 - Advisory Body overruled

ICOMOS and IUCN recommended "Referral" and "Deferral" respectively

1999 - Inscribed

1987 - Rejected

As D'alt Vila: Not enough historical evidence. Later - would reconsider in new evidence
Site Links
Unesco Website
Official Website
Related
In the News
Locations
The site has 4 locations.
Connections
The site has 30 connections. Show all
Visitors
89 community members have visited Ibiza. Show all