Vlkolinec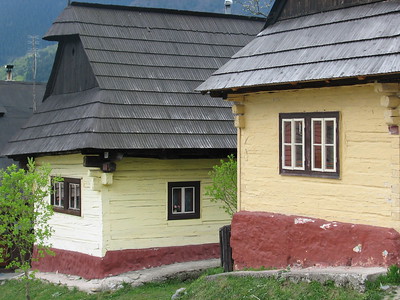 Vlkolinéc is a rural settlement containing a group of vernacular timber-built constructions.
The current ca. 50 buildings in the still inhabited village date mainly from the 19th century, but the origins of their architectural type go back several centuries earlier. The log constructions (all homesteads plus a school and a church) have stone footings with log walls on top. Their walls are coated with clay and usually painted.
Community Perspective: The village has a stunning setting amidst the green meadows. Payment of an entrance fee is required to enter it, but not a lot of contextual interpretation comes with it. It's so small it can all be seen in half an hour.
Community Reviews
---
I visited this WHS in 2022 as a very comfortable stopover en route from Spis to Banska Stiavnica. The quite hidden quaint village of Vlkolinec is one of ten Slovak villages that have been offered protection for their folk architecture. Vlkolinec is an excellent example of folk countryside architecture of the Northern Carpathians region, untouched by modern construction. Even though an entrance fee is charged per person to visit the village (instead of a parking fee), people still live in it and as such is quite intact.
The walk from the parking area to the top of the village is at a very steep gradient, although there is a longer but less steep walk round the village leading to the area near the main well. After the first few wooden houses, houses 16 and 17 and a barn/stable have been converted into a folk museum with all the instruments of daily life and work. Originally Vlkolinec was a settlement of loggers, shepherds and farmers. Further up, there's a little 18th century wooden belfry next to a well and a small Baroque chapel which have been preserved. A canalized stream flows through the centre of the village. Nearby, another house has been converted into a sort of mini visitor centre with some information on bear hunting and conservation downstairs, and a few information boards on the WHS proper upstairs. There is a carved wooden UNESCO WHS plaque half way up the stairs and the UNESCO WHS certificate facsimile inside. Towards the upper area of the village there is quite a large cafeteria/restaurant serving delicious Slovak dishes/snacks and Czech beer.
Just behind it a small field has been converted into a small animal farm/zoo with local animals such as chipmonks, weasels, goats, ibex, poultry, geese, etc. The overall condition of the wooden houses is very good and in much a better state than in Holloko, Hungary. The craftsmanship involved in building and maintaining the wooden folk architecture is impressive. Most of the houses' facades overlooking the main road have been painted in different bright colours. However, by simply walking to the sides of these log houses (where allowed; since many locals have closed off their property and clearly indicate where you would be trespassing hence not welcome to "visit"), you'll be able to appreciate the folk architecture better and how some of the logs are seamlessly joined together without the use of nails.
Vlkolínec is included in the National Park of Velka Fatra. A cyclist route crosses it and owners of several private houses offer accommodation although staying overnight isn't at all necessary as it can easily be covered in less than 30 minutes if you're short of time. An interesting folk event called "Sunday in Vlkolínec" is organised every summer at the beginning of August. Although there isn't any particular single highlight to point out, the village as a whole and its level of authenticity and lack of modern construction, won me over and I really enjoyed my visit. It is yet another site I would never have visited or even heard about probably, were it not for the WH list.
---
Vlkolínec [Vlk = wolf in Slovak language] was my very end destination of the trip to Veľká Fatra mountains in 2004. We started in the south, in spa town Turčianské Teplice, ascended to the highest peak - Ostriedok (1596m) then followed the main and the eastern ridges of this beautiful Carpathian mountains in a direction to the town of Ružomberok. After several days spent in relatively wild nature, the descending to civilizations was welcomed opportunity to take a rest and refresh ourselves in the UNESCO guarded village of Vlkolínec. It was not intentional to spare money, but later we realized that entering the village from the upper side means no entrance fee at all.
As already mentioned the setting of the village is beautiful. Though there was nothing very special in the village, and the visit is really "Holašovice-like", I gave fairly high rating to Vlkolínec (in contrast to Holašovice WHS itself). There are no many such preserved wooden villages in Slovakia, thus it deserves the inscription to the list even though the wooden buildings are not extremely spectacular. Besides abandonment, old wooden houses usually suffers from the "trend" that they are sold to open-air museums - skansen. Well, Vlkolínec is maybe also a museum village, but it is still normally inhabited. Perhaps, some visitors are "spoiled" by open-air museums where one can find the finest examples of vernacular architecture and expect something similar also in the case of Vlkolínec. However, I really enjoyed Vlkolínec as an example of something more authentic than artificially assembled museums.
---
According to everything we've been taught at school, Vlkolinec is a gem and a true beauty of Slovak rural architecture. One of the places you have to see, one of the treasures of our cultural heritage. As you can probably guess from my star rating, I don't share the enthusiasm. Sure, the village is nice, it has been inhabited for a very long time and the architecture, though a bit bland is truly typical of what you will find on other Slovak villages. A tiny museum, a gift shop cum small gallery, walk up and down, you can reach some hiking trails from the top of the village. Or arrive by car from Ruzomberok, there's a parking spot by the village and a short hike couple of hundred metres. Similiar experience to Holloko and Holasovice, but if you want to see a cute Slovak village, head to Cicmany, they're very pretty.
---
I agree with some of the other reviews here - the setting is very picturesque, but there isn't much information or context given for what makes this site special.
I made it here by public transport from Ružomberok, following advice from the helpful tourist information office there. As of August 2018, there are two buses per day, one at 8:25 and one in the evening that arrive then turn round and come back. I tried to get the 8:25 one, but it hadn't arrived by 9:00 so I gave up. Instead, buses to Banka Bystrica stop at Biely Potok. This is only a half hour walk (up a steep hill) to Vlkolínec. Apparently the bus I'd intended to get arrived at 9:05.
The village is very small, so it wouldn't be worth waiting around for the evening bus. Instead, I took the 2-3 hour 'red' trail to the top of the Sidorova hill. From here there are great views across the valley and down to the village, and then a pleasant stroll through the forest back into Ružomberok. Climbing the hill is also very steep, with some steep downhill sections after that too.
Read more from Tevity here.
---
Vlkolínec is one of three world heritage sites in Central Europe that are dedicated to traditional vernacular architecture. The other two are Holasovice/Czech Republic and Hollókö/Hungary. I have visited the three villages within 12 months and must say that Vlkolínec has the most picturesque location: on a high plateau in the backdrop of the Carpathian mountains, surrounded by green meadows and forests. The village is an ensemble of about 40 colourful painted log houses, built on stone footings, the roofs covered with wooden shingles. According to the official website only a few houses are permanently inhabited, others are used as weekend cottages, it has only 19 permanent residents.
As reported by other reviewers the village can be visited in half an hour, there is not much to see: a tiny museum showing the interior of a log house, a wooden belfry (photo), a church with a cemetery. The charm of the site is the unaltered architecture and the pretty location, there are no modern houses apart from the ticket booth and the souvenir shop at the parking lot.
For centuries, the village was very remote and could only be reached on foot, today it is just a short drive on a narrow street, only a few kilometres from the main road. But it does not seem to be crowded by tourists, there were only five other cars in the parking lot when we arrived on a Saturday midday in August 2014.
---
I enjoyed my visit to this isolated atmospheric village with its colourful houses.
I travelled to the village by an infrequent minibus (no. 100) from Ruzomberok station (summer only). It wound up the narrow road with its expansive views on either side, saving a walk. Afterwards I descended to Biely Potok on foot and caught a bus back to Ruzomberok from there.
---
Before heading to Vlkolinec I read some reviews here and elsewhere and had the impression I was going to be disappointed by something underwhelming. Well, the village is extremely small but I found it full of atmosphere. The mountainous location is lovely as the wooden houses. There isn't much to do there for more than an hour but still I found the visit most rewarding. Compared to another famous vernacular Slovak site - Cicmany, I actually found Vlkolinec more impressive, although Cicmany too is certainly worthwhile.
---
2.00 The Netherlands - 01-May-08 -
There's a tiny road that leads up to Vlkolinéc from the main highway between Ruzomberok and Banska Bystrica. Buses have to park at the foot of the hill on top of which the village is located, with a car you can go all the way up (hoping that you won't meet an opposing car). As described in the reviews below the setting amidst the green meadows is stunning.
Vlkolinéc does see quite a number of tourists nowadays. There's a modest entrance fee and a photo fee to be paid at the beginning of the main street. This street runs up a steep slope, adorned on both sides with the famous houses. The best examples are at the center of the village, which also has a wooden bell tower and canalized stream. You can easily walk the streets in half an hour, and that includes a visit to the pitiful little 'museum'.
The site has a lovely location and the colourful buildings definitely have a certain charm. Compared to other 'Folk Villages' on the list that I've seen (Shirakawa-Go in Japan, Xidi and Hongcun in China) I feel there's something missing here though: it doesn't tell a story, it's just a group of buildings. Currently, most of the houses are in use as second homes for city people. Large signs warn the tourists off the private properties. I wonder how people used to live here. What legends existed in this faraway valley, what did they eat and how did they make a living? The ICOMOS evaluation hints at a 'feudal landscape'. If this visit (and the one to another traditional village, Cicmany, on the same day) has taught me one thing, it is that I have to dive into this subject of 'vernacular architecture'.
---
Arriving the small industrial town of Ruzomberok quickly makes you realise that this is not the top-spot of beauty in Slovakia. Even though the town have a few highlights it's a place better used as jump-off point for skiing or hiking in the Low Tatra Mountains, the most frequented and popular mountain area in the country.
A year-round-open ski lift near the centre of Ruzomberok takes you some 600 meters up to the forest covered mountains and a spectacular and beautiful landscape. It is perfect for a couple of hours walking and it also adds some extra spice to the hiking, knowing that the forests are filled with brown bears, wildcats and other animals, probably checking you out as you walk by.
It is here you find the small mountain village of Vlkolinec, with its small, 15th century log houses. During WWII a third of them were burnt to the ground but 45 of them still stand and is remarkably well preserved. Mind you, this it's not a museum but a living village. So if you decide to have a coffee or a sandwich in a small café you more or less visit one of the families in their home gardens.
My visit to Vlkolinec was an absolute perfect one but that also included a full-day mountain walk. You can easily visit the village by car or taxi but to get a true experience you have to include the nature and breathe the fresh air of the Low Tatra Mountains. Its first then you realise that, above all, beauty lies in simplicity…
---
pamela lawson
My husband and I spent a wonderful, cold but sunny day looking around this fascinating village. The history,architecture and ambience of the place has left a lasting memory. How lucky the people are to live surrounded by such beauty and serentity. Thank you for the letting us share wonderful experience.
---
Site Info
Full Name

Vlkolinec

Unesco ID

Country

Inscribed

Type

Cultural

Criteria

4

5

Categories

Link
Site History
1991

Deferred

Need more info
Site Links
Unesco Website
Official Website
Visitors
169 Community Members have visited.