Vlkolinec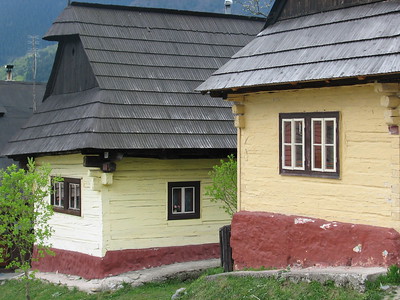 Vlkolinéc is a village containing a group of 50 vernacular Slovak timber-built constructions. These buildings have stone footings with log walls on top. Their walls are coated with clay, and usually painted.
The current buildings date mainly from the 19th century, but the origins of their architectural type go back several centuries earlier. Among the 50 remaining buildings are a church, a school and a shop. The rest are farmhouses. The village is still inhabited.
During the 2nd World War the village was a major site of the Slovak National Uprising. A third of the houses were burned down subsequently by the Nazis in retaliation. These weren't rebuilt.
Visit May 2008
There's a tiny road that leads up to Vlkolinéc from the main highway between Ruzomberok and Banska Bystrica. Buses have to park at the foot of the hill on top of which the village is located, with a car you can go all the way up (hoping that you won't meet an opposing car). As described in the reviews below the setting amidst the green meadows is stunning.
Vlkolinéc does see quite a number of tourists nowadays. There's a modest entrance fee and a photo fee to be paid at the beginning of the main street. This street runs up a steep slope, adorned on both sides with the famous houses. The best examples are at the center of the village, which also has a wooden bell-tower and canalized stream. You can easily walk the streets in half an hour, and that includes a visit to the pitiful little 'museum'.
The site has a lovely location and the colourful buildings definitely have a certain charm. Compared to other 'Folk Villages' on the list that I've seen (Shirakawa-Go in Japan, Xidi and Hongcun in China) I feel there's something missing here though: it doesn't tell a story, it's just a group of buildings. Currently most of the houses are in use as second homes for city people. Large signs warn the tourists off the private properties. I wonder how people used to live here. What legends existed in this faraway valley, what did they eat and how did they make a living? The ICOMOS evaluation hints on a 'feudal landscape'. If this visit (and the one to another traditional village, Cicmany, on the same day) has teached me one thing, it is that I have to dive into this subject of 'vernacular architecture'.
Community Reviews
---
---
---
---
---
---
---
Community Rating
Community Rating 2.22. Based on 9 votes.
Your Rating
Site Info
Full name: Vlkolinec
Unesco ID: 622
Inscribed: 1993
Type: Cultural
Criteria: 4 5
Site History
1993 - Inscribed

1991 - Deferred

Need more info
Connections
The site has 9 connections.
Visitors
96 community members have visited Vlkolinec. Show all