Uluru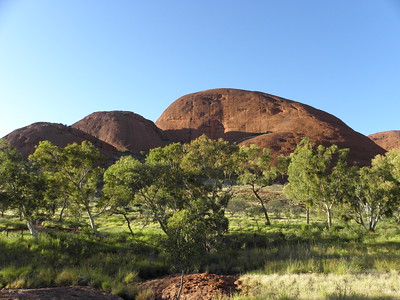 Uluru-Kata Tjuta National Park is a striking physical landscape that contains two rock formations which contrast sharply with the surrounding sand plains and desert.
The area holds numerous sites sacred to the local Aboriginal people, the Pitjantjatjara and Yankunytjatjara.
Uluru (Ayers Rock) and Kata Tjuta (Mount Olga) are isolated remnants left after the slow erosion of an original mountain range.
In 1994 Uluru-Kata Tjuta was renominated under cultural criteria, to be recognized as a cultural landscape. It illustrates the combined works of nature & man by making use of the physical constraints and opportunities of the landscape. It also is an associative landscape via the spiritual relationship the Aboriginal owners have with the land. About 80 people still live inside the park and survive by hunting and gathering.
Visit April 2011
This site sees an unbelievable 400,000 to 500,000 visitors a year. All travel for hours just to see these rocks in the desert. You can fly in from Australia's major cities, or drive from the next city Alice Springs (445 kms away). I did the latter, visiting Uluru on an overnight trip and staying in the resort town of Yulara. Yulara itself is a sight to behold: it was only developed in 1975 to keep the tourists out of the park. It has just one loop road, a couple of hotels, restaurants, a petrol station and a supermarket. All are owned by the monopolist Ayers Rock Resort, which keeps prices sky high. I paid 175 EUR for a night in a budget room at the Outback Lodge, the cheapest of the 4 hotels in the area. The room came with a spray can to kill resident pests. I used it.
After dumping my backpack at the lodge, I drove straight on to Uluru. Somehow you get the feeling here that there is no time to lose, as if The Rock is calling for you. On the way up I stopped at the Cultural Center for an introduction. It has exhibits about the Aboriginal traditions surrounding Uluru. Like in Kakadu NP, I found these stories and what they involve hard to grasp.
Finally I came to the base of the rock. I had a strange sense of arriving at somewhere very remarkable, a WHS with a real Wow!-factor. The attraction is unexplainable however - it might be a combination of its remoteness, the heat and the striking colours (green bushes/red rock/blue sky). This is definitely a WHS that deserves Criterion no. vii: exceptional natural beauty.
I walked around part of the base, having a look at the weathered surface and some of the rock painting. Sacred areas are fenced off and no photos are allowed. Climbing the rock however is still possible and many tourists do it. ICOMOS, like the Aborigine owners, advised to abolish this practice, condemning the "intrusive handrail" and "endless procession of human ants".
Together with some 80 other tourists I waited for the sunset over Uluru. They even have designated sunset-viewing points here, with ample parking as if in a drive-in cinema. Watching sunset or sunrise is one of the most popular things to do here: Uluru is notable for appearing to change colour as the different light strikes it. The colours turn from ochre-brown into orange, red and finally charcoal grey after the sun has set.
The next morning I got up early to see the other rock formation, Kata Tjuta, while it was still relatively cool. Kata Tjuta (meaning: 'many heads', for its 36 domed rocks) lies 35 km west of Uluru. There I started the Valley of the Winds trail, a 7.4 km loop hike. It involves a little climbing and there are lots of loose rocks - not my favourite surface. There are also numerous flies, so you'll loose a lot of energy just swaying them all the time. It was nice to see Kata Tjuta up-and-close though, its domes like bowls of chocolate icecream. For real good hiking in this region, I can recommend the West Macdonnells near Alice Springs.
Click
here
to see more of my photos of Uluru
Community Reviews
---
---
---
---
---
---
---
---
Community Rating
Community Rating 4.50. Based on 11 votes.
Site Info
Full name: Uluru-Kata Tjuta National Park
Unesco ID: 447
Inscribed: 1987
Type: Mixed
Criteria: 5 6 7 8
Site History
1994 - Extended

Extended to include cultural criteria

1987 - Inscribed
Site Links
Unesco Website
Official Website
In the News
Connections
The site has 19 connections. Show all
Visitors
154 community members have visited Uluru. Show all