Taos Pueblo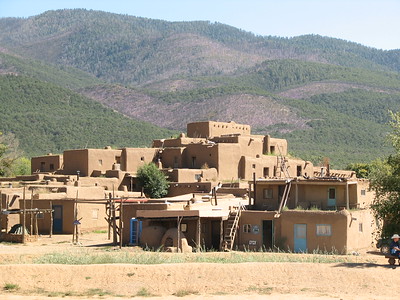 Taos is the best preserved northern pueblo, a traditional type of architectural ensemble from the pre-Hispanic period of the Americas, and has been in continuous use for human settlement until now.
It gives testimony to the culture of Pueblo Indians, that developed after the disappearance of the Anasazi tribes in the region. The Pueblo settlements date from around 1400, and have survived retaining their original layout.
The Pueblo de Taos is closely related to three other pre-Hispanic sites in the wider region: Mesa Verde, Chaco Culture and Paquimé (just across the border in Mexico). However, the others are from the earlier classic period and are now only left as archeological sites.
Map of Taos Pueblo
Legend
Visit September 2006
When you arrive at Taos Pueblo (just north of modern Taos), you are confronted with a gate and a big parking lot at the entrance of the town. As it is both a historical site and there are still about 150 people living here, it's kind of a working museum village. You have to pay an entrance fee for yourself and your camera to get in (10 + 5 dollar). Despite the worries stated in Paul Tanner's review below (his visit dating from 1963), it has not become too commercialized however in my opinion. People keep their distance, and there are large parts of the town and the surrounding grounds that are only open to locals.
From pictures I had seen I imagined that the Pueblo would be on a hill, but it turns out to be a flat square with two large building structures on either side (the North House and the South House). These are all individual living quarters that share walls. Entrance used to be via a ladder from the roof.
The pretty San Geronimo church also is on the central square. Some locals were just adding a fresh layer of white and beige paint to its thick adobe walls. Catholicism has clearly been incorporated in contemporary Pueblo culture.
I roam around between the houses for a while. You can't go very far: many places are restricted areas. It reminds me of Mali: the simple adobe buildings, the harsh sunlight. Or I Sassi di Matera. There's no electricity or running water here. The water for daily use comes from the small stream that crosses the central square. Drying racks (for meat and corn) and ovens (for bread) can be seen outside. It's amazing (and brave) that this way of living can still survive in the US in the 21st century.
Click
here
to see more of my photos of Taos Pueblo
Community Reviews
---
---
---
---
---
---
---
---
---
---
Community Rating
Community Rating 3.38. Based on 12 votes.
Site Info
Full name: Taos Pueblo
Unesco ID: 492
Inscribed: 1992
Type: Cultural
Criteria: 4
Site History
2012 - Name change

From "Pueblo de Taos" to "Taos Pueblo"

1992 - Inscribed

1988 - Deferred

Until a comparative evaluation of Pueblo culture sites had been carried out
Site Links
Unesco Website
Official Website
Related
Connections
The site has 19 connections. Show all
Visitors
122 community members have visited Taos Pueblo. Show all