Heritage of Mercury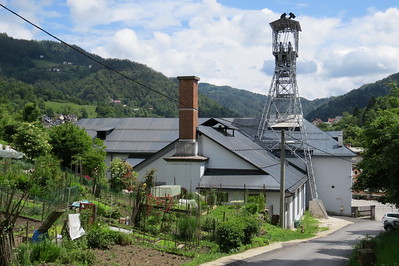 The "Heritage of Mercury. Almadén and Idrija" consists of the two largest mercury mining sites in the world.
They produced the metal over a lengthy period, the Slovenian Idrijia often serving as a back-up for Almadén in Spain. Mining stopped here in the late 20th – early 21st century.
Mercury was used on a large scale from mid-16th til 19th century by the Spanish in the New World in the process of extraction of silver. It is a relatively rare metal, and dangerous to handle.
The inscribed area also includes the town centres of Almadén and Idrija. There related buildings such as a Mining Acadaemy (Alamadén) and miners' theatre (Idrija) can be found.
Map of Heritage of Mercury
Legend
Visit May 2014
I visited the Slovenian part of this WHS. Idrija lies just enough off the beaten track to be an authentic surprise. The town has a certain cuteness that stems from constructions that were made during the mining boom of the last centuries. As a reminder that this is no open air museum, this is mingled with some communist-style housing blocks and rather busy traffic. Best though is its natural setting: in a valley surrounded by green mountains on all sides, with a river and streams running through town. I could not find a parking spot in the city center, so I left my car at a supermarket on the outskirts of town and had a pleasant walk along that river into the center.
First stop on my sightseeing tour was the Gwerkenegg Castle. Though it looks like some feudal lord lived in here, this Renaissance building was made to be the administrative headquarters of the mine. It now houses the excellent town museum. Entrance costs 3.5 EUR, and includes a booklet in English detailing all rooms. In one of the first a bowl full of mercury is shown, with an iron ball floating in it (mercury is 2 times heavier than iron). Interesting stuff. Other rooms include one full of black-ad white photos of daily life in Idrija in the early 20th century. We see girls lace-making at school, that other craft where Idrija is famous for. The women in town started doing this to earn some additional money to their husband's miners wages.
Unfortunately no other mine-related sites are open to the general public, you'll have to arrange for a tour somewhere to visit for example the pretty miners house above town (see 3rd small picture). It looks quite big, but several families lived in it. The town center is worth a stroll for seeing the opulent Town Hall (1898) and little Mine's Theatre (1769). For lunch I had the local žlikrofi with Gorgonzala sauce on top, very filling.
I then had to kill some time before the 3 p.m. tour at the Anthony's Shaft would start. I had seen about all there is to see in this small town, so I just enjoyed the sun and a cappucino on a terrace. In the end I was glad that I had waited for the tour to start, as this is where the mercury mining history comes alive. In all it takes about 1 hour and 45 minutes, of which you spent over an hour underground. I found the guide very good, explaining each element clearly in both Slovenian and English over and over again. I was in a group of 10 tourists, from all over the world including a couple from Iceland.
Of course during my WHS travels I have been to many mines before: gold, silver, copper, coal – the list is full of it. I wondered how mining of mercury would be different. Well, it's pretty similar. They hack and blow away the rocks to get at the precious metal, run little carts on rails to transport the material and build an elaborate underground system. What I didn't know is that mercury not always comes in the form of little silver coloured balls: 70% of the mercury of Idrija derived from a red stone, which had to be worked and heated afterwards to get to the liquid metal. You can see both forms during the tour, the materials are still present in the mine walls. The mine wasn't closed because there was no mercury anymore, but the prices had sunken so much that it wasn't profitable anymore.
Click
here
to see more of my photos of Heritage of Mercury
Community Reviews
---
---
---
---
---
---
---
Community Rating
Community Rating 2.82. Based on 11 votes.
Your Rating
Site Info
Full name: Heritage of Mercury. Almadén and Idrija
Unesco ID: 1313
Inscribed: 2012
Type: Cultural
Criteria: 2 4
Site History
2012 - Inscribed

2010 - Deferred

As The Mercury and Silver Binomial on the Intercontinental Camino Real. Almadén, Idrija and San Luis Potosí (Mexico)

2009 - Revision

Successor to former TWHS Mining town of Idrija (Slovenia's T List 1994)

2009 - Referred
Site Links
Unesco Website
Official Website
Related
In the News
Locations
The site has 12 locations. Show all
Heritage of Mercury: Idrijska Bela – Belca Water Barrier on the Belca creek (or Brus`s Water Barrier)
Connections
The site has 23 connections. Show all
Visitors
95 community members have visited Heritage of Mercury. Show all