Central Highlands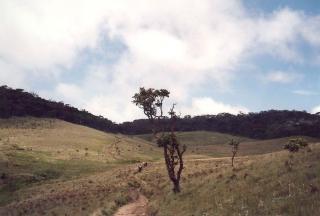 The Central Highlands of Sri Lanka covers the remaining part of its montane rainforests, the habitat of high numbers of threatened flora and fauna species.
The mountainous region covered with grass plains comprises three protected areas: Peak Wilderness Sanctuary, Horton Plains National Park and Knuckles Range. One of the most remarkable surviving fauna species is the endemic Sri Lankan leopard.
Community Perspective: The area's prime attractions seem to be cultural ones such as the Pilgrimage Path to Adam's Peak and the surrounding tea plantations, but this is a natural site. You may expect waterfalls and viewpoints.

Community Reviews
---
As an Australian, I'm completely fine with all manner of poisonous insects, bugs, spiders, and other creepy crawlies. They just don't bother me that much. Leeches, however - they bother me. A lot. So although we were quite keen on doing some hiking around the Central Highlands of Sri Lanka, when we learned that all of the national parks were infested with leeches, our enthusiasm waned somewhat.
But, we pressed forward with our plans and came up with probably the cheapest and easiest way to access the World Heritage site. We did a self-guided day trip to Knuckles Range, using entirely public transport from Kandy. To do this: catch bus #22 to Mahiyanganaya from the central bus station. Hop off at Hunnasgiriya, about 90 minutes into the journey (tickets cost us 80 rupees each in Jan '19, or about $0.45 USD). From here, grab a tuk-tuk up the 7km mountain road to Deenstone Conservation Centre - we negotiated 500 rupees each way, and tipped him for waiting around. Entrance to the Knuckles Range here cost us 575 rupees + 15% VAT.
From here, you can do a gentle one-hour hike to a couple of viewpoints called Mini Worlds End 1 and Mini Worlds End 2. I don't think they compare to the proper Worlds End views at Horton Plains, but it was still quite nice and we enjoyed the views across rugged mountains, tea plantations, rice paddies and the like. The path is well-defined and after covering ourselves in DEET repellent we were pleased to find ourselves leech free! To get home, simply repeat the journey above, but in reverse. The bus is a crowded but very cheap way of travelling around Sri Lanka, and is a great way to meet locals as well.
Read more from Joel on the Road here.
---
I focused my visit on the Horton Plains National Park and did the early morning trek to 'The World's End'. You need to go really early because the whole view gets clouded over by about 9am each day.
The World's End is about halfway along a nine kilometre circular route through the park. I reach it in time, just before the mist takes over the sky. High on a cliff, I look down, more than 1,200 metres to the bottom and no fence between me and air. A few clouds hang beneath me but they add to the majesty of this view, where mountains become highlands and then roll into fields that come to an abrupt end at the coast. The ocean is 80 kilometres away but I can see it on the horizon.
Read more from Michael Turtle here.
---
I was part of a field course which we conducted in Sri Lanka. During our course we visited in Meemure village which is located in Knuckles Range inside the World Heritage area. According to our guide this area gets much less tourists than Horton Plains and Peak Wilderness. Meemure village was quite easily reachable from Kandy where we left at 6am. During the ride the views of the Knuckles Range area were amazing and especially sunrise over the valleys. The drive from the main road to the village along the mountain roads took 2 hours. Meemure village is very small and it seems to live from rice cultivation as the village was surrounded by very beautiful rice terraces. There are no tourism facilities and we had our lunch at local family's home. During our day there we hiked 2 short hikes to see waterfalls which were absolutely beautiful and we were also able to swim there. But my favourite was absolutely the views around the village. The crown is absolutely the Lakegala Mountain which rises over the rice fields. According to a local legend the mountain is believed to be the place where king Ravana jumped on his historical aeroplane Dhadu Monara. We didn't encounter much fauna, only some snakes, fish, butterflies and lots of birds. Our guide said elephants also live in the area and there were some platforms in trees so that the people working on the fields can escape there if angry elephant appears. I recommed visit in this village if possible. It was absolutely one of my highlights in Sri Lanka.
---
3.00 Netherlands - 31-Jul-10 -
The central highlands of Sri Lanka, in my opinion, one of the most prettiest places in Asia, when we look at the map of this country, the magnificent lush green areas in the middle of the tear drop shaped island are really attractive and full of many places to discover from the famous multi-religious holy site of Adam's Peak (Sri Pada) to the tea plantations of world famous Ceylon tea.
As a usual tourist, I started my trip to central highlands from the holy city of Kandy, another WHS and home of the sacred tooth relic, which actually located under the shadow of Knuckles Range, a part of this WHS. The road from Kandy to Nuwara Eliya was just breathtaking with beautiful mountain landscape, lakes, and countless tea plantations; sometimes I still reminded the taste of chocolate cake and a cup of silver tip white tea I had while watching the waterfall, a perfect holiday. At night from the colonial villa hotel in the middle of tea plantations, I saw Sri Pada flooding with lights for pilgrims while hearing the Buddhist chanting from nearby temple, a real spiritual inspiration.
As you may noticed the prime attractions of the highlands were not natural heritage, but the cultural ones, when WHC decided to inscribe this place as a WHS on natural merit made me have to look back and from my experience, I found that the highlands were beautiful tropical mountain jungles but nothing significant enough to be WHS, actually if you have a chance to read IUCN report, they recommended to inscribe the highlands as serial extensions with Sinharaja to fully represented this island biodiversity in the list of WHS.
Anyway, I really enjoyed my trip in the highlands and highly recommended this place really deserved to be visited despite having the UNESCO label or not. Also try to visit the eastern part of Peak Wilderness area with beautiful cliff, lush jungle, and lovely lakes and waterfalls – a Garden of Eden of Sri Lanka.
---
We visited 2 of the 3 elements of this site during a trip to Sri Lanka in 2005.
Horton Plains NP is particularly noted for its bird life including a number of Sri Lankan endemics and also harbours rare mammals. As such it appears on the itinerary of all Sri Lankan birding and wildlife tours. It reaches 2300m and consists of a mixture of forest and open grassland.
It can't have been entirely coincidental that, just a few days before its consideration at Brasilia, a piece of news was released to the world's newspapers to the effect that the Horton Plains Slender Loris had been photographed for the first ever time!! This is one of the World's top 5 most endangered primates with possibly less than 100 remaining – a nicely timed piece of "news"!
Another piece of trivia which might be of interest is its very "English" title which relates to the British Governor of Ceylon 1831-7 - a Sir Robert Wilmot-Horton. He in turn had adopted the second part of his name under the terms of his father-in-law's will which required that this action be taken in order that he could inherit the country estate!
Apart from the wildlife the main other "sights" within the Park are an 870m cliff known as "World's End" and an attractive but not particularly noteworthy waterfall named "Baker's Falls" after the British African explorer.
The second element we visited was the "Peak Wilderness Sanctuary" (which is adjacent to Horton Plains NP –the third element, the "Knuckles Range" is detached to the NW and is a bit lower). I note that this forest area has been inscribed solely on Natural criteria but the main reason most people will visit it is to pass through it when climbing "Adam's Peak" which is situated within the inscribed area (photo). At 2243 m it is not in fact Sri Lanka's highest mountain (though its shape and relatively isolated position makes it seem much more significant) but is a major site of pilgrimage because of the petrosomatoglyph near the summit in the form of a footprint variously assigned to Buddha, Shiva or Adam. The main route to the summit starts at Maskeliya and is heavily "engineered" with steps. In the pilgrimage season (Dec-May) the entire way is lined with stalls/ restaurants etc. Traditionally the climb is completed at night time to arrive in time for the sunrise which casts an enormous shadow of the mountain across the plains below. This was our reason for going there and, given the enormous throngs of people also doing the climb, we did not gather much feeling for the natural merits of the area we passed through!! Interestingly the pilgrimage route itself, including many other locations from various parts of the island, is on Sri Lanka's T List in its own right as a cultural site. Furthermore Sri Lanka proposed this site on Natural, Cultural AND Cultural Landscape aspects - but the latter 2 were not accepted so Sri Lanka will have to put forward a different nomination to try to gain recognition for this aspect.
So, does the site deserve its inscription and is it worth visiting? The "Sri Lankan Montane Rain Forests" are regarded as constituting an eco-region in their own right and the WWF Web site states "These surveys demonstrate that this area's biodiversity is even more important globally than previously thought. The known levels of endemism apparently are only the tip of the iceberg. In light of the emerging information, the Sri Lanka Montane Rain Forests can be considered a super-hotspot within the endemism hotspot of global importance". Sinharaja is already inscribed as an example of Sri Lankan Lowland Rain forest and IUCN has a "vision" by which all of the World's eco-regions are represented by a WHS. It appears that IUCN actually recommended that these sites be added to Sinharaja to create a single site for Sri Lankan rain forest both lowland and montane. The result of the WHC's decision not to accept this recommendation is the inscription of a separate site which would seem to "grind" rather small as regards the eco-region it covers!
As for visiting them? Well Sri Lanka is not so large that it is a big problem to do so. However, unless you are particularly interested in spotting Sri Lankan endemic birds, Horton Plains will not repay a great deal in terms of "sights". You may well enjoy escaping the heat of lower altitudes (and I suspect that is a major reason for its popularity among Sri Lankans!) and the views are pleasant enough, but not "spectacular" on a World comparability scale – even the famed "Worlds End". Around these forest areas lie Sri Lanka's main tea-producing regions and mountain resorts such as Nuwara Eliya. Indeed, whilst the British cut down the forest areas which today produce tea, they also enacted a policy in 1873(on the advice of Darwin's friend, the botanist Hooker) which prevented the cutting down of any forest above 5000ft. If you are "doing" Sri Lanka you need to see this area and you might as well take in Horton Plains whilst you are there if you have the transport. As for climbing Adam's Peak – well, it is an interesting aspect of Sri Lankan culture. Unless you are fit (which I wasn't particularly!) it is a bit of a grind and the summit is so crowded that the sunrise shadow is quite difficult to see (unless you are a tall "Westerner"!) but, in retrospect, I regard the experience as worthwhile.
---
Nayana Wickramasinghe
I have visited the Peak wilderness, Horton Plains alias Maha Eliya and Knuckles range many a time. Horton Plains or Maha Eliya is now being a National Park, much attention is paid to protect it. But the other areas are open for anyone who want to enter is open for threat. Knuckles and Peak Wilderness areas have more diversity in Fauna as well as flora, and has to be protected at any cost.
My opinion is that these areas must be named as World Heritage Sites and may be special laws and methods of protection must be adopted. Especially in Knuckles Range, there are many remote villages that special attention must be put.
---
2.00 The Netherlands - 17-Aug-96 -
During a standard 3-week tour of Sri Lanka you're likely to visit almost all of the country's WHS: it's just not that big. This new addition to the WH list is no exception: Adam's Peak for example (at the heart of the Peak Wilderness Sanctuary) is quite a landmark.
In 1996 we travelled to the center of Sri Lanka by train. There are many tea plantations in this area. As you go uphill, it gets colder and wetter. As the temperature only reached 15 degrees Celsius, we felt like we were in England or Holland. The locals were really cold too and wore thick jackets, fleece sweaters and hats.
From Nuwara Eliya we did a hiking tour at the Horton Plains. We were transported to the park entrance in about an hour and then walked for about 4 hours. The things to see are some steep cliffs (Little World's End and Big World's End) and waterfalls.
My trip diary notes do not mention anything very remarkable about this hike, and I must admit that even less is left in my memory.
---
Site Info
Site History
2010

Deferred

For Cultural Criteria
2010

Revision

Includes former TWHS Peak Wilderness Wildlife Sanctuary (2002)
2010

Advisory Body overruled

IUCN had advised Referral:"issues related to the integrity and management of the nominated property"
2009

Incomplete - not examined
Site Links
Unesco Website
Official Website
Related
In the News
Visitors
191 Community Members have visited.