Blaenavon Industrial Landscape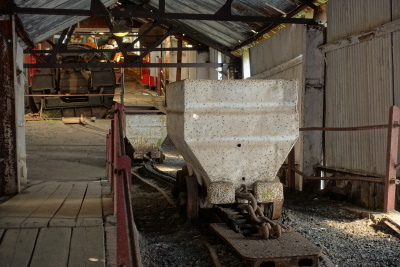 Blaenavon town owes its existence to the early production of iron and coal in its mines and ironworks. It got World Heritage status because of the numerous historical buildings in town and its industrial landscape.
Ironmaking here was already practised by the Romans. In 1788 the Ironworks were built, using two furnaces blown by one blowing engine. In 1812 they were claimed to be among the most productive in the world.
There were many mining pits around Blaenavon. The town is situated on a rim of the South Wales coalfield. The coal initially came from levels and drift mines cut into the hillside which followed the coal seams. In 1800 the first vertical shafts were in operation.
A lot more mines followed, especially when the demand for iron rose sharply through the ages. The Big Pit for example opened in 1880. A hundred years later it stopped producing coal, and was turned into a mining museum.
Map of Blaenavon Industrial Landscape
Legend
Visit June 2002
Blaenavon is a small town in the green hills of Wales. The surrounding countryside is a great place for hiking. I went to the old coal mine instead, and took the underground tour. The tours at the Big Pit are lead by ex-miners, and take about an hour.
Before your visit underground you get a sturdy helmet with a light in front. Off you go then, in the elevator 90 meters downwards. It's dark and cool. Water is dripping. The tunnels you walk in most of the time are just a bit too low to stand upright.
At one moment, our guide asked us to switch our lights off. It became as dark and scary as it can get. To hear that there used to run rats here, and that children as young as 7 or 8 were employed under the ground, with no light but the odd candle, makes you really think ...
Community Reviews
---
---
---
---
---
---
---
---
---
---
Community Rating
Community Rating 2.32. Based on 11 votes.
Your Rating
Site Info
Full name: Blaenavon Industrial Landscape
Unesco ID: 984
Inscribed: 2000
Type: Cultural
Criteria: 3 4
Site Links
Unesco Website
Official Website
In the News
Serious concern about the deterioration of some of the buildings at Blaenavon (20.09.09)
Connections
The site has 15 connections. Show all
Visitors
98 community members have visited Blaenavon Industrial Landscape. Show all