Alcala de Henares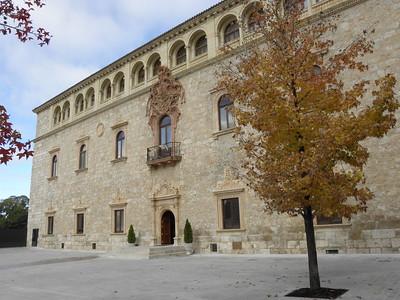 The University and Historic Precinct of Alcalá de Henares was the first city in the world deliberately to be designed and built as the seat of a university, by the concept of an Ideal City.
This concept (Civitas Dei) was spread to the Americas by the Spanish settlers.
In 1499, Cardinal Cisneros founded the Universidad Complutense in Alcalá, which became famous as a centre of learning during the Renaissance. His primary objective was to train administrators for the Church and for the Spanish Empire. It was at this university that the Spanish language was given its definitive grammatical structure.
Alcalá is also the place of birth of Miguel de Cervantes (Don Quixote).
Map of Alcala de Henares
Legend
Visit November 2011
Alcalá de Henares wasn't quite what I had expected. University towns usually have a distinct atmosphere: cozy, lots of young people, interesting museums, small budget restaurants. The thing about Alcalá de Henares is that its university was moved to Madrid in 1836. Only recently, in 1977, a new university has been set up. But a lot of damage had been done in the 1.5 century in between.
After leaving my rental car in an underground car park, I set out for the city center. Information boards in Spanish, English and Braille guide the visitors along to the most important things to see. You'll definitely need this guidance or bring your own map, as the highlights are somewhat hidden between the dull features of another provincial town. The cityscape isn't very coherent, because of the many demolitions and modern reconstructions that were executed before they thought of conserving the place. ICOMOS in its AB evaluation states that the city has retained "a substantial degree of authenticity" - which I think is an euphemism.
I first walked to the Archbishop's Palace. A very fine building with Mudéjar elements. The three trees in front of it in full autumn colours, a couple of passing nuns and dozens of storks nestled on the surrounding roofs gave it a bit extra. In the same area lies the Cathedral. It's a Magistrial Cathedral, which means that the priests are also professors in University. It is known for its elaborate iron fence (?!). In the past Alcalá de Henares had separate quarters for Jews, Christians and Moslims, but not much more that an information shield here or there reminds of that.
The best part of my visit was the birthplace of Miguel de Cervantes. This house is located next to the 15th century hospital, where his father worked as a surgeon-bleeder. It is quite a pretty dwelling, the family was clearly prosperous. It now holds a free museum which is more geared to reenacting the 16th century than to the literary works of Cervantes. In front of it is the statue of Don Quijote and Sancho Panza sitting on a bench. The museum was full of schoolchildren, it probably is a popular school trip for the Spanish.
So should this one be a WHS? It has earned its place more because of its former importance than for what is left nowadays. Spain already had entered its university town par excellence 10 years before: Salamanca.
Click
here
to see more of my photos of Alcala de Henares
Community Reviews
---
---
---
---
---
---
---
---
---
---
---
Community Rating
Community Rating 2.28. Based on 18 votes.
Your Rating
Site Info
Full name: University and Historic Precinct of Alcalá de Henares
Unesco ID: 876
Inscribed: 1998
Type: Cultural
Criteria: 2 4 6
Site Links
Unesco Website
Official Website
Connections
The site has 14 connections. Show all
Visitors
144 community members have visited Alcala de Henares. Show all