Wooden Churches of the Slovak Carpathians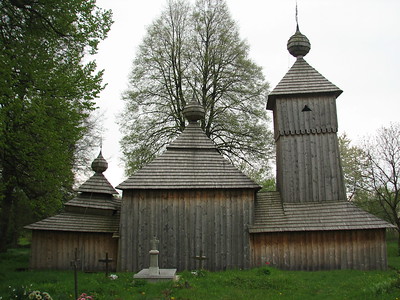 The Wooden Churches of the Slovak part of Carpathian Mountain Area are examples of local religious architecture. The eight churches consist of two Roman Catholic, three Protestant and three Greek Catholic ones.
The inscribed churches are:
- Hervartov
- Tvrdosin
- Kezmarok
- Lestiny
- Hronsek (church and belfry)
- Bodruzal
- Ladomirová
- Ruská Bystrá
Map of Wooden Churches of the Slovak Carpathians
Legend
Visit May 2008
Two months ago I travelled around Slovakia and of course was aware that this site was up for nomination this year. One small problem: which of the 30 or so wooden churches would be chosen to represent them? To be on the safe side I visited 6 of them, all by car in the wider Bardejov region.
A pretty example of these churches can already be found next to the skansen in Bardejov Spa - a rebuilt Greek-catholic church from 1730, originally from Mikulasova and still in use.
Just south of Bardejov lies the church of Hervartov: a Roman Catholic church dating from the 15th century. Its exterior is the dark kind of wood that looks like the Scandinavian stave churches. When I circle around the building, a bus full of schoolchildren arrives. The lady with the key comes running after them, and this gives me a good opportunity to check out the church interior. The lady even starts charging a 30SK entry fee and sells postcards and other souvenirs. But it's really worth it because of the original frescoes, the wooden statues and the roccoco altar piece. Much more elaborate than I would have guessed from the outside.
From Hervartov I drive north again. First stop is the tiny village of Jedlinka, where the old Greek-catholic (Ruthenian) church now is overshadowed by a blinking silver coloured specimen. A sign on the church door shows a simple map of where to get the key. But I drive on this time.
Next is the relatively recent (1938) church of Nizny Komarnik, located at a prime location above the village of the same name. Except for the schoolchildren at Hervartov I haven't encountered fellow visitors so far. This changes however at Bodruzal. Apparently a service has just ended here, and two women are cleaning up. They proudly show me around, and have entry tickets and postcards to sell. The prize piece here is the iconostasis, almost too big for this little church.
My final visit is at the church of Hunkovce, which lies just beside the road on the way back to Bardejov.
Visiting sites like these might not be everybody's taste, but this is really my kind of WHS. I thoroughly enjoy roaming around little villages and check out some local treasures. Visiting these Slovak wooden churches reminded me of a pleasant day I spent looking for churches while driving around Chiloé (Chile). And I had a relatively lucky hand in choosing 'my' churches: the ones in Hervartov and Bodruzal are now officially part of the WHS.
Community Reviews
---
---
---
---
---
---
Share your experiences!
Have you been to Wooden Churches of the Slovak Carpathians? Add your own review!
Community Rating
Community Rating 2.53. Based on 16 votes.
Site Info
Full name: The Wooden Churches of the Slovak part of Carpathian Mountain Area
Unesco ID: 1273
Inscribed: 2008
Type: Cultural
Criteria: 3 4
Site History
2008 - Inscribed

2002 - Revision

Part of former TWHS "Kezmarok Wooden Articular Church and historical center of the city" (1995-2002) has been merged into this nomination
Site Links
Unesco Website
Official Website
Locations
The site has 9 locations.
Connections
The site has 10 connections.
Visitors
124 community members have visited Wooden Churches of the Slovak Carpathians. Show all