Wooden Churches of the Slovak Carpathians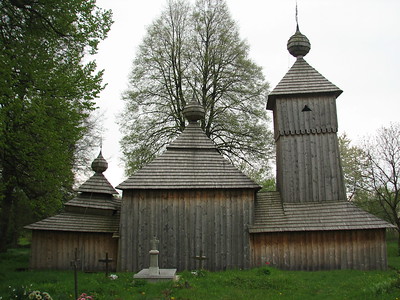 The Wooden Churches of the Slovak part of Carpathian Mountain Area are examples of local religious architecture. The eight churches consist of two Roman Catholic, three Protestant and three Greek Catholic ones.
The inscribed churches are:
Hervartov
Tvrdosin
Kezmarok
Lestiny
Hronsek (church and belfry)
Bodruzal
Ladomirová
Ruská Bystrá
Map of Wooden Churches of the Slovak Carpathians
Load map
Community Reviews
---
After having visited the wooden church of Hervartov back in 2014, this time round I managed to visit another four Slovak wooden churches, thanks to a very informative UNESCO map at the only restaurant in Vlkolinec. Since they weren't much of a detour between Spis, Vlkolinec and Banska Stiavnica and I had enough time to spare, I set off to visit the wooden churches of Kezmarok, Lestiny, Tvrdosin and Hronsek.
Since Hubert already covered the wooden church of Kezmarok pretty well, my only suggestion is to time your visit with the rather limited opening hours as the highlight of this church is definitely its interior; from the outside, it really is the odd one out of the eight wooden churches and not worth the visit simply for a view from the outside. I also found most of the Slovak churches' interior harder to access than its counterparts in Poland even though I visited during the "peak tourist season" when in theory it should have been easier than visiting in winter. Next, I drove to Lestiny where the wooden church is neatly hidden on a hill full of trees making it hard to take photos. Overall, it is quite similar to the wooden church in Hervartov, almost like a small fortified church enclosed by a wall.
Next, I drove to the Roman Catholic Church of All Saints in Tvrdosin and managed to get inside the church (open July-August from 10am till 4pm; strictly no photos allowed inside). Here a very kind old lady offered me water as a very appreciated welcoming gesture (quite a rarity in Slovakia) and opened the church with a large key and pointed towards the best wall paintings, so I obeyed the rules and did not take any photos inside except for the facsimile UNESCO WHS inscription certificate. Behind the wooden church there is a very very large cemetery. Even if you visit when the church happens to be closed, do take a closer look from the arcade next to the church door (mind your head from the very low roof!), to fully appreciate how the high gable roof is supported by small stone pillars.
Finally, I visited the wooden church and belfry of Hronsek (marked on the brown road signs as Kostol Church) on the way to Banska Stiavnica, in my opinion the most beautiful ensemble for its exterior architecture. It resembles the Churches of Peace in Poland although it can cater only for 1,100 worshippers inside in an amphitheatre-style arrangement. It is the only wooden church in Slovakia which exhibits Scandinavian architectural influences, for instance in the beam connections and the arrangement of the columns. Inside there is a UNESCO WHS inscription certificate facsimile. Overall, I enjoyed my visit and slightly improved my rating initially based solely on Hervartov.
---
The uniqueness of this ensemble of wooden churches - There are at least 4 other similar WHS! - can be found in the broad variety of styles given by co-existence of 3 faiths, Protestant, Roman-catholic, and Greek-catholic, in small area of Slovak Carpathians, and in the fact that all of them are still in active use of their communities.
(Greek-Catholics religion is unusual combination of Catholics and Orthodox Church that still exists in eastern Slovakia with cathedral located in Prešov. As there is quite large minority of Rurthenians in Prague, they use originally roman-catholic church of S Kliment close to the Charles Bridge in Prague for purposes of their faith).
This is one of on my favorite sites in Slovakia. I liked especially wooden churches of Eastern part of the country built for Greek-Catholics. There are plenty of them, ca. 30-40, in north-east corner of Slovakia close to Polish borders, and I visited many of them, but not all of them yet, during my trips to beech forests of eastern Carpathians. I was lucky in several cases, and had opportunity to visit also their interior. Only 3 Greek-Catholic tserkvas were selected according strict rules of Slovak state party.
I visited 6 churches from 8 in total:
Roman Catholic churches of (1) Tvrdošín and (2) Hervartov that were interesting for me to visit but I found them not such unusual for me as I know similar churches from Czechia and Poland. In general, they adopted and expressed the wide-spread gothic and baroque style in wood. Such churches have two parts: prolonged nave with tower and prebitery with polygonal or square apsida.
In contrast, Protestant churches of (3) Kežmarok and (4) Hronsek were surprising for me due to their monumentality and inner space, and I enjoyed these churches because I have never visited protestant wooden church before. It was also striking and impressive for me to see that Protestant community constructed such beautiful buildings, which are still in use for Protestant minority in Slovakia. However, their structure is also derived from universal baroque style: They have no tower, and have shape of a latin-cross central.
Greek Catholic churches of (5) Bodružal and (6) Ladomírová (PHOTO) are highlight of this series for me, and it is almost unbelievable that small communities in remote and very poor parts of Slovakia were able to express their skills in these extremely monumental though small structures. The most beautiful church from the WHS series is that one Bodružal, in my opinion. It is located in tranquil village surrounded by forested hills. The church consists of three parts with three continually ascending towers - the highest is in the western part. This is typical example of LEMKOV type of church. In contrast, wooden orthodox tserkvas in Poland and Ukraine (WHS) are usually of BOJKO type, where the middle tower is the highest. It means that the shape of tserkvas is not derived from universal styles, however, interior is decorated by baroque elements.
It is a pity that some of churches in the region of east Slovakia were left abandoned, or in the worst case that communities sold them to museums, some of them even to Czechia (one example can be found in Kinský garden in Prague!). However, the situation was even tougher on Polish side of Carpathians due to after-WWII turbulences, and many of wooden churches were destroyed, or if they survived they are not in use because of vanishing of orthodox communities in roman-catholic Poland.
---
The eight wooden churches of this WHS are spread over a wide area, almost across the whole territory of the Slovak Carpathians. We visited seven of them in August 2014, only Ruská Bystrá was not on our itinerary. The churches differ in their architectural style, partly due to the use of local materials and construction techniques, but mainly because they represent different faiths: Roman Catholic (Hervartov and Trvdosin), Protestant (Kezmarok, Lestiny and Hronsek), and Greek Orthodox (Bodruzal, Ladomirova and Ruska Bystra).
In particular, the Protestant churches have an unusual shape. They date from the 17th century, the time of the religious repression of Protestants. The construction was subject to restrictions (like for the Churches of Peace in Silesia): they had to be built without using metal, without a steeple, outside the city walls, and had to be completed within one year.
In Slovakia, the people seemed little enthusiastic to show us their churches, we had less fortune than in Poland to get access to the interior. At least that was our impression, but other visitors might have different experiences.
Hronsek: a tall half-timbered building with a floor plan in the form of an elongated cross; with a free-standing bell tower; the pews on the ground floor and in the gallery have seats for more than 1000 churchgoers; a lady in the neighbouring rectory opened the church for us; no photos allowed
Leštiny: the church is located on a steep slope above the town; we called the phone number given at the information board, but we were told that the church is closed though we arrived within the indicated opening times
Tvrdošín: the church has a high gable roof and arcades supported by stone pillars; the interior is dominated by the Baroque altar and a richly carved pulpit; walls and ceiling with beautiful paintings, e.g. a starry sky in the chancel, regular opening times
Kežmarok (photo): located in the Spis region, not far from the WHS Levoca; unusual shape, it does neither look like a church nor like built of wood, the outer walls are coated with clay plaster; several round windows like portholes; the interior is richly decorated with paintings, sculptures and altarpieces; the pews in the ground floor and the galleries have seats for 1500 churchgoers; regular opening times, no photos allowed
Hervartov: located only 10 kilometres south-west of Bardejov; a beautiful little church in a picturesque setting, surrounded by high trees and a stone wall; the architecture is similar to the Roman Catholic churches of the Polish WHS; beautiful wall paintings: Adam and Eve and the Fall of Men or St Georg killing the dragon; we called the indicated phone number and immediately a friendly man came and opened the church
Bodružal and Ladomirová: both with a tripartite architecture similar to the Greek Orthodox tserkvas in Lesser Poland; we arrived within the opening times and called the phone numbers indicated at the information boards, both times we were told that it is not possible to visit the church, but we did not understand the reason why
The Roman Catholic and the Greek Orthodox churches are similar to the corresponding examples in Lesser Poland, only the Protestant churches have an unusual architecture due to their history. And though I liked in particular the one in Hervartov, I must say that I was more impressed by the sites in Poland. In my opinion, the Slovakian churches are the least interesting of the three wooden church WHS in this region.
---
I visited this WHS in September 2014. This WHS is made up of 8 wooden churches in the Slovak Carpathians which bear a very strong resemblance to the Wooden Churches of Southern Malapolska and also some of the Wooden Tserkvas in Poland. The Slovak Wooden Churches seemed to combine some of the architectural elements from both these Polish WHS. Since I had visited quite a number of other non-inscribed Slovak wooden churches earlier and mostly because I had to drive back to Poland, I only had the chance to visit the wooden church of Hervartov. This Roman Catholic church is dedicated to St. Francis of Assisi and is said to be the most beautiful and representative of the 8 inscribed Slovak wooden churches. It also proudly houses the UNESCO WHS certificate. I had saved its coordinates on my GPS but they turned out to be the wrong coordinates. As with most of the wooden churches in Poland and Slovakia, they seem to be well hidden behind a number of trees so the best thing is to be on the lookout of tall trees and when in doubt just ask for help. Perhaps if you were to visit in Autumn or in Winter it would be easier to spot the wooden churches behind the leafless trees! When I arrived at the church's doorstep, a kind man opened the door and welcomed me in. He didn't speak English or German but he smilingly pointed to the UNESCO WHS certificate and the laminated information sheets available in different languages. Again the entrance fee of 2 euros + a camera fee of 3 euros wasn't cheap (perhaps I had got used to the idea of visiting the wooden churches and tserkvas for free in Poland!). At least I didn't have to knock around or phone for the keyholder to open the church as I had to do in Poland. The latin inscriptions as well as the beautiful frescoes of Adam and Eve and the Last Supper were the highlight of my visit. I hope to be able to visit some of the other inscribed churches near Bratislava in the future.
---
Recently I managed to reach all eight of the listed churches as well as a number of unlisted ones:
Hronsek : was easily accessible being close to its namesake railway station, on the Bratislava to Banska Bystrica line. In accordance with the laws it was set back from the main road, and built entirely of wood without the benefit of nails or bolts. This was quite a feat considering the size of the church building.
Lestiny : a short bus ride from Dolny Kubin station brought me to the village of Lestiny. The church was concealed amongst trees on the slope above the village.
Tvrdosin : the church in this village is located on a hillside between the bus stop and the railway station.
Kezmarok : although there is a lot of timber construction here, the old Evangelical church also comprised lath and plaster walls. The town is accessible by train from Poprad-Tatry.
Ruska Bystra : This was a cute little church set in a clearing in the forest. Reaching this village involved taking buses from Kosice or Michalovice, changing at Sobrance.
Hervartov : With a stunning interior and an intricate design, this was the most attractive of the listed churches. It was easily accessed by bus from Bardejov.
Bodruzal : infrequent buses travel from Svidnik to Bodruzal, passing Ladomirova en route. Easily found the church stood out in this tiny village. Despite ongoing restorations, the colourful interior panels were easily visible.
Ladomirova : I failed to gain access to the interior of this church, but found the it in a low-lying area of the village.
---
During my trip to the Tatra Mountains I have been to the historic town of Kezmarok (Käsmark) not far away from Levoca, which is another WHS. Kezmarok used to be another Carpathian Saxon town with typical German architecture. The town is very nice and can easily serve as a base for day trips to the Tatra Mountains. The WHS part of town is its wooden Protestant church, originally built outside the city walls.
As the Austro-Hungarian rule was Catholic Protestantism was discouraged. As a result the local Protestant church had to be built outside. It was forbidden to use stone in its construction and its height was limited. The local Germans overcame these difficulties with quite an amazing construction. From the outside the church looks rather plain and this is in fact the only photo available online, but once getting inside the building, the elaborate Baroque decoration strikes you. It's design for itself is not that extraordinary but the fact it's all made of wood, straw and metal.
The church still serves the local German minority. It was also very interesting to talk German with them and listen to their stories about growing up in Communist Czechoslovakia and having to cope with strong anti German emotions. Funny how luck changes...
---
These 8 churches are spread all across Slovakia, and most don't seem to be easily accessible. I went to the pretty town of Kezmarok, very close to Levoca and Spis Castle. The Articulate Church there is a very impressive building (more so from the inside than the outside) and is well worth visiting. It is one of the Protestant churches making up the site, which also consists of Catolic and Greek Orthodox ones. Maybe I'll go see one of those in the future.
---
3.00 The Netherlands - 01-May-08 -
Two months ago I travelled around Slovakia and of course was aware that this site was up for nomination this year. One small problem: which of the 30 or so wooden churches would be chosen to represent them? To be on the safe side I visited 6 of them, all by car in the wider Bardejov region.
A pretty example of these churches can already be found next to the skansen in Bardejov Spa - a rebuilt Greek-catholic church from 1730, originally from Mikulasova and still in use.
Just south of Bardejov lies the church of Hervartov: a Roman Catholic church dating from the 15th century. Its exterior is the dark kind of wood that looks like the Scandinavian stave churches. When I circle around the building, a bus full of schoolchildren arrives. The lady with the key comes running after them, and this gives me a good opportunity to check out the church interior. The lady even starts charging a 30SK entry fee and sells postcards and other souvenirs. But it's really worth it because of the original frescoes, the wooden statues and the rococo altarpiece. Much more elaborate than I would have guessed from the outside.
From Hervartov I drive north again. The first stop is the tiny village of Jedlinka, where the old Greek-catholic (Ruthenian) church now is overshadowed by a blinking silver-colored specimen. A sign on the church door shows a simple map of where to get the key. But I drive on this time.
Next is the relatively recent (1938) church of Nizny Komarnik, located at a prime location above the village of the same name. Except for the schoolchildren at Hervartov I haven't encountered fellow visitors so far. This changes however at Bodruzal. Apparently, a service has just ended here, and two women are cleaning up. They proudly show me around and have entry tickets and postcards to sell. The prize piece here is the iconostasis, almost too big for this little church.
My final visit is at the church of Hunkovce, which lies just beside the road on the way back to Bardejov.
Visiting sites like these might not be everybody's taste, but this is really my kind of WHS. I thoroughly enjoy roaming around little villages and checking out some local treasures. Visiting these Slovak wooden churches reminded me of a pleasant day I spent looking for churches while driving around Chiloé (Chile). And I had a relatively lucky hand in choosing 'my' churches: the ones in Hervartov and Bodruzal are now officially part of the WHS.
---
Site Info
Site History
2002

Revision

Part of former TWHS "Kezmarok Wooden Articular Church and historical center of the city" (1995-2002) has been merged into this nomination
Site Links
Unesco Website
Official Website
Visitors
194 Community Members have visited.