Troy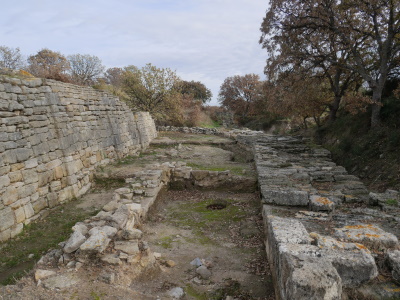 The Archaeological Site of Troy is the traditional location of Homeric Troy.
In the 1870s Heinrich Schliemann, excavated the area. Later excavations revealed several cities built in succession to each other. One of the earlier cities (Troy VII) is often identified with Homeric Troy.
Troy is a legendary city and center of the Trojan War, as described in the Epic Cycle, and especially in the Iliad, one of the two epic poems attributed to Homer.
Community Reviews
---
James Lawton
A visit to the site of Troy was a highlight of our trip to Turkey. The local guide was quite knowledgeable and the site is well marked for understanding the various levels of the nine "Troys" including the siege of Troy 6 or 7 which inspired the foremost classic of western literature.
---
As other reviews have said the jumble of 9 different settlements makes it hard to work out what is what. It helps if you have read the story of the first excavations. The site has a number of very helpful boards explaining what you are looking at. The wooden horse is kitsch - the nearby town of Canakkale has the one from the movie, which is more impressive but you can't climb inside it.
The greatest thing - to have stood on the same ground as KIng Priam and Achilles!
---
Visited in 2000.
The site is not very big, but is well worth a visit if you have an interest in Troy. The site is a bit of a jumble, as Heinrich Schleimann's excavation was hodgepodge, so it's worth it to get a map. The Trojan horse is pretty kitschy, but a fun photo op.
For WWI buffs, it's worth it to stay in Canukkale to combine a visit to Gallipoli as well.
---
Ar Oktem
This archeological site which is assumed to be Troy named in Illiad of Homeros, actually is not one ancient city. Instead it is the ruins of at least 9 different settlements built one on the top of the other, dating back to early bronze ages.
Although there is not much to see for someone who is not interested in the history and the myths; for anyone interested, this site represents a chance to take a glimpse to the wound of modern western civilization on the green skirts of Mount Ida.
The Archeological Museum of Canakkale gives a chance to view some of the ancient artifacts taken from the site.
The old road to Assos might be a focus of atraction cutting through the ruins of more that 20 ancient settlements predating Christ; in addition Gallipoli, with the monuments and other traces of the well-known epic drama of World War II.
---
Site Info
Full Name

Archaeological Site of Troy

Unesco ID

Country

Inscribed

Type

Cultural

Criteria

2

3

6

Categories

Link
Site Links
Unesco Website
Official Website
Related
In the News
Visitors
131 Community Members have visited.