Querétaro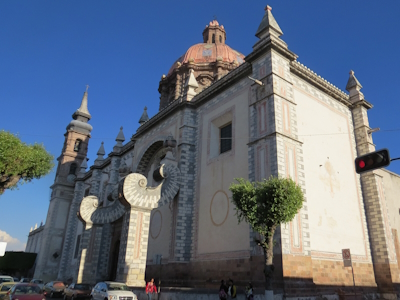 The Historic Monuments Zone of Querétaro is a well preserved Spanish colonial town with its specific 17th century street plan and a number of 18th century rich post-Baroque monuments.
The layout of the town was split in two: a rectilinear street plan for the Spanish settlers, and small winding streets for the quarters of the indigenous population.
The most prominent feature of the city is its enormous aqueduct, consisting of seventy five arches, each twenty meters wide with a total extension of 1,280 meters and an average height of twenty three meters. It was built by the Marquis Juan Antonio de la Urrutia y Arana between 1726 and 1738.
Visit January 2014
2.0
Queretaro I found the least interesting one among the Spanish-colonial cities of Central Mexico. It seems quite an affluent city though, probably nice enough to live in. I understand that it has quite a lot of people from Mexico City move there for better living circumstances.
If you're driving around Central Mexico hunting for WHS, Queretaro is a convenient stop and I spent one night here. Did my sightseeing in the afternoon - it took me two hours to find my way around the several tree lined plazas and look at some churches. The nicest is the Santa Rosa de Viterbo: it has really weird, curved buttresses (see large photo above).
As we're working right now on a Top 50 Missing list on the Forum of this website (for sites that mysteriously haven't made it into the WH list yet), we could also introduce a Top 50 Removals: sites that have made it in when noone from an AB or the WHC seems to have been looking. Queretaro surely would get my vote for that list.
Community Reviews
---
A common issue when interpreting Latin American colonial cities is that there is frequently no accessible frame of reference that fully explains each urban ensemble's value. Neither the travel guide books nor the tourism departments try too hard to communicate each destination beyond the dubious hyperbole (the biggest / tallest / oldest in the Americas) and the cliché (the indigenous influence / the local adaptation). After reading the reviews of Querétaro, I think that this city has suffered a lot from these superficial approaches.
If Querétaro were to be compared with any other colonial city, this would have to be Puebla. Both cities were the main centers of artistic experimentation and the main nodes of dissemination of Baroque culture in New Spain. Puebla during the 17th century and Querétaro during the 18th. However, while Puebla's area of ​​influence included Oaxaca and Tlaxcala, the influence of Queretaro is evident in cities such as Guanajuato, San Luis Potosí and Salamanca. Although both traditions are encompassed within the term "baroque" they are completely different cultural expressions, produced by dissimilar societies. Puebla's Baroque is serious and devout, while Querétaro's is decadent and aristochratic.
Querétaro is characterized by the ingenuity of its architects in the construction of arches, of notable Islamic and Gothic heritage. During the Baroque period, there was no city in the Spanish Empire that experimented in such a way with polylobed arcades and mixtilineal doorways. The best examples are found in the Jesuit College and in the convents of Santa Rosa, San Francisco and San Agustín. We can also find some of these imaginative arches in various mansions. Among them, the houses "of the Marquise", "of the divine Sun", "of the tithe", "of Don Bartolo", "of the Marquis", "of the Count of Sierra Gorda", "of the dogs" and "of the five courtyards" stand out.
When it comes to ornamentation and sculpture, Querétaro adopted conventions from the most popular European styles of the 18th century. In particular, the churches of Santa Rosa and Santa Clara, with their altarpieces full of simulated curtains and lush plant motifs, are the two best examples of Rococo art in Mexico. However, the most spectacular sculptural ensemble in Querétaro (and one of the most original spaces in the Baroque world as a whole) is the Cloister of San Agustín. This work, a daring modern interpretation of classical forms, shows the degree of wealth and sophistication reached by Queretan "criollos" in the 18th century.
Compared to other Mexican historical centers, the protected area of ​​Querétaro is quite small. Instead, it is cleaner, better maintained, and kinder to pedestrians than more impressive places like Puebla and Mexico City. If you visit Querétaro on a route through the colonial cities of the Bajío region, one day is enough to see the highlights. However, two days are ideal to fully appreciate the details of its historic center. If you decide to spend a little more time on it, the surrounding region is also famous for its wine production and for the family oratories of the Otomi communities (on the intangible heritage list). It all makes for a good three days trip.
---
I visited Mexico between February and April 2019. I visited most WH colonial towns around Mexico City and Querétaro was the fourth one.
Querétaro is the most underwhelming town among Mexican WH cities and the one I enjoyed the least. It felt quite like every Mexican town to me, and I couldn't see the OUV. Monuments and churches in the center were either closed or boring, excepting maybe el Templo de Santa Rosa de Viterbo who as an interesting baroque exterior. Jardin Zenea and Plaza de la Constitucion were pleasant public squares, but doesn't deserve a stop in town by themselves. Under reviews bellow describe well my thoughts about Querétaro.
Otherwise, the most remarkable site (and the reason why this city deserved two instead of one star) is the aqueduct. It is gigantic and impressive (not Padre Tembleque level, but better than Morelia). It is 1,28 km long and has 74 highs arches. The view is particularly great from the mirador near el Mausoleo de la Corregidora.
Querétaro is conveniently located between San Miguel and Mexico City. You can also get here from Guadalajara, Morelia, Guanajuato, and San Luis Potosi. Former TWHS of Bernal is an easy day trip from here.
---
We only had a quick stop for lunch on New Year's Day 2015. As such there were a large amount of families out celebrating their day off. It leant the centre a really friendly and welcoming atmosphere but also meant the city's churches were closed.
As with other reviewers here the highlight was the weird church of Santa Rosa de Viterbo which seemed to show a quirky indigenous take on traditional European baroque architecture.
A stop in a cafe and a reviving empanada helped fuel us as we strolled around the pleasant squares dotted throughout the centre.
It provided a welcome break on our trip up the Camino Real and I think it would be a pleasant place to spend a bit more time.
[Site 6: Experience 7]
---
Queretaro, beautifull city. When you talk about Queretaro, you are talking about one style. The baroche of Queretaro is different from others...maybe more exquisite, tasteful and deeper. Queretaro had been a baroche laboratory. Santa Rosa de Viterbo Churche is a great sample of that. One of the nicer buldings in Latin America is the San Agustin convent, today a museum. Divine......exquisite, refined.....
The waterduct with the colection of urban funtains give the city an especial atmosphere.
---
Queretaro undoubtedly has a pleasant city centre. Its calmness belies its situation at the heart of a growing conurbation of over 1 million people. That said, in terms of suitability for UNESCO inscription, I regard it as the "weakest" of the inscribed provincial historical cities in Central Mexico which we have seen. And (whilst not being the ultimate arbiter on such matters!) Michelin only grants it 2*, (together with Zacatecas and Morelia) compared with 3* for Guanajuato, Puebla and Oaxaca.
The "edge" which Queretaro claims over other Colonial "Centros historicos" lies (Quoting from the ICOMOS evaluation) in its being a "remarkably hybrid town". We are told that "some commentators talk of a harmonious way of life or cohabitation between the 2 cultures". Apparently 2 distinct layouts can be seen in the city's plan – 20 blocks on the Spanish side of rectangular grid and 30 blocks on the indigenous side with curved and irregular streets! This, we are told, foreshadowed "the bicultural Mexico of today and the emergence of a new form of coexistence in the New World" Hmmmm? I am afraid I regard this as a lot of politically correct wishful thinking! I can see the slight differences in street layout on the map but, as we walked around, the distinction certainly didn't herald any great change in atmosphere. In any case would it justify inscription even if it did?
The centre possesses a number of attractive buildings but Michelin identifies only 3 structures as justifying 2*.
a. The St Rose of Viterbo church. This is indeed an impressive structure from inside and out. It is situated a few blocks away to the SW of the main historic area and should be visited – its massive flying buttresses are particularly striking.
b. The cloister of the Art Museum (photo 1). This building was originally a monastery and the caryatid statues are worth looking at in detail
c. Its most famous structure - The Aqueduct. (photo 2). This was built around 1726 at over 1 km long. It isn't absolutely clear whether it is included in the definition of the "city centre" but I guess it must be. It now sits in the middle of a busy 4 lane highway and is clearly heavily restored but still manages to impress as a fine piece of civil engineering. The problem of water impacted a number of the new cities in Mexico - Morelia and Zacatecas each has its own Aqueduct remains but none is as "complete" as Queretaro's.
There are a number of other interesting buildings. We rather liked the "Casa de la Marquesa" – a lovely mansion in Moorish style now a Boutique hotel" But, generally, apart from the Aqueduct, the city buildings are relatively "low key".
POST SCRIPT
Even in 1996 ICOMOS didn't seem 100% convinced :- "The case for the inclusion of Queretaro on the World Heritage is a strong one by virtue of its original unique town plan and the quality of its buildings. The nomination does however raise the general problem of Spanish and Portuguese colonial towns in the Americas, a number of which figure in Tentative Lists submitted by states parties in the Americas" ICOMOS then recommended a "Comparative analysis" of such towns to help it in considering the many others which it could foresee! As far as I can make out, this eventually emerged in 1998 as a report – "The Urban Architectural Heritage of Latin America". Written by an Argentine, it foresaw a very large number of towns across Latin America being inscribed (including 6 or 7 in Mexico)!! I found it inconclusive, poorly argued and somewhat muddled. I particularly liked the following phrase "In this case it would be sufficient to restrict the criterion for nomination to those towns that maintain high standards of excellence with regard to the heritage and which could also be integrated into a cultural tourism circuit". This perhaps proved too open ended for ICOMOS and it seemed to get no further! It was, in any case overtaken by 2004 document "Filling the Gaps". From that long document I select 2 quotes
a. "In Latin America, there is relative abundance of references to the Spanish colonial period, while some of the indigenous cultures are still not represented".
b. "All States Parties should be especially rigorous in their selection of certain well-represented categories of property"
I suspect that Latin American colonial towns might find it a bit harder in future to gain inscription and that Queretaro did well to get in when it did!
---
Site Info
Site Links
Unesco Website
Official Website
Visitors
120 Community Members have visited.