Prambanan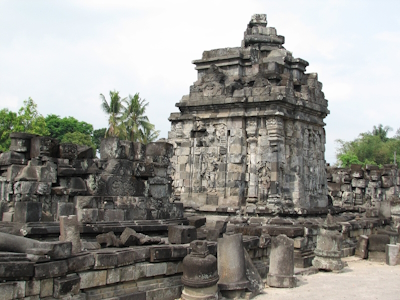 Prambanan Temple Compounds comprise the remains of large ancient Buddhist and Hindu temple complexes.
The complex contains over 500 temples, characterised by their tall and pointed architecture. The main ones are Prambanan Temple, a 47m high central building dedicated to Shiva inside a large complex of individual Hindu temples, and Sewu Temple, Indonesia's largest Buddhist complex. The temples are decorated with stone-carved reliefs.
Community Perspective: often crowded, so visit early in the morning or in the late afternoon. Expect to see a lot of rubble as the consequence of several disasters (as recent as an earthquake in 2006), but recent restoration works have helped at least conserve what is still standing.

Community Reviews
---
I visited this WHS in August 2018. Apart from the main complex of Prambanan, there are another 3 temples nearby which are worth visiting too, namely Candi Lumbung, Candi Bubrah and Candi Sewu. The latter of the three has very intricate carvings which hint at how extraordinary this temple must have been in its heyday before the several earthquakes that hit this region up until 2006 (with the Yogyakarta earthquake) and in 2014 (with the volcanic ash from Mt Berud volcanic eruptions).
The effects of these several disasters is clearly visible as most of the temples are in ruins but recent restoration works have helped at least conserve what is still standing. Nonetheless, Prambanan is the largest Hindu temple site in Indonesia and one of the biggest in South East Asia. In a way it is comparable to Ayutthaya in Thailand.
If you visit first thing in the morning, a long (half) day should suffice even though the Ramayana show and sunset views could add value. I opted to tick Sangiran WHS instead. To cover the 3 minor temples, it is a pleasant walk but if the heat is too much you can hire a golf cart or ride the hop on hop off tourist train too.
---
4.50 Netherlands - 07-Jan-16 -
After an amazing trip to Krakatoa, I decided to choose Indonesia as a destination for Christmas holiday as I wanted to fulfil my dream to explore the Javanese culture and learn the cultural route from India to Southeast Asia, and Yogyakarta is a perfect place to go for 2 great World Heritage Sites nearby, Borobudur and Prambanan. I decided to rent a car with a driver, after I arrived in Yogyakarta and had delicious local fried chicken for lunch near airport; the driver immediately took me to visit Prambanan, as he afraid that there will be a thunderstorm in the late evening. The local guide explained to me that Prambanan means countless Hindu priests in Sanskrit for its 240 small temples surrounded the main temple. When I reached the complex, the spires of the main temple complex were the first thing I saw, the structural design is really beautiful, high slender and impressive that reminded me the original but much shorter and wider in South India. It is amazing that this Indian styled architecture crossed the ocean to Southeast Asia and became a model of many Hindu temples in this region including Angkor.
Only the main temple complex and few small temples have been restored to its original form, most of the complex is the piles of stone since the complex is located in the earthquake prone area, its design cannot stand the quake well. My local guide said that Indonesian Government is not rushing to restore the whole complex to its former glory because it is a Hindu temple and in Indonesia, only Balinese is still practice Hindu not Javanese who are mostly Muslim so no strong public support. Also they also lack 3 Ms, money (no budget), man (no good craftsman) and materials (lava rock from the nearby Mt. Merapi). When I reached the main temple complex dedicated to three highest gods of Hindu and their mythical vehicles, the details of stone craving are really stunning and beautiful. The most stunning is the biggest temple for Shiva; the temple has 4 rooms, each room for Shiva or his family. After that my guide took me to the spots where I could take good photos behind the complex. Then I took a mini train to see Candi Sewu, a Buddhist temple nearby. The temple complex layout is similar to Prambanan that many small temples surrounded the main one like mandala. Similar to Prambanan, most of the temples are just the piles of collapsing rock only the main temple and few minor ones are fully restored. I really like the unique design that the spires are in the shape of stupa which is the big contrast to Prambanan. After Candi Sewu, I rode mini train to the exit of the complex and suddenly the really heavy rain started to pour down, so I ran back to the car and ended my enjoyable trip to Prambanan.
Prambanan is really a great sight and exceed my expectation. The size of the temple is smaller than I thought but it is still impressive. Since I saw My Son of Champa in Viet Nam few months ago, I felt that the arts of these two pre-Angkor Hindu sites in Southeast Asia are really different. While I found that there are many similarities between Angkor, My Son and Hindu temple in India especially the temple design and function. Prambanan is really different; the closest similarity is the pre-Angkor temple in Rolous, Cambodia, echoing my history class that early Angkor civilization may came from Java, and the Khmer art reached its zenith when they finally combined both schools of Java and Champa after Angkorian conquered My Son. Seeing Prambanan also completed my dream to see the cultural route of South Indian to Southeast Asia and learned how the art developed, from Temple of Dawn in Bangkok then Ayutthaya, Angkor, My Son and finally Prambanan, 5 years of enjoyable trips.
---
Vaibhav
The most beautiful example of how dravidian architecture crossed seas into Indonesia. Being a muslim country they have remarkably preserved the heritage and its a leading tourist attraction apart form borobuddur.
Best part is you just marvel at the rock architecture and there are no priests unlike indian temples which are also remarkable but are littered with petals, milk, and other shit which I am sure neither does the god like nor the visitors.
Proud indian, and also proud of our heritage abroad in SE Asia.
---
3.50 The Philippines - 11-Jul-13 -
Prambanan Temple Compounds got inscribed under two criteria: as a masterpiece of human creative genius, and as an outstanding example of an architectural ensemble that represents a significant stage in human history (i.e., spread of Hinduism in the East). It happens to be the biggest and most extensive Hindu religious site in the predominantly Islamic country.
Prambanan, on one hand, may look quite similar to Angkor Wat. True enough, they are both intended as Hindu temples. From afar, these two may even look like asparagus tips :p In closer inspection, however, the temples in Prambanan are a totally different architectural masterpiece that is unique in its own way. In fact, Prambanan was built over 300 years earlier (9th century vs. 12th century). On the other hand, Prambanan still faces yet another challenge: it is often overshadowed nowadays by the more famous Borobudur given their close proximity to each other. But, in ancient times, the former might have looked far more impressive in terms of lay-out, scale of construction, and even its setting. After all, the construction of Prambanan can largely be seen as a response of the Hindu Sanjaya Dynasty to the Buddhist Sailendra Dynasty's Borobudur.
Often really crowded throughout the day, I visited Prambanan late in the afternoon instead so as to have better appreciation of the place when there would be lesser tourists getting in the way of my lens (it turned out later on to be an uncalculated risk as it rained some few minutes after!). One thing that I noticed immediately upon entering the gate is its vast, well-manicured yard. Not long from there, and I started seeing the magnitude of the damages this site had to endure: endless -- and now meaningless -- piles of rubble scattered everywhere.
The Prambanan archeaological site (or what remains of it) is pretty small and easily explorable. It has to be understood that temples currently standing in the compound hardly make up 15% of what used to be there. Originally, more than 240 temples comprise the compound, yet only a handful remains today. Throughout many centuries, earthquakes (the last strong one being the May 2006 shake) and several bouts of volcanic eruptions of Mt. Merapi further added damages to the already abandoned and neglected royal religious site since the early 10th century. So, yes, it was relatively short lived as an active place of worship.
Its central main towers are almost total reconstructions via anastylosis, and Indonesia is proud that it was all their efforts (together with the Brits!). Nevertheless, strict measures are still being observed such as prohibiting public access to the temples' interiors. The management body no longer plans to reconstruct all of the temples - the tons of rubble are there to act as a reminder of the site's painful history in confronting the destructive forces of nature. Moreoever, some stones are already missing as locals used them in building their houses nearby, rendring massive rehabilitation a definite impossibility.
It being a Trimurti site, Prambanan is dedicated to the highest three Hindu gods Brahma, Vishnu, and Shiva. The commanding 47-metre high Shiva temple (or Loro Jonggrang), the largest in the area, lies at the center. Here, a local myth is also highly intertwined with Prambanan: Loro Jonggrang is a legendary Javanese princess, and it is believed that she is depicted in a statue inside the Shiva temple; hence, the Shiva temple is often referred to by locals as Loro Jonggrang temple as well. This legend is worth knowing when visiting this temple. The carvings and reliefs in the temples are quite different from those that I have seen in Angkor, though both depict Hindu characters,icons, and stories. I can say that the images and artworks there are more "pure" in the Hindu sense of the word; in contrast, Angkorian art is made in the image of the Khmers.
Prambanan never failed to enchant me. Despite only having a little more than an hour for this site (thanks to the rain!), it left a lasting impression on me: the temple compound is really simple -- and it may not even boast much given the state it is in right now -- but it never fails to assert its right as a 'classic' monument the world will forever be proud of.
On a separate day, I also went to the nearby ruins of the 8th-century Ratu Boko Palace. Actually, it happens to be on the tetative list of Indonesia for a possible inclussion to the WHS list, too! Ratu Boko (I'll be writing a separate note for this site as it deserves one of its own!) is nestled in the Boko Hills, some 3km from Prambanan temple compounds. Given its altitude of 196 metres, the site offers a commanding view of the Prambanan plains and townscape, with Mt. Merapi as the background. In the evening, the beautifully glittering Prambanan temple dominates the skyline, subtly suggesting that it is there to stay and that it will never be forgotten again.
Oh, lastly, one thing that can really surprise a bit is how Indonesians usually ask to take photos of/with foreigners, and I was not an exception even in Borobudur. As a traveler, it's part of the local charm of the place, I would say.
---
Briliana Rohima
have been living at Yogyakarta city for about 8 years, I went to Prambanan Temple for the first time at 2009. It was very easy to go there, used Yogyakarta Trans Bus in the evening to see sunset there. Yogyakarta is hot city, so better to prepare sunblock or go there in the morning/ evening. It was a dance, Ramayana dance which is just showed at every Tuesday, Thursday, and Saturday night, take place on the outdoor stage use Prambanan temple as the background.
The next my visitation time is at outdoor stage of Prambanan, it was night but no Ramayana dance performed. I went there to see the eclipse. Prambanan temple was full of light and I saw it at the distance. It was unforgettable moment in my life.
---
3.50 The Netherlands - 19-Oct-09 -
To beat the heat, clouds, and crowds, I already arrived at the gate of Prambanan before 8 a.m. The souvenir hawkers even hadn't unpacked their stalls. The Prambanan Temple Compounds covers quite a large area. It includes 3 other temples besides the main Prambanan Hindu temple. Entrance costs 11 US dollars (or 110.000 rupiah) for foreigners. I arrived from Yogyakarta by using the convenient and relatively new TransYogya minibus (costing 3,000 rupiah / 0.20 EUR).
Right away you notice the damage that has been done by the earthquake in 2006. The large Brahma temple is completely covered in scaffoldings. Also about half of the main compound is off-limits to visitors. Constantly you hear the noise of chiseling, made by the many labourers on site.
Sadly, this unfortunate circumstance takes away part of the beauty of this site.
At the back of the grounds, about 15 minutes walk from the main temple, lies the Buddhist Cadi Sewu. "She's a beauty", two Australian tourists called out when I met them on my way in. And indeed, this might be the best sight on display at the moment. It has a lot of damage too, but there are enough little ornaments still to enjoy.
---
Bava
I made a visit to Prambanan in the month of Sep 2005. This place was so beautiful with greenary around the temple compound. It was a Wonderful temple with great architecture. The Ramayana Ballot dance was awesome and worth to watch. Would love to revisit this temple if I get a chance.
I also made a visit to Borobudur temple. Both these places smells like heaven on earth. I enjoyed my stay in Yogyakarta(Jogja town). Lots of wonderful memories stay in my mind about this temple. If you get a chance do visit this temple and other places in Yogyakarta..
---
The site area is quite simple, and offer a lovely atmosphere. Especially in the late afternoon. When I was there (Dec 2007), one of the three temples is under renovation for the badly damaged parts after the earthquake.. so I do hope it is a much better site now.
---
Geoff Doiron
I visited Prambanan in 1991 as well as Borobudor as part of my stay in Yogjakarta.
Having traveled or lived through parts of Asia, Africa, Europe, North America, Micronesia and other islands over the past 12 years, to this day have found Prambanan and Yogjakarta to be one of the most mystical places I have visited thus far.
If you have the opportunity to do so, please do not miss this incredible city and its amazing spots. Further if the ballet is playing at the temple (I forget the formal name) do not miss it; this will make your experience unforgettable.
---
Site Info
Site Links
Unesco Website
Official Website
Related
In the News
Visitors
254 Community Members have visited.