Olympic National Park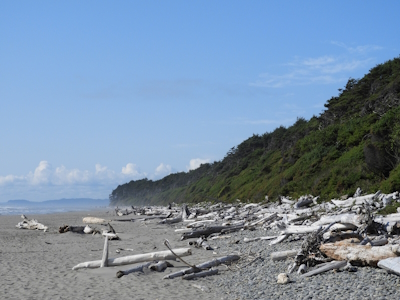 Olympic National Park covers an isolated and wet area with a varied topography from seashore to glacier.
The park can be divided into three basic regions: the Pacific coastline, the Olympic Mountains with glaciated peaks, and the temperate rainforest. It has the lowest-altitude glaciers in the world. Endemic wildlife includes the Olympic Marmot and subspecies of trout.
Community Perspective: anyone who visits here had better like the color green, as you will see heavy fringes of moss hanging from the trees. The park is amazing, even when it rains a lot. The reviews by Kyle, Dennis and Jay give a good overview of the different portions of the park.

Community Reviews
---
Snowy mountains, rainforests, scenic beaches, pretty lakes, waterfalls, ... -- what more could you ask for in a National Park? My family and I had a day and a half to enjoy Olympic in early June. While we were able to visit several highlights, we could have been happy filling at least 3 days.  We visited:
Crescent Lake -- a very pretty lake that's right along the main highway across the north edge of the park, so you really can't miss it. We didn't have time to do any hiking around here, just stopped to enjoy the views.
Ruby beach -- a dramatic ocean front landscape! We planned our visit at low tide so we got to successfully hunt for green & pink sea anemones, sea stars, crabs, and more among the rocks and tide pools.
Hoh Rainforest. Giant old trees dripping with moss. We did the  0.8 mile Hall of Mosses and 1.2 mile Spruce Nature trails. Both were beautiful and very easy hiking. There was more hiking that would have been fun to do here but we opted to visit another part of the park
Sol Duc Waterfalls.  Again, a pretty easy trail, 3.2 miles round trip to see some very pretty waterfalls. There are also hot springs near here but we didn't visit them and I think you may need reservations ahead.
Hurricane Ridge, Hurricane Hill trail. You drive up to roughly 1 mile elevation, where you get great views of the glacier-capped Olympic mountains. The trail is mostly asphalt paved, leading up to fantastic views of both the mountains and the sea (and Vancouver Island, etc., Canada). It's a pretty easy 3.4 mile r/t hike, but was a little more challenging due to the fact that big parts of it were still buried under up to 3 feet of snow (first week of June).  Really great views all around, though, and thoroughly enjoyable.
We visited the first week of June, and feel we got pretty lucky with decent weather, just a little rain.  Hardly any bugs yet. We got around with a rental car. I was just blown away by the variety of landscapes you get to experience in this one park.
---
Olympic National Park has everything I love in a national park: mountains, lakes, great trails, and wildlife. It even borders the coast, with amazing scenery where the Pacific Ocean laps against rocky shorelines and coniferous-covered bluffs. The park is home to one of the best places to see a temperate rainforest in the United States, with moss covering tree trunks and stumps, and ferns lining the forest floor. But the beauty comes with a price; this area receives a lot of rain, and visitors may find their views limited by mist and fog.
Although I'd traveled to Washington State many times growing up, it was not until last July that I finally took the trek out to the Olympic Peninsula to visit Olympic National Park. I should not have waited as long as I did, since the park was amazing, even with rain. I had hoped that a summer visit would herald better weather, but unfortunately only parts of each day during my visit were cloud free.
I visited each of the components of the park -- mountains, rainforest, and coast, and each was special in its own way. The Olympic Mountains are easily seen from Hurricane Ridge. On a clear day, the opposite view across the Strait of Juan de Fuca to Vancouver Island is spectacular. I only got glimpses of the island through breaks in the clouds. Still, the hikes that were open on the ridge were a great way to get new views of the Olympic Mountains, as well as observe native mule deer and mountain goats. At a lower elevation I thoroughly enjoyed relaxing on the shore of Lake Crescent and then hiking through lush green rainforest to Marymere Falls. I also enjoyed awesome rainforest hikes in the Hoh and Quinault Rainforests further south.
The final component of the park is the coastline, which in places abuts the Quileute Reservation, home to a Pacific Coast Native American community that can be visited when hiking along the coast. I love how different the cool, rocky Pacific coast is from other coastlines in the United States. The atmosphere hiking along the driftwood-covered beach on a misty day, listening to the waves roll in through the sea stacks, was unparalleled. There are a lot of incredible places to visit in Olympic National Park, and I'd recommend spending no less than two days minimum to get a good taste of all three components.
Logistics: Private transporation is the easiest and best way to see all the components of Olympic National Park; in general summer is a drier period with better weather.
---
4.00 California - United States of America - 31-May-17 -
Olympic National Park offers a diverse landscape that includes glaciers, rainforest, and tide pools. With a rental car and early starts beginning at 5:45 AM, my wife and I explored all three major portions of the park over two days.
We were blessed with 3 days of sunshine on the Olympic Peninsula during the Memorial Day weekend. Taking the earliest ferry from Seattle (6:10am) we beat all holiday crowds and never had an issue as we began exploring Hurricane Ridge. Deer and elk are common in several areas of the park, the alpine meadows of Hurricane Ridge are one such place, my binoculars were put to good use here.
We stayed in Port Angeles, which allowed us to extensively explore Hurricane Ridge, the Elwha River, and Storm King Ranger Station. Elhwa River is truly a hidden gem and is almost universally ignored by visitors heading to Lake Crescent or to the rain forests. One of the greatest successes in Olympic National Park is the destruction of the massive dam on the Elhwa River. The demolition project was only completed in 2014. The salmon have returned! After 100 years this portion of the park is truly special and stands as an exemplar partnership between the National Park Service and Native American Tribes. Pictured below is a massive bloom of Spring wildflowers adjacent to the Elhwa river.
The Hoh and Quinault Rain Forests were both superb, small and large trails are available. The moss and bird life are bountiful, though I slightly prefer the Quinault Rain Forest. On the rugged Olympic Peninsula Coast, there are sea anemones in tide pools, sea stacks, and pristine coastline forests. This amazing diversity is the highlight of Olympic National Park, in some sense it feels like you are visiting 3 top notch national parks in one.
Read more from Kyle Magnuson here.
---
Pauline
Olympic National Park is one of those places you may never seen enough of .... on one side is Hurricane Ridge (with lovely mountainous views of the Olympic Mountains and of the Strait of Juan de Fuca), Lake Crescent (a pristine, clear lake with relatively little development) and our favorite, Rialto Beach (we saw a cluster of starfish, huge masses of bone-dry trees -- be careful, though, you have to watch the tide reports so you won't be on the water when high tide comes in: those trees start moving around). That's about half a day, if you want to see it all. It takes another three hours to get to the interior, where the Hoh Rainforest is located. It's a bit of everything all in one package!
---
Emilia Bautista King
I've been longing to visit the temperate rainforest in the Pacific Northwest and it was definitely worth the wait! If your time is short like mine was, the heart of the park is the Hoh Rainforest, which is a 19-mile drive from the highway. Here, you will see heavy fringes of moss hanging from the trees, as well as nurselogs that have newer trees growing on top of them. I was also fortunate to see a banana slug. If you are a WHS plaque seeker, the plaque is located outside of the Hoh Rainforest visitor center, right beside the bathrooms. I hope to visit Olympic National Park again, since I missed Hurricane Ridge and Sol Duc Springs. One last thing, I was forewarned to bring my raingear (which I did), only to have a bright, sunny day. I guess it's better to be prepared!
---
We visited Olympic National Park for a weekend once, and it's a beautiful piece of nature. We drove up to a campsite where we pitched up our tent, and after another drive through the forested mountains, we got out of the car and hiked into the forest until we ended up at a group of natural hotsrpings. All the springs were seperated from each other and the water was very warm. If there wasn't a rotting smell coming from it (due to all the natural gasses) it would have been very romantic. We spent the night in the hotsprings, but since I saw a documentary once about the park with its cougars and bears I didn't feel quite comfortable (who wants to be eaten in the dark in a hot spring?). The fact that we saw a bear and heared cougar sounds on our way back were a bit exiting. But the park is beautiful, great for a weekend (or longer!) getaway.
---
Anyone who visits here had better like the color green and I'm not talking about money. It seemed like everything was covered with moss and other green growths, and the forest had a real primeval feel about it. If you're coming from Seattle, be aware that the distance is deceivingly long, and for a day trip you had better start early and plan on getting back late-not that it's not worth the time and effort.
---
My visit to Olympic National Park happened some time ago, but I still remember vividly the enormous tress, high peaks, big glaciers, and breathtaking views. The vegetation especially was great and seemed to be right out of the Amazon jungle. Finally I knew what was meant by "temperate rainforest". A portion of the park is on the Pacific Ocean, and you can spend endless hours wandering along the untouched beach, seeing only birds, driftwood, and the occasional whale (seriously). For anyone visiting the Seattle area, this is a must-see.
---
Site Info
Full Name

Olympic National Park

Unesco ID

Country

Inscribed

Type

Natural

Criteria

7

9

Categories

Link
Site History
1990

Extended

New boundaries, to include the coastal strip
Site Links
Unesco Website
Official Website
Related
In the News
Visitors
248 Community Members have visited.