My Son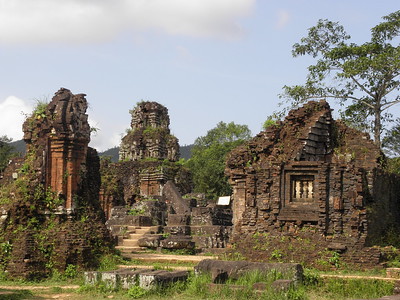 My Son Sanctuary was the religious centre for the capital of the Champa Kingdom.
The Sanctuary comprises a series of impressive tower temples decorated with sandstone bas-reliefs depicting scenes from Hindu mythology. The Champa adopted the Hindu religion in the 4th century, Hindu architecture was introduced from the Indian subcontinent and many temples to Hindu divinities were built.
Community Perspective: The site can easily be visited as a half-day trip from Hoi An. It has a lovely jungle setting and there is a circular footpath to guide you along the temples. The buildings are all ruins (due to their age and bombing in the Vietnam War), but the carving in brick is still impressive.
Community Reviews
---
As Ivan pointed out, "And now the temple part of our holiday starts." And he was, indeed, correct, having organized the whole two-and-a-half-week-long haul around the remainder of Southeastern Asia World Heritage Sites we were yet to visit. So, temples it were and I was quite happy with Ivan's planning, because going to see the My Son after all of the Cambodian sites would be a tad bit disappointing. This way I've enjoyed my first set of temple ruins and it was quite a pleaasant adventure.
The plan du jour was simple: early breakfast, walk around Hoi An in the morning, then car pickup at hotel at ten, to be at My Son by eleven. Hotel itself recommeded two hours for the whole visit and I can confirm it was more than enough for us. The driver left us at large parking spot with many cars and buses, so we mentally prepared ourselves for many tourists around. We bought our tickets and walked inside. Once again, Vietnam really appreciates its World Heritage Sites: this one had a large banner with quotes from Irina Bokova, former Director General of UNESCO, though it basically said that My Son has an OUV and that's why it has been inscribed. Tautology, anyone? Couple more banners and a UNESCO sign later, we crossed the decorative bridge and reached the electric buggy station that took us to the beginning of the visitors' route.
The ruins are organized around a circular footpath about 1,5 km in length. It is well-signposted, so you won't get lost if you tried. The ruins are set in clusters so you always leave the main route to explore around, then go back and so on. The nature around is lovely, though the history of war and bombings, which partially destroyed the 10th century ruins, reminds you of itself the moment you spot couple of bomb craters. Some of the temples of the main complex dub as a museum, though at the time of our visit they served more as an improptu shelter from the rain. There's a gift shop by the end of the circular path along with a restaurant. Overall, I found the visit interesting, given I haven't seen such temples before. There was also a cultural program by local performers, i believe it started around 11 a.m. or 11.15, we missed that. There's also a museum we visited afterwards, which provides context and also information on similiar sites. We were finished by one and then the taxi took us to Da Nang Airport from which we continued on to Siem Reap.
---
Chris W.
I visited My Son Sanctuary in July 2016 as a (half) day trip from Hoi An. I had seen the temples at Angkor Wat but my wife and kids didn't see anything similar yet. For them it was the first time to see "this kind" of structures. I arrived before 10AM; allmost no other visitors. I recommend to first walk around to get a good impression and photos without the crowds.
Some part is good preserved but many is destroyed by the American B52 bombing. It was however still possible to see a lot too. I visited with a guide who could explain everything in detail. This really helped allthough normally I visit alone. It's an hour drive from Hoi An and the landscape is totally different: jungle! It's how all of Vietnam once must have looked like.
At certain times there were performances of local dance. Especially for the kids this was very welcome to see after the many brick piles. We had a great time learning about the Champa Kingdom. See some photos on my travelogue.
Read more from Chris W. here.
---
The site has been (generally) well preserved and you can get a really good sense of the ancient city that used to be here. Although it is easily accessible from Hoi An, it does feel like it's in the middle of the jungle and that adds an air of mystery to it. While most of the artefacts that could be moved, have been - there are still quite a few statues that are part of the building.
I had a guide for my visit and that was worth it. I learned a lot about the Champa people and the way they put this place together. There is some work going on to restore some of the temples. Others that were bombed are probably impossible to salvage.
I enjoyed this site and it was quite different to most of the other WHS's in Vietnam. While not nearly as impressive as Angkor or Ayutthaya, they all fit together into the history of this region.
Read more from Michael Turtle here.
---
3.50 Netherlands - 29-Sep-15 -
Hidden away in the tropical forest near the port city of Danang and the very popular World Heritage town of Hoi An is the Champa civilization's sacred valley of My Son, pronounced like Mee Cern, or beautiful mountain (from Chinese word Mei Shan). I joined the full day package tour from Hoi An which was quite very convenient as it included all transportation, ticket fee, lunch and guide. I arrived in My Son around 10 o'clock. The recently built interpretation center funded by a big Korean company was the first thing I saw, but the guide dictated us to go in a different direction into the forest. After walking for a while I found the complex of tourist facilities, and one of them is the performance hall. The loud traditional music and cheerful sound of Chinese tourists really caught my attention, as I read many comments about sexy Cham dancers before I came here, but again our guide insisted us to keep going into the forest. Within few minutes I started to see the complex of ancient Hindu temple made from brick.
At first the dilapidated state of the complex was quite shocking, and almost nothing left to see. I decided to discover the site by myself after my guide started to explain how cruel of French and American during colonial rule and Vietnam War. I started to impress the amazing quality of brick craving details. The image of Hinduism guardians and angels are truly beautiful and reminded me Angkor in Cambodia. For me My Son is the great evidence of how Southern Indian art expanded to Southeast Asia since ancient Cham people came from Java where Indian art flourished, such as Prambanan, and later expand to modern day Viet Nam and later Cambodia and Thailand. The construction method of My Son is also very unique, Cham people built a whole block of bricks then burned them to make the whole brick block very solid and strong then chiseled into the temple. I walked around the complex many times to enjoy its intricate motifs until the guide informed that there are more complex to see. The next complex was said to be the biggest of My Son, but currently almost nothing there since it was bombed by American after Viet Cong used My Son as their base. Judging from old photographs and sketch from a French archeologist, the destroyed temple was a real gem of Cham architecture that shows strong influence on later Angkorian arts.
I went to see another complex, this one located on the hill and recently partial rebuilt by a group of Italian archaeologists. The rebuilt complex is very lovely and illustrates the original layout very well even though the new brick really contrast with the old ones. Then I further saw another group of temple, this one is very interesting and special as the bomb craters are clearly visible showing that how the main temple had been destroyed, but also at this complex that the full stupa of minor temple has successfully been rebuilt by Italian team and they are planning to rebuild more which is a very good news for My Son preservation. After that the guide took me back to the bus and back to Hoi An, it was exactly 3 hours inside My Son. Despite the bad state of preservation, I really enjoyed my visit to My Son, the place exceed my expectation and even small complex can clearly show its value as a bridge of cultural exchange between India – Java and mainland Southeast Asia especially the great Angkor. Another unique of My Son is that its location is the place where Sinic World and Indian cultural sphere meet which make My Son to be the only Hinduism World Heritage Site in Sinic countries currently.
---
3.50 The Netherlands - 18-Mar-11 -
My Son's strong points are its remarkable history and its jungle setting. I visited it on the back of a moto from Hoi An, an hour's drive away. During the day busloads of tourists are dropped off here, probably overcrowding the site as it is pretty small.
I arrived at 8.45 a.m. when there were maybe 10 other people around. To get to the site, you have to walk on a path through the jungle for the last couple of hundred meters - a real pleasure in itself, finding something so wild in heavily populated Vietnam. I heard many birds, and saw wonderful butterflies and hummingbirds.
The temples are really ruined, only at the first part of the complex (groups B and C) they are standing upright though also heavily damaged. The damage comes from bombing during the Vietnam War (you can still see the craters), but also from age. Most of the interior decorations and sculptures have been taken from here to the Champa museum in Da Nang. Only a couple of them are on show now here, at temples D1 and D2. From these sparse remains, one can only guess what they might have looked like in their heydays.
Because of the damage and I think also because of the use of brick, the temples look pretty crude. Most of the outlying temples are even worse off: they are overgrown or blown up into bits and pieces.
---
Ian
Pretty neat place to visit. We rented a motorbike from Hoi An and make the trip out. It was great to be on a bike and not on a bus. The ruins are impressive although we didn't have enough time to see them all. I would recommend the trip, even just to ride through the more rural parts of the countryside outside Hoi An. Some photos of the ruins here - mackieimages.smugmug.com/photos/604451102_RAzoT-M.jpg. Browse through the gallery to see more.
---
Tine Saint-Ghislain
We visited the Cham ruins in My Son in September 2005. The site is very well maintained and work is still in progress to restaur and improve the ruins. The ruins might not be as big as the ones in Angkor, but they certainly have an equal amount of historical value. I would recommend to everyone to visit the site when they go to Vietnam.
---
Site Info
Full Name

My Son Sanctuary

Unesco ID

Country

Inscribed

Type

Cultural

Criteria

2

3

Categories

Link
Site Links
Unesco Website
In the News
Visitors
214 Community Members have visited.