Itchan Kala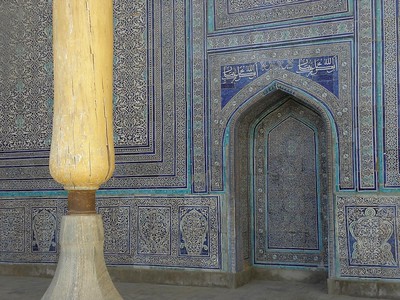 Itchan Kala, the inner town of Khiva, is a preserved example of a Muslem city in Asia at the beginning of the 19th century.
The town is completely surrounded by brick city walls, which have four gates at the cardinal points.
The oasis of Khiva was the last halting place for caravans before the desert in Iran. Since the 4th century it was the center of Khorezm civilization, an Iranian kingdom famous in Antiquity for its hydraulic techniques.
Nowadays, Itchan Kala presents unique examples of moslem architecture in the Djuma mosque and the many medressehs. There is also traditional domestic architecture: enclosed houses with courtyards, reception room and private apartments.
Community Reviews
---
Of all the sites in Uzbekistan I liked Itchan Kala in Xiva (Khiva) best. Samarkand is obviously the biggest and objectively best site in Uzbekistan, but it's fairly spread out. It's also modern Uzbekistan's second largest city with traffic and crowds. It didn't evoke much of an old town feeling in me and I would not have wanted to stay for longer.
Bukhara meanwhile has an old town flair and features the nicest Islamic buildings in Uzbekistan. But ... It's overpriced and overcrowded by (mostly French) tour groups.
Xiva/Khiva was noticeably calmer than the other two. I assume this is due to Xiva/Khiva being a way smaller than the other two cities. And several tourists not making the effort of getting there as it's really far off. While Bukhara has a bullet train connection, getting to Khiva requires either a flight or a 15h train ride.
Within the walls Xiva/Khiva has a compact and mostly consistent old town, free of cars and traffic. Els' description of an empty museum city does not really cover it. Streets are filled with street vendors and loads of tourists (but way less than in Bukhara). But she is spot on to this day about the tour groups' nationality: French.
To visit, you have to buy a ticket that covers all but two sites in the city wall. There are several great ones, the highlight to me being the wooden columns and roof of the Juma Mosque. And everywhere there are these sprinkles of blue. And great ornamental tiles.
In general, it was nice just strolling around town and exploring. I could have stayed longer drinking beers on roof top terraces overlooking town. It really felt like 1001 nights and still has me dreaming of desert castles in faraway countries.
Getting There
The main entry point to Uzbekistan is Tashkent. Xiva (Khiva) is 1000km by road. By overnight train it takes 15h.
Best option is to fly one way and go/return the other way by car via Bukhara and Samarkand. Closest airport is in modern Urgench.
To Bukhara, you can take a lengthy train ride. Or just hire a driver which has the added benefit of allowing for stops at the fabulous desert castles. I hired my driver via Islambek Travel (no hassle, good rates) in Khiva. In the end I got lazy and was too happy with their services, so they arranged all trips from Khiva to Samarkand for me.
While You Are There
In Xiva/Khiva you should get the green noodles. They were delicious. I had them on a roof top bar near Kuhna Ark with a great view of the city.
Around Xiva/Khiva are two Silk Routes sites. These are not part of the upcoming nomination. I only made it to the mausoleum which was nice.
If you are flying in from Tashkent, you may as well consider going further west to either Nukus or Muynaq for the Aral Sea and the Cold Deserts. The art museum in Nukus is worth a stop. Along the road from Nukus to Xiva/Khiva are the desert castles which are a must stop.
Crossing into nearby Turkmenistan where ancient Urgench is situated as well as a WHS is at the time of writing not possible. Visits require joining a tour group.
---
I visited this WHS in June 2017 and spent 4 days here (1 of them I spent to visit the tentative site Desert Castles of Khorezm).
Again, this is a top WHS even though it is more of a museum-city nowadays. 3000 people are still believed to be living inside the Itchan Kala itself and in fact they have special permits 'to drive home' and park their vehicles inside the city walls! All the sites of the Itchan Kala (inner fortified city) can be visited by buying a cumulative ticket + camera fee from the gate closest to the Unfinished Minaret. It will give you access to 16 different sites but I agree that a local guide for 1 day would be essential to give you more information and context to what you will be visiting - otherwise, it will seem like a nonsensical list of sites most of which now house different kinds of museums. The most interesting was indeed the Khorezm Museum and the Local Photography Museum to see photos of the several buildings and desert castles of Khorezm before the earthquakes and videos of how life was like up to less than 100 years ago!
The only other sites where you'll have to pay again are to climb the 32 metre high Djuma Minaret, the 45 metre high Islam Khadja Minaret, the Kunya Ark viewing platform (photo) and the Pahlavan Mahmoud Complex interior with the Khiva Khans necropolis (worth viewing!).
The best interiors with incredible architecture, art, painted wooden ceilings and decorative blue and white tiles can be seen at the Kunya Ark as well as the Tash Hauli's Harem. The Djuma Mosque's 212 different wooden pillars are a sight to behold and if you have to choose only one minaret to climb, go for this one as it's less claustrophobic and the view of the Islam Khaja Minaret, city walls and Unfinished Minaret are a sight to behold.
In the morning (earlier than 08:30 when the first groups arrive after breakfast), the best thing is to walk on the city walls to see the whole Itchan Kala beneath you and get your bearings if you want to explore more of the inner city and venture past the obvious east-west gate axis.
The most iconic site is most probably the Kalta Minor or Unfinished Minaret with its magnificent turquoise tiles. Based on its proportions, its height would have exceeded 80 metres and be significantly higher than the tallest minaret (62 metres high) in Central Asia in Kunya Urgench, Turkmenistan. The madrasah behind it has been converted into a hotel and restaurant. There is a UNESCO engraved plaque on the western gate just next to it.
All in all, Khiva was one of my favourite WHS in Uzbekistan and definitely a top WHS on the list.
---
3.50 The Netherlands - 18-May-10 -
At first sight, the Itchan Khala of Khiva is a deception: an almost empty open-air museum, except for numerous French tour groups with loud guides. Where have I landed? Is this the once so remote oasis town? The monumental walls, gates, and other historic buildings in town look over-restored as well.
Fortunately, I stayed here for two nights, and it certainly grew on me. My hotel (the Arkonchi) is located within the walled section, making it easy to wander around during all hours of the day. Although only early May, the temperatures easily reached 35 degrees Celsius during the day. So the best exploring was in the early mornings and evenings. The rest of the day I spent hanging around in one of Uzbekistan's best features: the chaikhanas (tea houses).
Almost every building in town is some sort of museum or shop (or combination of these two). I just entered them all - sometimes I was disappointed because of the overly commercial atmosphere, but I was pleasantly surprised too a number of times. Highlights certainly not to be missed are the Pahlavan Mahmud Mausoleum (tiled all over and very serene), the Djuma mosque with its 112 wooden columns and the Tosh Kovli Palace.
---
The WHS of "Khiva" is more properly titled the "Itchan Kala" (or Ichon Qala or Ichan-kala) which refers specifically to the old walled town of the Khiva Oasis. The town is very heavily restored and operates virtually as an open air museum in its own right. Indeed the main gate holds a ticket office where entrance fees and camera charges are paid. Locals do live inside and it is possible to "enter" from other gates – but you will not get into the museums without a ticket.
Many of the buildings inside the walls are museums and, when one has added the tourist shops, the carpet factories and the hotels (The Hotel Khiva is an old meddressa and worth a visit even if you are not staying), there is not a great deal else. There is an obligatory "genuine" Bactrian camel for being photographed with and there are sellers of furry Uzbek hats for being photographed with! Yet Khiva in my opinion transcends all this and is "worth the journey" for the chance to experience, an albeit restored, Central Asian walled city. We particularly liked wandering around in the quiet of the evening and sunset is very fine when taken from a high place such as the Islom Huja minaret.
Your ticket entitles you to a bewildering array of entrances but not amazingly to 1 major highlight, the viewing platform in/above the Ark, which should NOT be missed (at relatively small extra cost)as it gives the best view over the whole town. A guide is well worth having (and I don't often say that!). Many of the museums are tired left-overs from Soviet days and can be given merely a very quick "once over", but even these can hold surprises. In one history museum we found a room praising "Khorezm", a mighty state in the 10th -14th centuries, and now split between Uzbekistan and Turkmenistan by Stalin's arbitrary borders and just a province in Uzbekistan. Talking to the guide we began to get a feeling for his loyalty to the concept of "Khorezm" and through that for the tribalism and nationalisms within Uzbekistan and Central Asia (A bit further north the province of "Karakalpakstan" is autonomous within Uzbekistan –albeit totally environmentally ruined by the Aral Sea disaster)
---
Site Info
Full Name

Itchan Kala

Unesco ID

Country

Inscribed

Type

Cultural

Criteria

3

4

5

Categories

Link
Site Links
Unesco Website
Official Website
Related
Visitors
134 Community Members have visited.