Gusuku of Ryukyu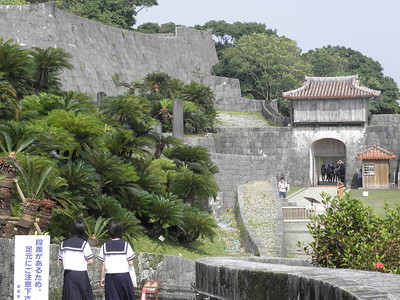 The Gusuku Sites and Related Properties of the Kingdom of Ryukyu are a group of 9 stone monuments and archeological sites on the island of Okinawa. They are the remains of the ancient Ryukyu kingdom, which flourished between 1429 and 1609.
The "Gusuku" were walled compounds, which over the 12th to 16th centuries evolved into forts and castles of local chieftains. They were both political and religious centres. Some are still used for traditional religious rituals such as nature worship.
The unique Ryukyu culture was heavily influenced by the economic and cultural interchange with Japan, China, Korea and Southeast Asia.
The included locations are:
• Tamaudun (royal mausoleum)
• Sonohyan-utaki Ishimon (stone gate)
• Shuri-jô (castle)
• Nakijin-jô (castle)
• Zakimi-jô (castle)
• Katsuren-jô (castle)
• Nakagusuku-jô (castle)
• Shikinaen (garden villa)
• Sêfa-utaki (sanctuary)
Map of Gusuku of Ryukyu
Legend
Visit May 2012
Okinawa sees 3.8 million visitors yearly, but not many of them are foreign tourists. In our ranking of visited WHS this one is at the lower end, sharing its 8 visits with rather remote locations such as Manu National Park in Peru and Konya-Urgench in Turkmenistan.
If you've made it all the way to Okinawa, the inscribed sites are quite easy to visit. Four of them are located in the capital Naha. That's were I started too. The main location is Shuri, the former inland capital which has now been merged with the port city of Naha. Shuri holds 3 out of the 9 WHS locations. Shuri Castle is the main attraction of whole Okinawa, and I encountered lots of school groups there. Here a Gusuku has been fully restored / rebuilt, which gives you an idea how it functioned.
The Sonohyan-utaki stone gate is located in the same complex, and is a strangely mysterious religious site. I was quite captivated by the thought of praying to a stone gate instead of the sacred grove that formerly lay behind it.
Finally, the royal mausoleum Tama-u-dun is a 5 minute walk away. The doors to the burial chambers are for ever closed too. What remains is an austere monument, with three sculptured lions located at pedestals guarding over it.
In a different part of Naha lies Shikinaen, a garden villa and Chinese landscape garden. It's a very serene place (the crowds will not get here), and worth a half an hour stroll. I can also recommend to walk into the street next to the garden, where the traditional ceremonial gate and common gate that lead into the gardens can be seen. These are typical of Ryukyan architecture, with stone carved as if it was wood.
The Gusuku are spread all over the island, and the last one I visited is located in the north: Nakijin Castle. Only ruins of the castle are left, long lines of stone walls hinting at the lay-out of this former local religious and political centre. This is a very atmospheric site, located on a hilltop and with views all over the surrounding forests. There are a lot of flowers, and it just smells very nice! Large colorful butterflies are attracted by that too.
Click
here
to see more of my photos of Gusuku of Ryukyu
Community Reviews
---
---
---
---
---
---
---
Community Rating
Community Rating 3.14. Based on 7 votes.
Site Info
Full name: Gusuku Sites and Related Properties of the Kingdom of Ryukyu
Unesco ID: 972
Inscribed: 2000
Type: Cultural
Criteria: 2 3 6
Site Links
Unesco Website
Official Website
Related
In the News
Locations
The site has 9 locations.
Connections
The site has 25 connections. Show all
Visitors
42 community members have visited Gusuku of Ryukyu. Show all