Brú na Bóinne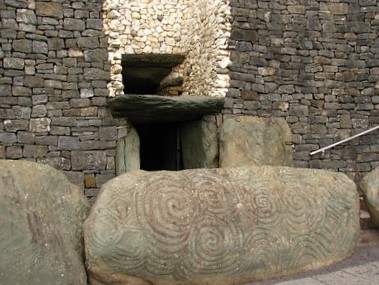 Brú na Bóinne - Archaeological Ensemble of the Bend of the Boyne consists of 3 large and 37 small burial mounds or passage tombs from the Neolithicum.
The complex dates from 3300 - 2900 BCE. It has been made a WHS because of its artistic value and its size (the biggest remains from the Neolithic era in Europe).
The three most well-known sites within this complex (called Brú na Bóinne in Irish) are the impressive passage graves of Newgrange, Knowth and Dowth.
Map of Brú na Bóinne
Legend
Visit May 2007
On a cloudy Saturday I took a bustour from the Dublin bus station to the Boyne Valley. The first half of the tour was dedicated to early Christian Ireland. First we admired the 10th century crosses at Monasterboice. After that we visited Ireland's first Cistercian Abbey (Old Mellifont). A very articulate female guide made this part of Irish history come alive.
In the early afternoon we finally arrived at the main destination of the day: Newgrange, part of the Archeological Complex at the Bend of the Boyne.
Sightseeing there started at the Visitor Center, where a simple exhibition is shown about the daily life of the people who build the structures. The explanations are very specific about the site predating Egypt's Piramids and Stonehenge (that last one must give the Irish some extra pleasure). When I checked the dates of some other prehistoric WHS (of which there are many), the funerary monuments of the Boyne Valley are from about the same age as the first Megalithic Temples of Malta and the Heart of Neolithic Orkney.
Access to the tombs is only allowed with a guide. A small bus takes you there, the mounds are situated amidst agricultural lands. Only little is known, much speculation surrounds this site. The stones that were used come from different areas, some from quite a distance. The way they are presented now is the result of the restorations of Professor O'Kelly in the 1960's and 1970's, a reconstruction that has been criticized.
We were split into two groups to get a look inside. It still is a very crowded experience with 25 people. After entering along a low passage, there is a room in the shape of a crucifix. Some of the walls are adorned with prehistoric drawings (and 19th century graffitti). The guide explains the phenomenon of the sun light reaching the altar directly on the winter solstice. Like at Stonehenge, there are many astronomical stories connected with this site.
A tour like this only gives you a glimpse into this era and the way humans lived and thought at that time. I think it's recommended to also visit the nearby site at Knowth (reached from the same Visitor Center) for a more in-depth experience.
Community Reviews
---
---
---
---
---
---
---
---
---
---
Community Rating
Community Rating 3.55. Based on 19 votes.
Site Info
Full name: Brú na Bóinne - Archaeological Ensemble of the Bend of the Boyne
Unesco ID: 659
Inscribed: 1993
Type: Cultural
Criteria: 1 3 4
Site History
2013 - Name change

"Brú na Bóinne" - added

1993 - Inscribed
Site Links
Unesco Website
Official Website
Related
In the News
Connections
The site has 25 connections. Show all
Visitors
167 community members have visited Brú na Bóinne. Show all