Bardejov Town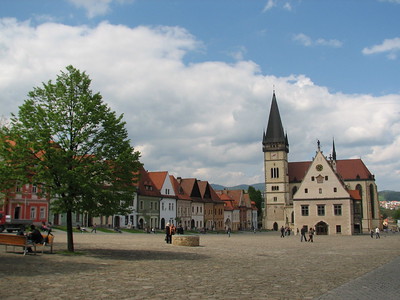 Bardejov Town Conservation Reserve is an intact example of a medieval town that was located on a major Central European trade route. The town was first mentioned in writing in the 13th century. It played an important role in the trading network from Baltic Sea to Black Sea.
The designated area is located inside the fortified city walls, which have been preserved for a substantial part. Landmark sights are the Gothic St. Egidius Church, the Town Hall and the dozens of burghers' houses that adorn the central square on three sides. The lay-out of the town centre is still original.
The small Jewish quarter with its Great Synagogue was later added to the nominated area on the advice of ICOMOS.
Map of Bardejov Town
Legend
Visit May 2008
The first view of the central square of Bardejov is really stunning. It's perfect in many ways: consistency, size, colouring, state of repair. And oh, let's not forget that pretty ensemble of the St. Egidius Cathedral and Town Hall. The whole also looks a bit out of place here in Slovakia: it could be located in Poland, (East) Germany or some Hanseatic city. It even reminded me of my home town Gouda in the Netherlands (which also has a prominent, stand alone 15th century Town Hall on its City Square).
I roamed around for a while taking in the scenery and visited the St. Egidius. The lady in charge of selling tickets (and souvenirs) did so with an attitude as if we would gain entry to the Vaticans' St. Peter's Basilica itself. This interior is less imposing though. It looks smallish and chaotic, probably because it's filled with ancient altars with panel paintings. These altars are deemed very precious but probably not to everybody's taste.
As mentioned in the review by Christer Sundberg below, restorations have been carried out very well here. It's by far the best restored site I've seen so far in Slovakia, on par with the better ones in Poland and the Baltic states. The inscribed area is rather small: the old town within the city walls plus the Jewish suburb. Bardejov is a good base though for other sights in the vicinity like Bardejov Spa and the numerous wooden churches that are scattered in the border area with Poland (a possible new / extended WHS later this year).
Community Reviews
---
---
---
---
---
---
Community Rating
Community Rating 2.70. Based on 10 votes.
Your Rating
Site Info
Full name: Bardejov Town Conservation Reserve
Unesco ID: 973
Inscribed: 2000
Type: Cultural
Criteria: 3 4
Site Links
Unesco Website
Official Website
Related
Connections
The site has 13 connections. Show all
Visitors
100 community members have visited Bardejov Town. Show all