Burgundy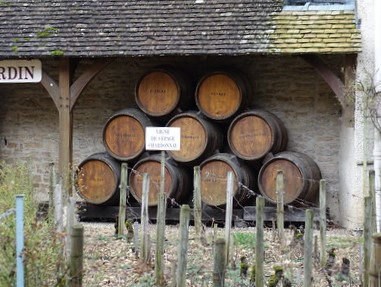 The Climats, terroirs of Burgundy comprise 1,247 vineyard parcels and the commercial towns of Beaune and Dijon.
The vineyards are distinct from one another due to their specific natural conditions such as soil and microclimate. They cover the Côte de Nuits and Côte de Beaune south of Dijon.
Community Reviews
---
February 2022 - we arrived at the Bourgogne early in the morning. Since February is not the most suitable time to visit vinyards we limited the visit to taking fotos of a chateaux and the adjacent vignoble.
In Beaune we visited the local market which offered a tremendous selection of cheeses, fuetes, vines, juices and even homebrewed beers.
Unfortunately you can only visit the colorful rooftops of the old Hotel Dieu in combination with the museum. We didn't have the time for that, so just a short visit to the Bourgogne. Probably will come back sometime for grape harvest and to see Dijon as well.
---
3.00 Netherlands - 08-Nov-22 -
With great amazement, despite many trips to Cote d'Or with my family, I sadly found out that our favorite vineyards are outside UNESCO designated zone, and apart from having lunch or dinner in Dijon and Beaune, I have no memory that I have seen those UNESCO listed components. As a result, I had little choice to not revisit Burgundy, and to make it more miserable I went with my friends who are non-wine drinkers! We used Beaune as our base, after checked in our hotel and had great time on mustard sampling and shopping at La Moutarderie Fallot, we shockingly found long queue at entrance of the famous Hotel de Dieu with American tour groups. The former hospital with its beautiful roof, unique display of old system of medical care and lovely decorating arts really made Hotel de Dieu to be one of the most interesting components of this World Heritage Site. Like other reviewers this place deserved to be listed on its own merit or specific mentioned on the official name when listing.
It was unreasonable and unthinkable for my non-wine drinker friends to join wine sampling tour in various chateaus, so instead of finding best wine of Cote d'Or, the trip turned out to be fine a best spot to see beautiful vineyard landscape. We drove across those "Climats" around Beaune passing many well-known chateaus that wanted me to stop by for few bottles. We noticed that the local authorities seem to use stone arched gates to vineries as symbol of these Climats as theirs appeared in many signboards and promotional advertisements. From all beautiful viewpoints around Beaune, we really enjoyed the view from Oratoire de Notre Dame de Bonne Espérance, on the hill just outside the village of Pernand-Vergelesses and from the unknown hill just outside the village of Pommard. These two points provide a view of endless autumnal vineyard in the valley of Burgundy which at least in my opinion good enough to compensate this very dry vineyard trip.
Well, for wine tasting, Burgundian "Terroir" is unquestionable unique for its taste and quality, but for World Heritage Site, I am not sure that I really can understand its Outstanding Universal Value. One thing I leant from this trip is the richness of Dukedom of Bourgogne and its cultural influence in gastronomy to France which later influenced the whole Europe and Western World, but I don't think this is the reason for inscription.
---
After having already visited the Besancon and Dijon areas of this WHS in July 2013 and May 2015, in June 2020 I decided to visit the area around Beaune. Of the three areas, the latter is definitely a highlight and should not be missed.
Even if you're not a vineyard enthusiast, a visit to Beaune's iconic Hotel-Dieu alone is worth the trip. For those of you who decide to travel by car, the easiest indoor parking option is Parking St Etienne. After the Covid-19 lockdown measure, in June 2020 the Hospices de Beaune's Hotel-Dieu (photo) re-opened to the public for free (till the end of the month) which meant 9 euros each saved.
Perfectly preserved since the end of the Middle Ages, it was built in 1443 by nicholas Rolin, Chancellor of the Duke of Burgundy Philippe le Bon. At the end of the Hundred Years' War, Beaune suffered from misery and famine. Three quarters of the town's inhabitants were destitute. To redeem their salvation, the Chancellor and Guigone de Salins, his wife, decided to create a hospital for the poor. They endowed it with an annual income (from the Salins saltworks!) and with their own resources (vines among others), and called on many artists to decorate it. This hospital is considered a jewel of Burgundian medieval architecture with its glazed tile roofs which have become a characteristic of Burgundy. Without interruption from the 15th to the 20th century, the Sisters of Beaune's Hotel-Dieu welcome and cared for several generations of sick people. From 1971 onwards, its medical functions were transferred to a modern hospital, with the exception of an old people's home (separate private rear entrance from the museum). Hotel-Dieu is truly a Palace of the Poor and still houses some unique works of art such as the Polytych of the Last Judgement and the beautiful thousand flowers and the St Francis of Assisi tapestries.
Had the nomination dossier focused more on the role of this hospital also adding the surrounding cultural landscape, it would be more deserving of a place on the WH list. Instead we have yet another vineyard WHS which in my opinion is not on par with the others in France itself or in Italy for example. While visiting the nearby vineyards, make sure to opt for the Route des Grand Crus on the D18 road.
Even though there are very pretty villages such as Savigny-les-Beaune, Aloxe-Corton (home to another glazed tile highlight Chateau Corton), Nuits-St-Georges, Vougeot (home to the Clos de Vougeot castle and the Clos Blanc de Vougeot tower and Grand Cru vineyards). There are UNESCO signs in every other village and along the scenic roads, but two identical marble UNESCO inscription plaques can be found outside the Hotel-Dieu and the Clos de Vougeot. Even though Burgundy is home to some of the most expensive wines, we couldn't leave the Hotel-Dieu without a bottle of red wine from the Hotel-Dieu gift shop (much more than the 18 euros saved from the entrance tickets!).
About 200 million years ago, incredibly the region was part of a vast, tropical sea. Time transformed the seabed into limestone soils which are the "secret" behind the zesty minerality that is the hallmark of Burgundy wines. If you venture into the vineyards, you can find chunks of limestone or marl (limestone mixed with clay), that contain fossilized sea creatures. The inscribed area includes the wine-growing areas of Dijon, and the Cote de Nuits and the Cote de Beaune known together as the Cote d'Or. Each of these wine-growing areas contains several climats which produce Burgundy wines with different denominations (or appellations in French). "Climat" is the specific term used in Burgundy for a wine-growing plot or parcel of vines with their own name, history, taste and place in the hierarchy of wines. There are more than 1000 climats stretching out from Dijon to Santenay, south of Beaune. Winemakers will tell you that Burgundy wines are unique because of the Burgundy "terroir" which is the symbiosis of grapes, soil, climate, vineyard placement, and human touch all rolled into one word!
The Balades en Bourgogne app is quite useful for a guided walk or bike ride along the hiking trails of Burgundy's inscribed "Climats". This time we focused mainly on the area between Clos de Vougeot and the Corton Hill were it is relatively easy to take in beautiful vineyard views, and explore specific elements such as some grand cru/premier cru cellars. Some of the more famous climats have monumental entrance gates and are separated by meurgers (stone walls). The hiking trails and the Hotel-Dieu are the best assets of this WHS.
---
"Again a vineyard, again a serial nomination." Ever since hiking through the Piedmont and then later the same year the Prosecco hills have I a certain skepticism when it comes to any site featuring vineyards. Luckily, my skepticism in the case of Burgundy was not warranted as Burgundy to me is primarily a late medieval landscape that happens to have some surrounding vineyards.
The two main locations of the site are Dijon and Beaune. I managed to see both in half a day. Dijon is the regional capital and boasts quite a large old town. For me the Ducal Palace and the Place de La Liberation were the highlights of the town.
To see the vineyards I traveled to Beaune. Beaune is way smaller than Dijon and within 15min you are on the edge of town where the vineyards begin. For those interested there are multiple hiking trails. To get started walk to Park de la Bouzaize (Northwest of the old town). For me this was not an option due to time reasons. And I have seen plenty of vineyards as it stands.
Beaune features the Hôtel-Dieu or Hospices de Beaune. The Hôtel-Dieu is probably the single most iconic component of the inscription with its polychrome roof. It was also featured prominently in my French book in 8th grade.
Based on a donation by the then chancellor of Burgundy, Nicolas Rolin, the Hospices have operated since the 15th century. The initial funding came from another WHS: Salins. Over the centuries several donations were made to the Hospices with the effect that the Hospices now own some of the best vineyards of Burgundy. In modern times, the original building was turned into a museum and the hospital was moved.
Getting There And Away
Dijon is well connected to all parts of France by TGV: Lyon (South), Paris (Northwest) or Besancon (East) are all a short train ride away. You can also connect by direct train to Lausanne in Switzerland (that's how I arrived). For all TGV rides you plan to take, book well in advance as they sell out and prices go up quite significantly as the departure date nears.
Beaune is a 30min train ride from Dijon on the regional train line to Lyon. I combined Beaune, Dijon and Arc-et-Senans into a single day and felt this was okay. If I had to choose I would recommend visiting Beaune and skipping Dijon.
While You Are There
Apart from drinking Burgundian wine, Kir is the local drink of choice. It's a mix of Cassis and Wine/Cremant. Dijon is also world-renown for the mustard. Personally, I think Moutarde de Meaux is superior. But that may be home town bias.
From Dijon there are several nearby WHS that can be explorer as day trip. Check out our Burgundy Hotspot connection.
---
This was a difficult site to truly appreciate. I think it's quite difficult to really grasp the subtleties and nuances behind the Appellation of Controlled Origin moniker without tasting lots of different wines from the various winemakers, experiencing how the small variations in soil, climate and so on can strongly alter the final product. So we opted to enjoy the area the same way most people do - marvelling at the landscapes in the full bloom of spring, and enjoying a glass or two of vin along the way.
Read more from Joel Baldwin here.
---
3.00 The Netherlands - 04-Mar-17 -
The Climats, terroirs of Burgundy is a fairly recent addition to the evergrowing list of wine-related WHS. The site covers a large area in the east of France, with officially two components: (1) the over 1,200 viticultural parcels called 'Climats' with villages and the town of Beaune and (2) the historic centre of Dijon. The site so far has only attracted one review on this website. And no one has written about the Beaune component yet. So that's where my focus was on my weekend trip to Burgundy. An early warning: I am not going to write about wine!
Beaune once was the seat of the Duchy of Burgundy, a medieval state (or more precisely: a personal union of many lands) that originated in the current French region of Bourgogne. The power of the Burgundian dukes stretched into what is now Holland and Belgium – the Burgundian Netherlands is still part of history lessons in the Netherlands. The Burgundian dukes managed to impose a central rule on the various provinces and city-states of the Lowlands.
During exactly this period, the 15th century, the city's one true highlight was constructed: the Hospices de Beaune. This hospital for the poor was founded in 1442 by the Chancellor of the Duchy of Burgundy, Nicolas Rolin. He wanted to spend part of his money on social work, but the building also displays his wealth and is somewhat of a shrine for himself and his wife. The Hospices are a masterpiece of art and architecture with an interesting bit of social history entwined. It wouldn't be out of place on the WH List entirely in its own right.
The poor patients were treated and cared for in a large hall. It looked more like a church than a conventional hospital – there were painted wooden beams in the ceiling to admire, and a chapel at the far end (far enough so that the patients wouldn't be too much disturbed by yet another funeral). A special religious order of nuns looked after the patients, and the hospital had its own gardens and vineyards to provide food and income.
Parts of this hospital have functioned into the 1980s, now it's a museum. Entrance costs 7.5 EUR, and audio guides are available in several languages including Dutch. At the end of the tour circuit, a dark room awaits where silence is requested. This is the 'sanctuary' where the Last Judgement altarpiece made by Rogier van der Weyden is shown, a prime example of Early Netherlandish painting (one of my most favourite periods/styles). It originally was the altarpiece for the chapel inside the Hall of the Poor, and it was commissioned by Nicolas Rolin himself. It's in excellent condition, and I think it's a good thing that it still is preserved almost in situ and not in a museum.
Beaune nowadays is a friendly town of 22,000 inhabitants. Despite visiting very much out-of-season (early March), I wasn't the only tourist around. The town has a nice medieval atmosphere, it reminded me a bit of Provins. The 313 MB nomination file lists many wine-related buildings in Beaune, such as schools and caves. But I skipped all of those in favour of art and architecture!
Read more from Els Slots here.
---
I visited this newly inscribed WHS on two occasions once in July 2013 and once in May 2015. On both occasions I admit to have only enjoyed the splendid vineyard landscapes and tiny villages which I think are the highlight of yet another vineyard landscape inscription. I also stopped by Dijon and enjoyed its cathedral before heading to Besancon when visiting the Vauban WHS series of sites. I will most definitely try to visit Beaune in the very near future to better understand the OUV of the Climats and to do some wine tasting.
---
Site Info
Full Name

The Climats, terroirs of Burgundy

Unesco ID

Country

Inscribed

Type

Cultural

Criteria

3

5

Categories

Link
Site History
2016

Name change

To 'The Climats, terroirs of Burgundy' (adding the 'The')
2015

Advisory Body overruled

Referral was advised by ICOMOS
2013

Incomplete - not examined

As Vignoble des côtes de Nuits et de Beaune
1996

Revision

As TWHS Vignoble des côtes de Nuits et de Beaune: includes former TWHS Hotel-Dieu de Beaune (1981)
Site Links
Unesco Website
Official Website
Visitors
238 Community Members have visited.