Talayotic Menorca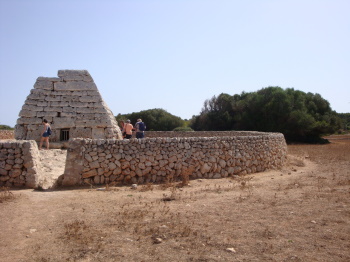 Prehistoric Sites of Talayotic Menorca covers nine clusters of archaeological sites showing prehistoric dry stone building techniques.
The tombs, houses and ceremonial structures were made of large stone blocks without mortar. They date from the Bronze Age to the late Iron Age and are a product of a relatively isolated island culture. This building tradition ended when the Romans occupied the island.
Community Perspective: the locations are quite spread out across the island, so are best explored by rental car or e-bike. Randi and Svein rated 18 of the structures, declaring Talati de Dalt and Torralba d'en Salort (both have a bit of everything), Torre d'en Galmes (the largest complex and the best-preserved settlement), Naveta des Tudons and the Cala Morell necropolis the best.
Community Reviews
---
3.00 The Netherlands - 20-Nov-21 -
Talayotic Minorca is Spain's submission for 2022. The revised documents are now available from the excellent nomination website. They've even added an Epic Subtitle: "Talayotic Menorca - A cyclopean island odyssey". The 25 locations have been decreased to 9, but that's just a cosmetic adjustment as the former locations are now bundled into clusters. Only the Torre del Ram near Ciutadella has not survived the cut. As far as I can see all suggestions made by ICOMOS during the Deferral of 2017 have been incorporated. All but one that is: the Necropolis at Son Real on the neighboring island of Mallorca has not been included. The Minorcans seem to want a WHS all for themselves! The process has cost 1 million EUR already.
None of the sites lie particularly convenient to be explored by public transport. The best ones for that would be Trepuco (cluster 8), about 3km from the nearest bus stop in Mahon, and Torralba d'en Salort (cluster 6) which lies about 4km from Alaior. One could also take a taxi to one of the sites and then walk back. Menorcaarqueologica does offer guided hiking along some of the sites with an archeologist. In the end, I choose to rent an e-bike for the day from bikemenorca. The distances between the sites in the southeast of Minorca are perfectly suitable for cycling.
My visit didn't get off to a good start: I sped past the turnoff to Talati D'Alt (not signposted from the ME12). And Torralba d'en Salort I found closed and fenced off. I then just continued to Alaior, where I had my lunch break planned as it is the only larger town in the area.
Fortunately, the next Talayotic site on my list, Torre d'en Galmes, was open. There were even 2 cars of other visitors at the parking lot. In the winter season, the entrance isn't manned, so I didn't have to pay for a ticket. The site is easy to visit under your own steam, with information panels to explain what you're looking at. The remains of the settlement spread out downwards from a hilltop, where numerous circular dwellings can be seen (to me they looked similar to the ones at Su Nuraxi di Barumini). The enclosed dwellings had an efficient water catchment system, where rainwater was saved in cisterns.
There were different "rooms" within the enclosures, including a kitchen and spaces for the sheep and goats. Some were hypostyle rooms: carefully balanced slabs of stone, supported by columns that are narrower at the base than at the top. The structures here at Torre d'en Galmes, as at most Talayotic sites, span a long period. Some were inhabited up and until the Moorish era.
I cycled some 45 kilometers in total. It was quite windy and less flat than I had hoped. On the way back to Mahon, where I was staying overnight, I visited two more sites. So Na Caçana stands out as it is thought to have been a ceremonial center. The difference between it and a settlement isn't visible however to the untrained eye. Its most impressive feature is the tall, quadrangular Talayot (watchtower) dating back to the 8th century BC. Trepuco lies on the outskirts of the Minorcan capital Mahon. It has a good example of a T-shaped Taula (a stone structure used in ceremonies). It's a miracle that the horizontal slab stays in place.
---
We spent two short days in Minorca in October 2021 to check out the upcoming nomination to the list for next year. Presently there are 25 locations enlisted, but the selection of sites is likely to be and should be reduced.
The first 4-6 visits were nice, they added something different, but then it was too much of the same. Some of the sites are neglected and need to be maintained. It seems that the best sites were those with an admission. So which one will survive? Here is our bet after visiting 18 sites.
The best sites overall:
Talati de Dalt: 4€ admission, well organized. Has a bit of everything. Special to the site is a taula which is a little bit different from the others and there are covered enclosures
Torralba d'en Salort: 4€ admission, well organized. Has a bit of everything with a great taula and a hypostyle chamber.
Torre d'en Galmes: 3€ admission , Mondays free, well organized. The largest complex and the best-preserved settlement. It is particularly noted for its cercles or post-taylotic houses.
Naveta sites. We visited two.
Naveta des Tudons: €2 admission, a well preserved naveta, considered as the most iconic landmark.
We also visited Rafael Ruby which has two burial navetas. Not very organized right now, but it seems to be stepping up with several new information panels and maybe a ticket booth. It was closed, but we sneaked in. Here you are can access the chamber, which is not the case at first one.
I guess at least one naveta site will be on the final list.
Necropolis. We went to two sites
Cala Morell. Free, organized with information panels. There are 15 caves that are accessible. We liked this one best of the two
Calescove. Free, unorganized. 1 km walk down to bay. Most caves are sealed off with steel doors. Nice setting in the bay and a lot of caves (about 90) to be seen in the cliffs.
I guess at least one of them will make the list, we opt for Cala Morell
Candidates to be left out of the final selection. No admission and most of them neglected. They are all signposted and easy to find, and there are information panels on site.
Trepuco: Nice small site with a large talayot and a taula. We liked this one, but 👎🏻
Cornia nou: Difficult to park. Close to airport. Small place with two talyots, one impressive and one you can walk through. 👎
Torello: Difficult to park. Close to airport. Only one large talayot👎
Binissafullet: Small site. It has a nice small taula, but that's it. 👎 we stayed just across the road from this. The agritourismo was really nice though.
Sa na Cacana: close to Torralba. The only one to have several taulas, the talayot is unorthodox, so it's believed to be a shrine. It might be a candidate, because it is different, but it was neglected and for us it didn't stand out.
Torrellafuda: Small site, a talayot and a taula👎
Torretrencada: 400 m walk from the parking. Nice taula and hypostyle chambers. Neglected site, but nice setting in the rural landscape.
Montefi: Neglected site. Three talyots and several hypogea👎
Son Catlar: It is a large,fortified site. The best is the well-preserved wall and a gate, the rest doesn't add something new. 👎
Torre del Ram: One hypogeum, only one with elongated floor. It has some grafitti of ships of undetermined age. 👎
Coll de cala Morell settlement: not one of the proposed sites, but the location was superb! It's only traces of settlement, but we really enjoyed the view and the setting. Close to Cala Morell.
With some adjustments, we think this is a worthy addition to the list.
The best way to travel is probably by car. Parking is easy at most of the sites. Even though the island is small, the km adds up. We drove round 200 km in our quest. The best ones are a bit off from the cities and main roads.
### Randi & Svein Elias
---
Chinese-Canadian - 11-Nov-19 -
Minorca/Menorca is riddled with sites to enjoy the Talayotic culture. There is even one AT the airport road so you could basically fly in, walk 10 minutes or less and "tick" this off. I actually did not check this one out because I had a car and was recommended a lot better things from the lady at the car rental. It is also a massive change in tourist numbers from the nearby islands, so calm and relaxed.
I drove to 3 places. Two "rubble", not that interesting, and tough to park, free of entry like most sites on the islands (if not all?). It really only takes a few minutes to walk around these and the grass wasn't cut so not much fun. The third place, much more interesting, was the Cales Coves Necropolis. You can park and walk down with some shades paths and mostly flat, enjoy a sit at the playa, see some of the necropolis on the way and in the bay. Yes, they are just caves now and you cannot even go up there but it gives you an idea that the culture was present everywhere on this island. The area was an anchorage for trading boats and then re-used in Roman times as a sanctuary. A couple had brought their kayak and I was a bit jealous they can go out into the blue sea on this chilled out, underrated island.
In retrospective I should have sought out a museum to complement my visit.
---
4.50 Switzerland - 06-Apr-17 -
The Talaiotic Culture is an ancient society established on the Balearic Island between the Iron Age and its replacement by the Punic and the Roman cultures. Menorca Island has many stone remains of that culture, of which 25 are to be considered to be nominated as WHS.
I used to have family vacation on Menorca, the least developed and most natural island on the Balearic Islands. Vacation on Menorca is rather laid-back. Development on Menorca was slow, and unlike Ibiza and Mallorca, huge concrete hotels and vacation town are absent. Beaches are very nice, with clear blue water, often enclosed between trees-covered cliffs on both sides.
The talaiotic remains are spread out all over the island, and you cannot miss them (least of all one just after exiting the airport coumpound). It would take some time to cover all of the 25 sites. Public transport is efficient, but renting a car is cheap and would save a lot of time. I would recommend to at least see the two most emblematic sites, which are Es Tudons and Talati de Dalt.
Getting to visit those archeological sites, you quickly have to get used to some vocabulary:
-"navetas", which are pyramide-like funeral buildings, only found on Menorca. The name naveta come from the catalan word for boat, as those structures often look like upside-down boats.
-"taula" which are ceremonial vertical monoliths which is topped by an horizontal stone (forming a T or a table). The name taula comes from catalan word for table
-"talaiot" which are look-out towers, most of the time round and on top of small hills. The name comes from the catalan word for watch-tower.
The Naveta de Es Tudons, is close to Ciutadella, the town on the west side of the island. There is a parking lot, from which it is a 5 minutes walk to the Naveta. Entrance is 2 euros (free in winter). Up to a hundred bodies was uncovered here. It was built with large stones. We cannot get in the inside but it is possible to get a glimpse of it.
La Talati de Dalt, is close to Mao, the town on the east side of the island. It is a settlement with different typical structures: a big taula with a second stone standing on its side. A big talaiot on top of a small hill and. A cave with columns (an hypostyle) and several other walled buildings forming a village. This site is very nice to visit, with the stoned ruins in the middle of a field with various trees growing in between them. Entrance is 4 euros (free in winter).
In Cales Coves, you can combine archeology and swimming in the blue waters. The cliffs above Cales Coves are filles with cave tombs, some of which are easy to access. There is no entrance fee, but expect some crowd in sommer as it is one of the most famous cove for sailing and swimming (also expect to encounter some nudists).
Altogether, I believe that this sites have an OUV, similar to contemporary Su Nuraxi di Barumini in Sardinia and earlier megalithic temples of Malta.
---
Site Info
Full Name

Prehistoric Sites of Talayotic Menorca

Unesco ID

Country

Inscribed

Type

Cultural

Criteria

3

4

Categories

Link
Site History
2023

Name change

Upon inscription, at the suggestion of ICOMOS: from "Talayotic Menorca - A cyclopean island odyssey" to "Prehistoric Sites of Talayotic Menorca"
2013

Revision

Includes former TWHS El parque etnológico de Torre del Ram, Punta Nati y ses Truquerias, Ciudadela. Menorca (1998)
Visitors
26 Community Members have visited.