Royal Joseon Tombs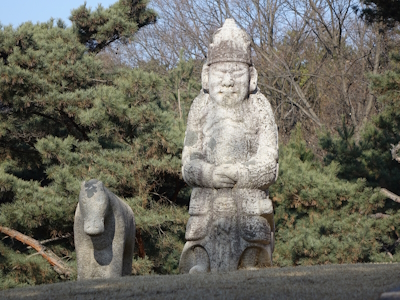 The Royal Tombs of the Joseon Dynasty were built at scenic locations to honor the dynastic ancestors.
The 40 inscribed tombs were used for Joseon Dynasty kings and their consorts. They were built between 1408 and 1966, and are spread out over 18 different locations.
The tombs are all burial mounds with associated buildings such as wooden shrines, royal kitchen and the guard's house.

Community Reviews
---
I visited this WHS in May 2017. Out of the 40 Royal Joseon Tombs spread out in 18 locations I visited the 3 tombs in the Seollung and Jeongneung cluster (closed on Mondays), which are conveniently close to the Seollung subway station (Line 2, Exit 10).
Although being at the heart of Seoul's business district, the buffer zone is a major green zone in Seoul and the old pine trees, ginko trees and cherry trees manage to hide away the surrounding skyscrapers throughout the different trails. I visited early on a quiet morning and most of the walkways were covered with pink and white cherry blossoms. I managed to spot quite a lot of different bird species while walking from one tomb to the other, the largest of which was a male pheasant.
First I visited the double mound royal tombs of King Seongjong (the 9th Joseon monarch; photo) and Queen Jeonghyeon and later on I visited the royal tomb of King Jungjong (the 11th Joseon monarch). Each tomb had 12 faced retaining stones surrounding the burial mound with a corresponding Oriental zodiac animal. Each burial mound had a 12 angled stone railing around it and upon looking closer (mostly with my zoom lens) I could notice that each stone face around the mound had intricately carved decorations.
Each tomb has something different but the main layout components of the Royal Joseon Tombs are the following: a tomb keeper's house which is used to prepare for ancestral memorial rites; a bridge over a forbidden stream at the entrance which serves as a boundary between the secular and sacred realms; a red spiked gate which signifies the entrance to sacred territory; a two-level worship road which is practically a stone walkway linking the red spiked gate and the T-shaped shrine, with the higher one being for spirits and the lower one being for the king; a t-shaped shrine where ancestral rites are held and the tablet of the deceased is enshrined during rituals; a stele shed housing stone stelae or tombstones inscribed with the achievements of the tomb occupant; stone figures of military officials holding a long sword and guarding the deceased on the lower platform of the burial mound; stone figures of civil officials holding a scepter in both hands and facing each other on either side of a stone lantern; the burial mound itself and finally a bent wall protecting the burial mound.
Like China's Ming Tombs, the Royal Joseon Tombs of South Korea are not very iconic sites but with prior research and some reading, I enjoyed my visit to these unique burial sites and I wouldn't mind visiting other locations in the future. The UNESCO WHS inscription plaque and stone marker are just in front of King Seongjong's tomb. After my visit, I decided to check out the nearby Bongeunsa Temple which is believed to be Seollung's Buddhist guardian temple and which was fully adorned for the Lotus Lantern Festival celebrating Buddha's birthday.
---
3.50 The Netherlands - 06-Jan-17 -
With the Royal Tombs of the Joseon Dynasty, I 'finished' South Korea's batch of 12 entries on the current World Heritage List. Like many others – 6 to be precise – it lies well within the range of the Seoul Hotspot. The Joseon Tombs comprise 18 different locations, of which I chose the Donggureung Cluster to visit - "the largest and most attractive" according to Lonely Planet ánd our own South Korea expert Kyle Magnuson.
Donggureung lies in Guri, a city typical for the Seoul metropolitan area with its many numbered grey high-rise apartment blocks. The bus driver alerted me where I had to get off the bus, but I had seen it already myself as there are big signs in Korean and English pointing to this royal cemetery. Despite the urban setting, this is a peaceful location in a forested area. There were few other visitors when I arrived on a Friday morning, only a couple of the ubiquitous Korean pensioners and even a small group of birders. Entrance costs a nominal 1,000 Won (ca. 0.80 EUR).
Donggureung literally means "East Nine Royal Tombs": there are 9 tombs that hold the remains of 17 Joseon kings and queens. Each of the nine has a separate setting in the forest, and paths link them. The paved paths behind the entrance gate to each tomb follow the same principle as those at the Jongmyo Shrine: the main path is for the spirits (not to be walked on by mere mortals), the one alongside is for the kings (which nowadays may be used by normal visitors). Each path ends at a pavilion, and behind it lies the actual tomb on a hill. One of the unfortunate circumstances of Donggureung is that it is forbidden to get close to the hill tombs - you have to stay behind a fence.
The most interesting among the tombs here, one with a real Wow-factor, is that named 'Mongneung'. It has 3 different graves in a wide open, grassy area. Each is located on a separate hill. The furthest of the 3 is the only one in the whole area that can be climbed, so you can have an up-and-close look at the stone objects that decorate the graves. Many of these are similar and represent soldiers and government employees that stand guard.
I also enjoyed just roaming the paths of the forest where the tombs are located at. In addition to a few bird species, bigger animals seem to visit the grounds too: I noticed signs (in Korean only) displaying a warning about a beast resembling a wild boar.
Like Korean food, most of the Korean WHS are not as accessible as their Japanese or Chinese counterparts and require an 'acquired taste'. In contrast to the other main Northeast Asian countries, Korea isn't overly Buddhist (Christianity even is the main religion nowadays) and the sites in and around Seoul are mostly Confucian - with its often difficult-to-grasp concepts and rites for an outsider. To me though, these Joseon tombs are very much worth their spot on the List for their atmospheric setting and testimony to a very distinct royal burial practice.
Read more from Els Slots here.
---
3.50 Belgium, France - 03-Apr-12 -
Royal tombs of the Joseon dynasty are a group of 40 tombs located on 18 different sites. They were built between 1408 and 1966 to honor Joseon ancestors' memories. They are organized on the same basis, with gates and buildings at the entrance and tombs set on the top of little hills called tumulis. On the top of these tumulis are also set up different statues representing people (soldiers, religious) and animals (sheep, cow, horses).
Some of these sites are located in Seoul and can be easily visited, taking the subway to the stop Seollung on line 2 (green) for example to see three of the tombs.
It's very interesting to visit these complexes to approach Korean culture and traditions. They are a great stone in the wall of Korean culture.
---
I didn't really do this site justice; my experience was limited to one group of tombs at Seollung in the south of Seoul. These are by far the most accessible being just a short walk from the Metro station with the same name.
It was an enjoyable park to wander around for a little while and you were able to climb up and get a close up view of two of the three tombs within the site. I was surprised to see how large the statues guarding the burial mounds were, and I must admit to being quite impressed. The park now also contains a small museum with information about the tombs which are spread out across Seoul and its environs. A slight frustration came from not being able to get a closer look at King Jungjong's tomb, from the base of the mound there isn't really a huge amount you can see. It seems that this is a bit of a frustration at many of the tombs, and I am sure there are legitimate reasons for it but it does make the visiting experience a little limited.
If I had been in Seoul for a little longer then I am pretty sure I would have visited more of these sites, but the draw of the city's other delights kept me busy.
[Site 4: Experience 4]
---
2.50 Netherlands - 01-Oct-11 -
During my conference trip to Seoul and Gyeongju, South Korea, I had managed to visit Royal Tombs of the Joseon Dynasty, one of the most complete dynastic tombs in Asia, which located around the city and nearby provinces. From all tombs, I decided to visit two clusters, Seonjeongneung, better known as Seolleung in Southern Seoul, and another at Taereung in Northeastern Seoul. The reasons why I chose these two sites because of both has museum and interpretive center for tourists as well as easy connection with subway.
The tombs are located inside the beautiful forest parks, the surroundings are well kept with fantastic green lawn; however from my experience the tombs are hard to appreciate, as the sites are off-limited, few chance to see the details of stone decoration, but the museum and interpretive center can help with computer graphic show how to construct the tombs, and most important, the royal funeral ceremony as well as full size replica of stone decorations.
In my opinion, the Joseon Tombs can not be considered as a unique site, compared with Silla Tombs in Gyeongju, the latter are more interesting with treasure discovered and tumuli construction technique. Also most of the ancient tombs in East Asia, noble or normal people, are constructed under Fengshui doctrine. In ICOMOS report, I was surprised that ICOMOS and Korea use Chinese Imperial Tombs for comparative study as Emperor (huangdi) and King (Wang or Taewang) is totally different in tomb size and status. To be fair, Joseon Tombs should be compared with the tombs of Chinese ducal or princely family (Wang or Gu), or Japan's shogun family, as they have equal rank under East Asian sovereign and nobility system.
Sadly that most of the important tombs in China are destroyed during the Cultural Revolution, only few remain, and these tombs have many similarities with Joseon Tombs including stone decoration format design. The tombs of imperial eunuch even have more intricate details than the Joseon ones. So what is the outstanding universal value for Joseon Tombs in my humble opinion, the number of well preserved tombs is truly outstanding, better than in China or Vietnam, which dynastic line are shorter. All in all Joseon Tombs are a fine World Heritage Sites, it would be good if visit the tombs together with Jongmyo Shrine for complete understanding on royal Korean Confucian ancestral worship ceremony.
---
3.00 California - United States of America - 17-Feb-10 -
Some have said visiting one tomb is enough as they are all similar. Yes and no, each tomb follows a general pattern, yet most of the tombs have subtle variations. More importantly its hard to get the scope of the Royal Joseon Tombs with one tomb visit, because part of the wonder of these tombs is the sheer number of them and their care in location and artistry.
Each tomb also tells a story, Prince Sado in particular, tragic and disturbing, but honored by his son. King (Emperor) Gojong's Tomb, as the Joseon Dynasty faded, his tomb is a visage of grandeur. King Danjong's tomb in Gangwon-do is the most unconventional location and layout, this is because he was removed from power and exiled.
13/18 Tomb Clusters
*Donggureung Cluster (Visited 2008)
*Gwangneung Cluster (Visited 2008)
*Yeongneung Cluster (Visited 2008)
*Taereung Cluster (Visited 2008)
*Seolleung Cluster (Visited 2008, 2016)
*Heolleung Cluster (Visited 2011)
*Hongyureung Cluster (Visited 2011)
*Sareung Cluster (Visited 2011)
*Seooreung Cluster (Visited 2011)
*Seosamreung (Visited 2011)
*Uireung Cluster (Visited 2016)
*Yungneung Cluster (Visited 2016)
*Jangneung (Gangwon-do) Cluster (Visited 2016)
Having visited about 13 Joseon Dynasty Tomb clusters in 2008, 2011, and 2016. The sites are extremely peaceful. Perhaps, the most impressive is Donggureung which contains 17 tombs and the first King of Joseon, Taejo. Gwangneung and Yungneung are also worthwhile sites to visit because of their exceptionally beautiful setting. In the small city of Yeoju you can visit the tomb of King Sejong, probably the most celebrated Joseon king, who helped develop the Korean Writing system (Hangul). Several tombs have now added small museums, which often show an excellent video explaining how these tombs were constructed.
One great quality of each tomb is their location, which was carefully chosen. Most Joseon tombs are relatively easy trips from Seoul and provide a relaxing atmosphere and time for reflection. I had a great time taking the metro train (or bus) all over Seoul searching out the next tomb, now the tombs are even easier to visit with its WHS inscription. Definitely a world class site amongst the royal tomb properties included on the world heritage list.
Read more from Kyle Magnuson here.
---
During my 5-day trip to Korea, I was able to visit 3 of the Joseon tombs.
The first was Jeongneung (in Seoul, close to Sungshin Women's University subway station). I was a little upset because the park does not allow access to the tomb itself; I wanted to see the stone statues closer but there was a fence surrounding the elevated mound. Though I have to agree that this park is set in a quiet forested area away from the city noise.
The second one I visited was Seolleung (also in Seoul) and fortunately, the park management allows visitors to get closer to the tomb. The walk in the forest is a very pleasant experience.
The last was Yungneung/Geolleung in Hwaseong City, Gyonggi-do province. My Korean friend and I decided to see this place as we had extra time after visiting Hwaseong Fortress in Suwon.
All in all, the trip to these royal tombs is a wonderful experience. There are 40 inscribed on the list; 4 are found in Seoul. But I guess visiting one or two will suffice as they all look (almost) the same.
Compared to the Qing and Ming dynasty tombs in China, the Joseon tombs are smaller; but true enough, they have a special charm.
---
Leana Divine
I visited Sareung, the tomb of Queen Jeongsun, the queen of King Danjong, 6th monarch of Joseon. She became queen in January 1454. It's located in Namyangju, which is in Gyeonggi-province just east of Seoul. From Guri or Donong station (on the Jungang Line) you take the bus that says Sareung(or a taxi if you prefer) for a short distance to the tomb area.
There is a botanical garden/nursery at the entrance, where they are growing wildflowers, pine trees, and even some fruit. The people that take care of the nursery give you tea and allow you to take some wildflowers with you if you choose (for tea). They gave us tea to drink, as we walked through the pine forest to the tomb. They had an outdoor photography exhibit set up in the forested area featuring various photographs of wildflowers. After a short walk under the fragrant pines, you come to a clearing where the tomb sits about two-thirds up the mountain. It's a beautiful area and the tomb is guarded by various animals (stone sculptures).
---
I am delighted to be the first person to review this lovely site. This is a fully deserved new addition to Korea's list.
I visited the Dongguerung site last weekend. It is a peaceful and charming place that seems to be relatively free of the tour bus hordes at the moment. The tombs can easily be reached with a subway to Cheongnyangni (line 1), then exit 5 and bus 202 (that heads away from Seoul, not the one towards!). It's about 30 minutes.
The tombs are set in a beautiful woodland park, and all seem to be aligned to different points of the compass. All the tombs are set atop large mounds. You are able to walk to the top of three of them without supervision. We were able to get up a 4th by tagging onto a guided group for a few minutes. The tombs are not grand, but are simply, elegant and charming.
A really nice 'bonus' about these sites is that the Korean Government, as a celebration of their WHS listing, has made them free to enter for period. Regualarly, the entry fee is still small ($1 or $2). Isn't that a lovely contrast with India or Egypt who would have quintipled prices for foreign tourists at the very mention of a WHS?
---
Site Info
Site Links
Unesco Website
Official Website
In the News
Visitors
165 Community Members have visited.