Par force hunting landscape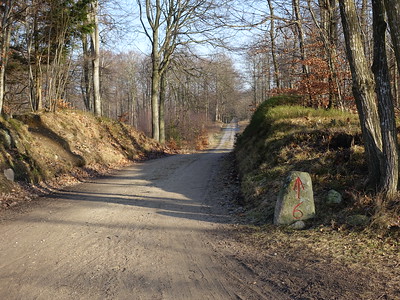 The par force hunting landscape in northern Zealand is an intentionally designed landscape used for hunting by the Danish kings in the 17th and 18th centuries.
'Par force' stands for 'by force (of dogs)', the noblest form of hunting where a specific animal was run down and exhausted by mounted hunters and dogs before the kill was made. This technique was developed in France and adopted widely across Europe by the royalty and nobility to display their power.
The landscape consists of man-made forests and ride systems in a rigid grid pattern. It covers 3 main components: Store Dyrehave, Gribskov and Jægersborg Hegn/Jægersborg Dyrehave. Also, 6 paths formerly connecting Store Dyrehave and Gribskov are included.
Map of Par force hunting landscape
Legend
Visit January 2017
"You don't need luck. You need good shoes!", fellow WH traveller Nan e-mailed me when I told him to wish me luck ticking off the Par force hunting landscape. He was so right, and I'd like to add to others that plan to visit this WHS: also bring snacks, something to drink and a smartphone with GPS. And do read up a bit about what par force hunting entails beforehand.
From the 3 main components of this WHS, I had set my sights on Store Dyrehave ("large deer park"). Both Store Dyrehave and a formerly connected second component, Gribskov, lie near the town of Hillerød (the third, Jaegersborg, is located closer to Copenhagen, sees a whopping 7.5 million visitors a year and is already well-covered on this website).
Getting to Hillerød already did not prove to be as easy as internet research had lead me to believe. Part of the direct S-train route was blocked, so passengers had to be transported by buses to the final destination. This added another 20 minutes to the 1 hour trip from Copenhagen Airport.
Having finally arrived at the station in Hillerød, you'll just have to walk. There is no signposting at all. Beforehand I had carefully studied the route to the deer park and downloaded a map of the area to my phone. Both actions proved necessary, not at least to find the "right" patch of forest: a remarkably similar forest lies on the other side of the main road Københavnsvej - but that is not part of the WHS.
Using my sense of direction (and the help of the GPS on my phone) I hiked towards the center of the park. I had given myself a time-box of two hours to catch a glimpse of the meager remains of this former hunting landscape. Those being – according to the nomination file – "markers", "numerical place names" and "an emblematic marker (Kongestenen)". It's like doing a treasure hunt with no clues. So I was quite happy when I came across an original marker for road #8 after a while: these numbered stones signal the 8 main radiating roads that lead to the central point.
Store Dyrehave now is used mainly by mountain bikers and joggers. The distances are actually a bit too long to enjoy for hiking and the landscape too monotonous. After an hour though I was rewarded for my efforts: I found the central point, the intersection where the 8 roads diverge in a star shape. I was really pleased with myself, and even rather impressed by the ingenious lay-out of the lanes and the original star stone at the center. Here, the ritual slaughter of the captured animal by the King would have taken place to end it all. It reminded me of a children's TV series from my youth ('De Zevensprong' – Crossroads of Seven Roads): each episode started and ended at the crossroads of 7 roads in a mysterious forest setting.
On my way back I took road number 6, one of the other main lanes. It ends at the northern end of the park, where part of the original stone fence is still visible. Close to this exit is a parking lot with an information panel in Danish and English about the park's WH status.
In hindsight and comparing the experiences of other reviewers, Store Dyrehave may be the best among the locations to understand what this WHS is about. If you arrive by car (recommended), park it at the main parking lot along Overdrevsvejen.
Answering a recent observation by Solivagant (how to handle trips to European WHS that aren't among the continent's highlights): I 'did' this as a day trip from my home, flying to Copenhagen early morning and returning early evening. My plan was to spice it up a bit by combining a visit to this WHS with the Islamic art of the David Collection. In the end however the WH visit took so long that I didn't have time left for the museum.
Click
here
to see more of my photos of Par force hunting landscape
Community Reviews
---
---
---
---
---
---
Community Rating
Community Rating 1.71. Based on 21 votes.
Site Info
Full name: The par force hunting landscape in northern Zealand
Unesco ID: 1469
Inscribed: 2015
Type: Cultural
Criteria: 2 4
Site History
2018 - Name change

To the French name only

2015 - Inscribed
Site Links
Unesco Website
Official Website
Related
Locations
The site has 9 locations.
8 of the 9 locations are near the town of Hillerød, which can be reached by direct S-train A from Copenhagen Central Station. The 9th location, Jaegersborg, lies on the railway line between Skodsborg Station (North) and Klampenborg, also directly accessible from Copenhagen and even the Airport.
Connections
The site has 7 connections.
Visitors
75 community members have visited Par force hunting landscape. Show all